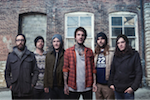 Michigan natives Chiodos have announced an intimate UK show at Water Rats in Kings Cross, London on March 7th.
The tiny show will coincide with the release of the bands new album, 'Devil' which is released on March 31st through the band's new imprint drk/lght records in partnership with Razor & Tie.
Tickets for the show can be purchased here.