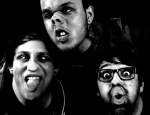 Leeds based noise-rock trio Castrovalva have announced they have broken up.
The band made the following announcement:
"As some of you close to us are already aware, it is with a heavy heart that we say the band Castrovalva is no more.
We wish there was a crazy story to give as to why its happening however, the truth is distance, time, and general life have put us in a position where we feel we cannot continue as a band.
This was born out of a house party hangover between two best friends that took us way further than any of us intended, picking up another hitchhiking friend on the way, it was dragged kicking and screaming by Thomas Bellhouse and Simon Glacken (Brew Records) into the real world. Two men who we cannot thank enough for the hardwork, advice and wholehearted love for our music, all music, and most importantly our best interests.
We will all continue as close friends, and we will all support each other with project that we will no doubt be involved with in the future.
Thank you to everyone we have ever toured with, played with, booked us, put us up, fed us, bought anything, emailed, thanked, read, written, loved anything about this band.
And finally thank you to everyone who didn't get it, who we annoyed so much you took time out of your day to tell us we sucked or write anger on YouTube. You created a lot of laughter and inspiration. Just remember It's a big world out there, and not all of it will be in 4:4.
Peace.
Castrovalva."