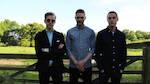 Brontide have announced their long awaited second album will be titled 'Artery' and will be released on June 30th through Pink Mist/Holy Roar Records.
1. Tonitro
2. Bare My Bones
3. Kith and Kin
4. Cabin
5. Knives
6. Still Life
7. Caramel
8. Red Gold
A track called 'Cabin' can be streamed after the jump.
Brontide will also play a London album release show on June 26th at Oslo.
June
26th Oslo, Hackney London