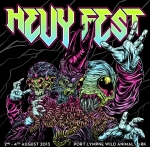 Legendary Punk band Black Flag have announced as the first band to play this year's Hevy Fest.
It will be the bands first UK show in nearly 30 years and they will be fronted by Ron Reyes. It will be Black Flag's only UK show of 2013.
Hevy Festival 2013 will take place at Port Lympne Animal Park in Kent from August 2nd to 4th. The festival promises 80 bands across four stages.
More announcements are expected soon.
Tickets are available from hevy.co.uk.