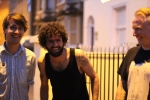 Self-described "indie-punk with a short attention span," Woahnows have signed to Big Scary Monsters Records and will release their new EP, 'The Joy Disorder' on 2nd September. The release will also includes tracks from the bands debut 'Foma' EP.
1. Low Machs
2. Grey Matters
3. Painfully Safe
4. Karuna (Anti Wisdom)
5. The Joy Disorder
6. Go *
7. Collective Aspiration *
8. Foma *
9. Packets of People *
10. Poor Greedy Poor *
* Bonus track. Taken from previous EP, 'Foma'
July
04 Brighton, Sticky Mikes
12 2000 Trees Festival, Cheltenham
15 London, Birthdays (free entry)
August
01 White Rabbit, Plymouth (w/ Lemuria)
17 Plymouth, The Hoe
26 Deadpunk, Exchange, Bristol (w/ Sick Of It All and more)
29 WTFest V, Southampton (w/ Off With Their Heads and more)
30 Plymouth, White Rabbit (w/ Tall Ships)
The title track from 'The Joy Disorder' can be streamed by clicking read more.