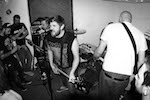 Northern punks Bear Trade have revealed details of their debut album, 'Blood And Sand', which is set to be released through Everything Sucks Music on May 5th.
01. Another One For The List
02. Bleedin Heart Trouble
03. If Stoic Was Normal
04. Dolly Mixtures
05. Anathema
06. Charge
07. Son of The Manse
08. Nice Boots
09. Postcards
10. Not Everything Makes A Noise
11. Don't Forget You're Going To Die
12. Dead Leg
A preview of the album can be seen in the form of the bands video for 'Son of The Manse', which can be viewed by clicking read more below.
The album release will be supported by a host of UK dates including shows with Iron Chic.
April

5 Cambridge Portland Arms


19 Stockton Calling

May
2 York Woolpack


3 London The Lexington (w/ Toys Thay Kill)


4 Kingston
 Fighting Cocks (w/ Iron Chic)

5 Newcastle The Cluny (w/ Iron Chic)


6 Edinburgh Teviot (w/ Iron Chic)


7 Manchester Star And Garter (w/ Iron Chic)


8 Bristol
 The Exchange (w/ Iron Chic)

9 Southampton WTFest

10 Kings Lynn Ye Olde Maydens Heade


16 Leeds Santiagos (w/ Red City Radio)

June
6 Newport Le Pub

7 Norwich The Owl Sanctuary