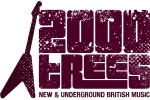 The latest round of bands for this years 2000 Trees Festival have been announced with Band Of Skulls being confirmed as headliners.
Other notable names added to the lineup include The Bronx, Kids In Glass Houses, Maybeshewill. Turbowolf, Baby Godzilla, Decade, LostAlone and Brawlers.
The full list of additions are as followed:
Band Of Skulls
The Bronx
Kids In Glass Houses
DZ Deathrays
Maybeshewill
The Computers
Turbowolf
Baby Godzilla
Decade
Nordic Giants
Verses
Heart In Hand
LostAlone
Palm Reader
The Cadbury Sisters
Dolomite Minor
Boy Jumps Ship
Brawlers
Oliver Wilde
The Dead Formats
The JB Conspiracy
God Damn
Andy Oliveri
Kill Chaos
Youth Man
Crazy Arm (Acoustic)
The Bronze Medal
Joe Summers
Kitten & Bear
Sam Green & The Midnight Heist
Harry George Johns
Boat To Row
Lonely Tourist
2000 Trees Festival takes place at Upcote Farm, Gloucestershire from July 10th to 12th.
Click read more to view the full line-up so far.