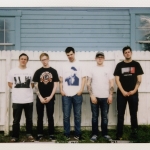 Balance & Composure have joined Hassle Records in the UK, and will release their new album, 'The Things We Think We're Missing' on 9th September.
The album will be pressed exclusive limited edition transparent blue 12" and can be pre-ordered through Hassle Records.
1. Parachutes
2. Lost Your Name
3. Back of Your Head
4. Tiny Raindrop
5. Notice Me
6. Ella
7. Cut Me Open
8. Reflection
9. I'm Swimming
10. When I Come Undone
11. Dirty Head
12. Keepsake
13. Enemy
Stream a track called 'Reflection' here.