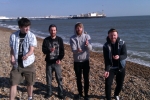 Leeds acoustic punk band Bad Ideas are set to release their new album, 'Compromise' on 1st May through No Reason, Shield, Fond of Life and Bad Mood Records.
1. Compromise
2. A Little Lost
3. The Easy Life
4. Shells & Stones
5. The Way Down
6. No Secret; I
7. Fake Teeth
8. Simple Connections
9. Little Things
10. Dirty Habits
Their new video for 'No Secret; I' can be viewed by clicking read more.