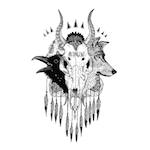 The organisers behind the ArcTanGent Festival have announced the final five bands for this years events; Crippled Black Phoenix, Ef, Luo, Karhide and Hark.
ArcTanGent takes place at Fernhill Farm, Somerset and will take place from August 28th to 30th. Tickets for ArcTanGent are on sale now and can be purchased here.
The full and complete line up is as follows:
Russian Circles, MONO, This Will Destroy You, God is an Astronaut, And So I Watch You From Afar, Tall Ships, Maybeshewill, Jamie, Crippled Black Phoenix, LITE, Tera Melos, Three Trapped Tigers, TTNG, Ef, El Ten Eleven, Mutiny on the Bounty, I Like Trains, Year of No Light, Mylets, The Physics House Band, Baby Godzilla, Nordic Giants, Tellison, Enemies, Her Name Is Calla, 100 Onces, Tangled Hair, Hark, Karhide, Luo, Alarmist, We Are Knuckle Dragger, No Spill Blood, BATS, Lost in the Riots, Cleft, Olympians, Shiver, Human Pyramids, Astrohenge, Diagonal, Rumour Cubes, Monsters Build Mean Robots, Blueneck, The Winchester Club, Suffer Like G Did, Charlie Barnes, Memory of Elephants, Big Joan, AK/DK, Adding Machine, Samoans, Waking Aida, The St. Pierre Snake Invasion, Theo, Wicket, Sleep Beggar, Howard James Kenny, Super Squarecloud, Flies Are Spies From Hell, Codes in the Clouds, Bear Makes Ninja, Alpha Male Tea Party, Iran Iran, Gunning for Tamar, FEN, Goonies Never Say Die, Broken Oak Duet.