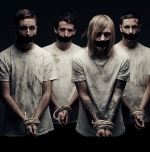 Brighton's Architects have launched an Indiegogo campaign to fund their first documentary film '100 Days.'
Recorded by director and band friend Tom Welsh, the film charts the bands incredible journey across their 'Almost World Tour' of 2012, which say them travel over 20,000 miles, playing 75 shows in 25 countries over 4 continents.
Having left Century Media, the now unsigned band are aiming to raise £30,000 for the project and are offering a variety of rewards to fans who fund the project. For example for £1 fans can have their name listed in the credits, a DVD copy is £13 and you can attend the premier of '100 Days' for £50.
Full details of the project can be viewed here and a video about '100 Days' can be viewed by clicking read more.