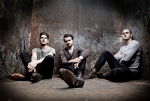 After much anticipation, Arcane Roots have finally announced details of their debut album. 'Blood And Chemistry' will be released through Play It Again Sam (PIAS) on 6th May.
1. Energy Is Never Lost, Just Redirected
2. Resolve
3. Belief
4. Sacred Shapes
5. Hell And High Water
6. Triptych
7. Slow
8. Second Breath
9. Held Like Kites
10. You Keep Me Here
Click read more below to stream 'Resolve.'
Arcane Roots will begin a UK headline tour in late April.
April
Tue 30 Cardiff, Wales, CLWB Ifor Bach
May
Wed 1 Kingston, New Noise at Bacchus – plus Acoustic in-store at Banquet Records
Thu 2 Nottingham, Rock City Basement
Sat 4 Coventry, Kasbah – clubnight
Sun 5 Glasgow, Scotland, ABC2
Mon 6 Newcastle, The Think Tank
Tue 7 Manchester, Sound Control
Wed 8 Leeds, Cockpit 3
Thu 9 London, Electrowerkz
Fri 10 Wolverhampton, Slade Rooms
Sun 12 Turnbridge Wells, Forum
Tue 14 Milton Keynes, Crafurd Arms
Wed 15 Guildford, The Boiler Room
Thu 16 Bristol, Louisiana