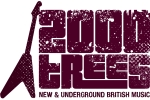 The likes of Arcane Roots, Canterbury, Lonely The Brave, and Natives are amongst the latest bands to the 2000 Trees Festival.
Other new acts announced include Tall Ships, Wolf Alive, Dad Rocks!, &U&I, Slaves, and Radsteward.
2000 Trees Festival takes place at Upcote Farm, Gloucestershire from July 10th to 12th.
Click read more to view the full line-up so far.