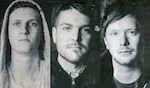 Apologies, I Have None have announced vocalist Dan Bond has left the band. However they are planning to record a new EP next week and will be released through Beach Community later this year.
The band posted the following comment:
"We've been quite quiet for a short while but not slacking. The last few months have been spent writing, recording, then rewriting and rerecording demos for a load of new songs. This brings us onto the good news. We're going into the studio next week to record some of these songs which we'll be releasing as an EP with the beautiful people at Beach Community (UK) and Uncle M Records (GER). WE'RE FINALLY GOING TO HAVE SOME NEW SONGS!
As we like to keep everything balanced there is unfortunately some bad news. We are extremely sad to say that Dan has left Apologies and will no longer be touring or recording with us. There's no drama though, we're sure he'll be back in the game with something new soon. BONDY!!!
Make sure you come and see us play and grab the new EP when it's released."