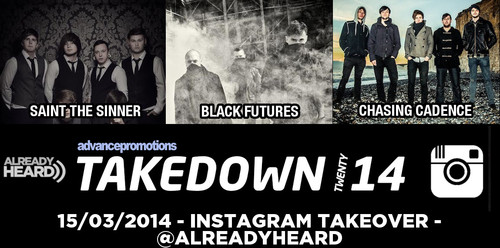 This Saturday (March 15th) a wealth of bands will be playing the Takedown Festival in Southampton.
To mark the occasion, three bands will be taking over Already Heard's Instagram throughout the day.
The first band are South Coast post-hardcore band Saint The Sinner who are scheduled to play the Uprawr stage alongside Rise To Remain, Yashin, and Hacktivist.
Joining them on the Uprawr stage is our second band, future punk trio Black Futures.
Finally our third band is Hertfordshire rockers Chasing Cadence who are set to play the Southampton Music Introducing stage.
So don't forget to follow Already Heard on Instagram (@AlreadyHeard) and find out what all three bands get up to at this weekends Takedown Festival!
Saint The Sinner links: Facebook|Twitter|Instagram
Black Futures links: Facebook
Chasing Cadence links: Facebook|Twitter
If your band would like to be part of a future Already Heard Twitter or Instagram takeover, please contact Sean Reid.