After some consideration and feedback, we have decided to restructure our Patreon campaign.
We have decided to remove 'The Tip Jar' tier and lower the monthly cost of our 'Independent Music Supporter' tier to just £2 ($2.62). Going forward, this tier will be known as 'Already Heard Supporter'.
Since launching the campaign this past April, we have realised asking for £5 a month for just one release is too much, especially when you can access unlimited music for double the price through various streaming services. Therefore we have restructured our Patreon to just one tier at a lower, more affordable price. Alternatively, you can support us with a custom pledge with no reward.
As a reminder, here is what you will receive when you become an 'Already Heard Supporter' on Patreon:
For £2/$2.62 a month you will receive a handpicked release or compilation courtesy of our partnership with several independent labels from the UK, the US and Australia:
Alcopop! Records
Basick Records
Big Scary Monsters
Crooked Noise
Disconnect Disconnect Records
Failure By Design Records
Holy Roar Records
Penultimate Records
Rose Coloured Records
Speaking Tongues
Specialist Subject Records
Take This To Heart Records
You will digitally receive a Patreon-exclusive compilation every two months, with a release from one of the above labels in the intervening months. You will also receive access to our previous monthly rewards.
To coincide with our Patreon changes, we are pleased to announce the release of our next Patreon-exclusive compilation – 'Thank You: Summer 2018'.
The 11-track compilation features tracks from Orchards, FRESH, Delta Sleep, Kagoule, Cassels and more and is available to all 'Already Heard Supporters' on Patreon right now!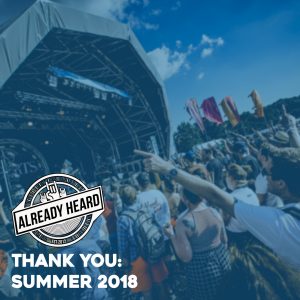 1. Orchards – Double Vision
2. FRESH – Daytime
3. Delta Sleep – El Pastor
4. Antiguo – The Altar
5. All Better – Hard & Cold
6. Kagoule – Bad Saliva
7. Cassels – When Completing Handshakes
8. Felicity – Circles
9. Nerdlinger – Underrated
10. Hora Douse – Outgrow/Anything
11. ManDancing – Passing Out