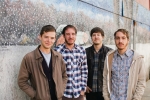 Count You Lucky Stars label mates Annabel and Dowsing will be touring the UK in June.
June
Thu 6th Brighton
Fri 7th Bristol
Sat 8th Wolverhampton
Sat 8th Manchester
Sun 9th Sheffield
Mon 10th Glasgow
Tue 11th Newcastle
Wed 12th Leeds
Thu 13th London
All venues and additional dates are yet to be announced.
To inquire about booking contact [email protected].