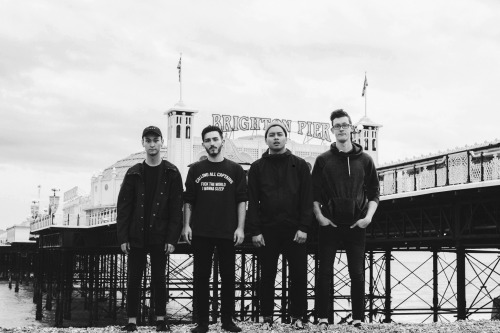 Today we're premiering the new video from Anglo-Canadian pop-punk band Chief State. 'Bridges' follows the Vancouver-based band's first EP, 'I Just Need Some Time', which was released earlier this year. The track captures the band's energetic brand of pop-punk, taking in a range of modern influences with an underpinned sense of lyrical maturity on show.
While they put the final touches to their second EP, 'Bridges' has been released alongside another track for a two-track EP called 'The B-Sides: I Just Need Some More Time'.
The accompanying visual captures Chief State on their DIY UK tour from this past summer, which saw them playing alongside Montroze, Luke Rainsford, Home Wrecked, and Victory Lane.
On the clip, Bath-born vocalist Fraser Simpson shared the following comment with us:
"We've had an incredible first year as a band and touring the UK was definitely our favourite period. It's great to have these memories preserved in the form of a music video, we think the footage goes really well with the song. There's a lyric in the song that goes 'I think I'm moving forward now'. We definitely feel like we're moving forward, we have some big months ahead of us and just can't wait to get EP2 out into the world!"
Video footage shot by Isha Shah Photography.
'The B-Sides: I Just Need Some More Time' by Chief State is out now.
Chief State will be opening for Silverstein and Seaway at the Rickshaw, Vancouver on November 11th.
Chief State links: Facebook|Twitter|Instagram|Bandcamp
Do you have a new video or release you'd like to premier on Already Heard? If so contact Sêan Reid to find out more.