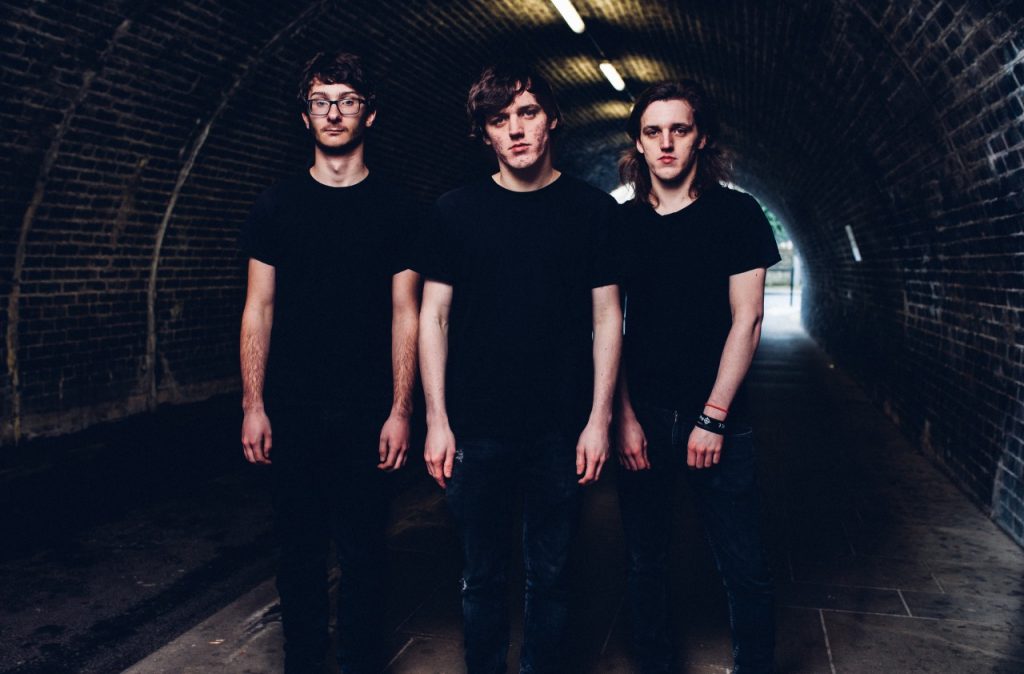 When it comes picking a name for your band, it can be a tricky task. The world is full of bands and just when you think you've found the right name, you discover there are plenty of bands with the same ideas as yours. That's the situation Bristol trio Blank Atlas found themselves in under their former moniker of Avarice.
Nevertheless, they've turned the page and today start a new chapter with the release of 'Lost At Sea'. The band have granted Already Heard with the exclusive first play of its video. Influenced by modern UK rock heavyweights such as Biffy Clyro and Lower Than Atlantis, Blank Atlas bring a blend of melodic alt-rock with confident vocals from Dan Thould combining with crunching instrumentation. The single was produced by Neil Kennedy (Press To Meco, Milk Teeth, Creeper) and is the first track to be lifted from the bands forthcoming debut EP.
In addition to premiering the video for 'Lost At Sea,' we also spoke to Dan, bassist Chris Simpson and drummer Tom Thould to learn more about Blank Atlas; the name change, the video, their EP and more.
AH: Today we're premiering your new single 'Lost At Sea'. It marks a new chapter for the band as it's the first single under your new moniker of Blank Atlas. First of all, can you bring us up to date on the history of the band?
Chris: We all went to the same secondary school in West Wales together and decided to form a band. We started out as most 15-year-olds do, playing covers of Iron Maiden and Avenged Sevenfold songs, but later found a mellower sound. We all decided to apply to the same universities so we could keep the band going and we all ended up here in Bristol, still going strong!
Tom: We feel like we fit quite nicely into the British alternative scene now because of us being influenced by bands like Lower Than Atlantis, Biffy and Arcane Roots. So I'm quite pleased with the vibe we have right now, I think we'll keep it.
AH: Secondly can you explain the name change?
Tom: Well we wanted to have a fresh start, with this new name. And the fact that there was like 13 other Avarice's (our old name), I think us changing our name was for the best…
AH: As for the track itself. What is 'Lost At Sea' about?
Dan: Basically… It's about falling out with one of your friends you've been friends with for ages and wondering why they have changed and if you want them in your life any more or not.
AH: It looks like the video was fun to shoot. How did you find the overall experience?
Chris: Putting this video together was hilarious. We had a chance to get all our friends involved as actors and it was just a great laugh. The whole idea was to make something low budget and DIY and I think it's going to be really fun to watch.
Tom: I feel like every time we make a DIY-type video, I always underestimate how long it takes to edit the thing! It's crazy, the amount of hours we've spent sat down on a laptop editing… GIMME MY LIFE BACK!
AH: We understand you're currently working on an EP. Does 'Lost At Sea' give us a good idea of what the rest of the EP sounds like?
Dan: We're going into the studio with Neil Kennedy again next week which we're really excited about! Yeah, they're all the same vibe really. I'd say, it's a mix of Arcane Roots, Lower Than Atlantis and Biffy Clyro, sort of an alt rock sound.
AH: When do you aim to have the EP completed and released?
Chris: We aim to carry on hyping up the EP with another single in the summer and then providing all goes to plan we will release the full EP in October. Get your student loans ready, kids.
AH: Besides finishing off the EP, can we expect to see out on the road at some point?
Dan: Definitely, we've always got some gigs on so keep an eye out on our Facebook page for that kind of stuff. But we are doing a couple of gigs around the release of 'Lost at Sea' this week, We're at Fuel in Cardiff on the 21st (tomorrow night) and Stag and Hounds in Bristol on the 23rd, that one is going to be mental because it's me and my brothers (Tom) birthday that night too, DOUBLE WHAMMY!
'Lost At Sea' by Blank Atlas is available now as a free download from blankatlas.co.uk along with the B-Side called 'Break Me In'.
Blank Atlas links: Website | Facebook | Twitter | YouTube
Have a new video or song you'd like to premier on Already Heard? If so contact Sêan Reid to find out more.