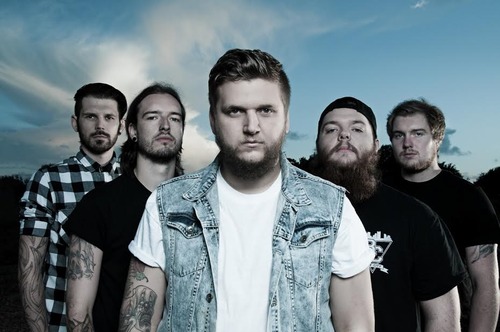 Emerging from the South Wales post-hardcore scene, When We Were Wolves are set to release their second EP next week. Entitled 'Heartless', the quintet display a ferocious and intense sound that has been likened to bands such as While She Sleeps, Bury Tomorrow, and Bleed from Within.
2013's 'The More Things Change, The More We Stay The Same' EP received widespread national praise, and it looks like they're set to complete the same feat with 'Heartless'.
Before the release of 'Heartless' EP on September 22nd (Imperial Music), When We Were Wolves begin a run of headline dates which will be followed up with a tour supporting The Blackout in November.
In the meantime, vocalist Mitch Bock has provided Already Heard with this detailed account to tell us what 'Heartless' is all about.
If your band would like to set up a 'Track Guide' feature for Already Heard, please email Sean Reid.
1. Dying On The Inside
This was probably the easiest song to write and probably my favourite. I do
all the demoing so it all started with me and Matt jamming some ideas. He
started playing this riff and at first I thought he was just warming up with
another band's song but it turned out it was something he had come up with and we went from there. Within an hour we had the basic structure for the track. We intentionally did a lot of work on this song in the studio, we
wanted it to be very raw and real so we left certain parts of the song as
they were, then re-wrote them in the studio. It definitely came out the way
we wanted. Lyrically, this song sums up the EP, it's a huge middle finger to
those who have done us wrong and a big thank you to those who have stuck by us.
2. The Devil You Know
We wrote this song about a year ago. We were in the practice room and the
intro just fell into place from a lead line we were messing with while
taking a break from rehearsals. From there we spent a few hours working on the basic structure and the song was virtually there. Musically, it didn't
really change except the odd tweak here or there. Vocally, it has changed a
lot since the first draft. I wrote a few different versions of the chorus,
gave them a go in the studio and it was obvious, when it came to it, which
one was best.
3. Blind
Lyrically this song is very dark, I was bullied a hell of a lot growing up
in school and it's really affected me in later life. I came across an
article about a boy who was tormented by these two girls for a long time.
One day he was heading home and they followed him and tormented him, just like they would do most days. This boy walked into a forest until neither he nor the girls were in sight and attacked the girls. They were left with some horrific injuries and the whole thing was very tragic for all. The thing
that really annoyed me was that the media made him out to be some sort of
barbaric animal. Now I'm not condoning violence at all, but the 2 girls had
a part to play in this as well and they were made out to be the victims when
personally, I think the biggest victim was the boy. It's really hit home and I could see a lot of similarities between myself and this person and was shocked at how blind people can be to this sort of thing.
4. Confession
This song was made up of a few different ideas. As we do all the demoing
ourselves we tend to save a lot of ideas and come back to them if we hit a
wall. This song was made up of about 3 or 4 different songs we had
previously written, ripped apart, then combined. Lyrically this was a tough
song to write as it's aimed at my band members. Before writing this EP we
went through a lot as a band and at a point we really started to hate each
other.
We did a tour of Europe in November 2013 and I suppose we weren't all on the best of terms before leaving. After playing one of the last shows
everything just kicked off. It came out of nowhere really and ended up
getting physical between me and another member. I felt horrible about it and so did the rest of the band and just before our last show, I announced I was leaving. When we got back we were ready to call it a day, our manager got involved and got us all in a room to work it out. We sat there for hours
saying what we hated about each other and to be honest I thought it would
just end up in more fists but we left that room with everything sorted and a
much stronger band.
I think it's important to remember moments like that. It really scared us, the thought of losing this band and that's what made us suck it up and work through our issues. I think it's important to remember things like that, regardless of how crappy they were, as its makes you appreciate what you have and I can honestly say that we are now unbreakable as a band.
5. Heartless
This was the last song we wrote for the EP. We wrote this a few days before
going into the studio and, as we did with some of the other songs, we left a
lot of it to polish off in the studio to give it that raw feeling. As the closing track to the EP we wanted this to be epic, we had the basics down
for the song but it still didn't feel as big as we felt it could be. Me and
Steve sat down in our practice space going through the song and decided the chorus was where we really wanted it to tug on the heart strings. I looped the chorus and within minutes Steve wrote this gorgeous lead line that literally gave me the chills. Off the back of that I wrote the melody to the chorus and that was that, it was one of those things where, straight away, you know it's perfect for the song and doesn't need changing.
Lyrically it sums up the EP, as does the first song 'Dying On The Inside', as it's all about what we have gone through as a band and as individuals, all the ups and downs we have endured and what we plan to do going forward.
'Heartless' EP by When We Were Wolves is released on 22nd September through Imperial Music.
When We Were Wolves links: Facebook|Twitter|Soundcloud
September (with Valiant)
18 The Gryphon, Bristol
19 Tiki Bar, Plymouth
20 Lounge Bar, Workington
21 Think Tank, Newcastle
22 O'rileys, Hull
23 Grapes, Stafford
24 Unit, Southampton
25 The Cave, Addlestone
26 White Hart Hotel, Bridgewater
27 Two Pigs, Cheltenham
November (with The Blackout and Chiodos)
2 Waterfront, Norwich
3 Cockpit, Leeds
4 Sound Control, Manchester
5 King Tuts, Glasgow
6 Corporation, Sheffield
8 Slade Rooms, Wolverhampton
9 Fleece, Bristol
10 Rescue Rooms, Nottingham
11 Solus, Cardiff
12 1865, Southampton
13 Scala, London