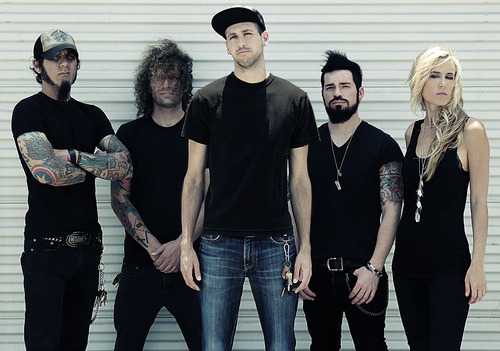 Since forming in 2010, Los Angeles, California rockers Warner Drive have built a strong live reputation having played the Vans Warped Tour and the Rockstar Energy Uproar tour.
Last month the five piece released their latest album, 'City Of Angels'. A collection of radio-friendly hard rock numbers that demands to be heard again and again.
We recently spoke to vocalist Jonny "Jonah" Law as he talked us through 'City Of Angels'.
If your band would like to set up a 'Track Guide' feature for Already Heard, please email Sean Reid.
1. Rising From The Fallen
Lyrics: Jonah / Music: Jonah, Levinson, Harris, Udell, Shadrowski
This is a special song because its a co-write with everyone in the band. We were in Sweden and I (Jonathan Jonah, singer) was working on a
riff/verse/chorus one early morning while jet lagged and unable to sleep.
As each band member woke up they would come upstairs and contribute to the song. That afternoon, we rented a rehearsal room and worked out the kinks. It's the only song written in Europe and the only co-write on the album involving the entire band.
The song is about rising from the depths to overcome… Whether that be an oppressive government, authority, situation, etc… It's about banding
together and being one, and overcoming hardships together. Power in
numbers. Perseverance.
2. The City Of Angels
Lyrics: Jonah / Music: Jonah

This is the title track on the album. Written by Jonny Law who grew up in
the middle of Los Angeles, California (The City Of Angels). The song is
based around the premise of a fallen angel in the city. She has fallen
from grace and the heavens have turned their back on her. When the devil
comes to claim the souls of the living, she is the only hope for society…. a fallen angel…. flawed. The metaphors lie in the devil being the day race that we all fall victim to in this city we love in. A city that offers so much hope and promise, yet crushes your soul. To me, the angel is music, my only salvation in this rat race and the one thing that always lifts me up when down.
3. "Boys N' Girls
Lyrics: Jonah / Music: Jonah
This is a song inspired by the tragic suicide of a dear friend two years
ago. Her passing made me think a out the people she left behind. It's a
song about a woman who vomits subside and it leaves her parter a wreck. He drinks himself to death essentially, with the philosophy that they'll meet
again in the afterlife and be together again. The song touches on the past, present, and future of their relationship, and how a boy met a girl, and that girl changed his world.
4. Radio Love Song
Lyrics: Jonah / Music: Jonah

Radio love song is a sarcastic and ironic look on what "sounds like a
radio love song". The lyrics in the verses are based on a typical love
story, and the chorus breaks into a sarcastic response to those lyrics by
saying: "Sounds like a radio love song".
5. Open Our Eyes
Lyrics: Jonah / Music: Levinson, Jonah

This song is based on the conflict of any relationship with any person in
any capacity. The frustrations that exist when people have to coexist. The
line "open our eyes" speaks to the fact that we need to be more aware of
each other. And sometimes the only way to do that is to close your eyes and look inwards so that we can open our eyes.
6. King Of Swing
Lyrics: Jonah / Music: Jonah

Simply put, this song is about/dedicated to my Father who passed away in
2006 after a fight against leukemia. My Dad was the King of Swing, a
leader of the community and our family. This song is a tribute to him and
his life and to his legacy.
7. West Memphis Three
Lyrics: Jonah / Music: Jonah

Inspires by the tragic events surrounding the wrongly accused West Memphis Three. Three young men found guilty for a murder they didn't commit and served 18 and a half years in prison, only to be proven innocent by DNA evidence in 2007, and forced to sign an Alford Plea which said that if they admitted guilt they would be set free. A huge injustice done to three young men, robbed of 18 years of their youth, because the powers that be would have been to embarrassed to admit that they were wrong.
8. Ah-Ha
Lyrics: Jonah / Music: Jonah

Inspired by a girlfriend who's shall remain undisclosed… She would never
challenge me and always agreed with me. Saying yes to everything,
monosyllabic, and dull.
9. Falling Down
Lyrics: Jonah / Music: Jonah

A song about a bad stretch of luck, falling from grace, being tempted by
"the dark side" and acting out of character. Shit Happens. That's what
this song is about.
10. Fully Loaded
Lyrics: Jonah / Music: Jonah

A song originally written as the title track for the first Warner Drive
album "Fully Loaded". The song didn't fit the first album so it was left
off. As the band grew, matured, and found its sound, this song seemed to
"fit" this new album and is a band favorite to play at shows. It's a
drinking song, dedicated to the WD fans who come to the shows and get
crazy!
'City of Angels' by Warner Drive is out now on Cyber Tracks.