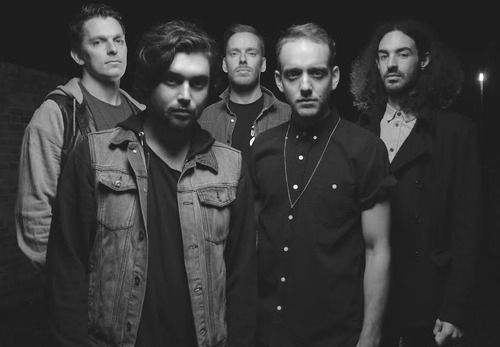 Next week Essex melodic alt-rockers Villains unleash their debut self-titled album. With comparisons to Young Guns and Mallory Knox, Villains' debut effort is filled with huge choruses, thriving melodies, and plenty of fitting riffs making it necessary listening for fans of UK rock.
To give you a preview of what to expect from this hotly tipped quintet, vocalist Renz Byrne has provided Already Heard with this exclusive 'Track Guide' feature to talk us through the album, track-by-track.
If your band would like to set up a 'Track Guide' feature for Already Heard, please email Sean Reid.
The Way I Tell Them
We thought it was important to kick the album off like our live shows and felt this song to be the most suitable one for the job, the song title is all Frank Carson, never found him very funny but that catchphrase always cracked me up and the phrase kinda worked as the start to the chorus and so it stuck, so the whole song was written around an Irish comedians catchphrase. Very fun song to play live.
Wicked Ways
Probably my favourite song on the album, it's also the one that uses Matt and Berts vocals the most which is something we definitely want to incorporate in the future. If you listen to the lyrics it's pretty self-explanatory, everyone's had a relationship that's ended rubbish.
The Fall
Hopefully you've already seen the video to this song, if not then check it out! You get the vibe of the song from the video, all about taking falls and how you get back after them.
We Have Capture
This one is my favourite to play live just because the first verse is such a low register for me to sing I can have a bit of a rest! The working title for this song was originally 'Bruce Forsyth Banjo Medley' and it stuck for so long that our drummer Drew still doesn't know what song is We Have Capture despite playing it a bunch of times and will only refer to it as 'Bruce'. Bit of a weird subject matter, it's kinda lashing out at the end of a bad relationship and just completely introverting and getting everything out of your system even if it is a bad idea.
Bleed
Ok, so, basically we kicked out one of the original members of our old band for a whole litany of reasons that probably best if I don't go into and he ended up suing us for over £2000, got lawyers involved, sent us threatening letters despite us being completely in the right. Long story short, day of court arrives and his own lawyer asked if we'd settle before we go in, we felt we only owed him £20 (long story) and she took it because he didn't have a leg to stand on. I wouldn't like to put words in the boys mouths but I'm pretty sure I speak for us all when I say this song is about our feelings towards him.
The Light Outlives The Star
I'm not sure even the other lads know have worked out what this one is about, it's actually about the end of our old band (Never Means Maybe) and even though it started being written before we stopped I could kinda feel that there might not be much life left in it but that if it all stopped right then we could be very proud of everything we'd accomplished.
Come Out And Play
A very playful song, with a bit of a nod to our Essex roots I think with lines such as "Straight back to yours? I'm only havin' a laugh", so much music is so very, very serious, I thought I'd try something different with the lyrics to this one and have it even be a bit silly trying to capture the fun and spontaneity of when you first meet someone that you're rather fond of.
Visions
Bit of a vague song lyrically, I'll leave it to you to find any meanings in it. This is one of the few songs that always had an actual title and not a ridiculous working title.
Sinners
Speaking of silly working titles, the working title for this one was 'Handstands With Herman Munster'. This is one of two songs we haven't actually played live yet, it'll be interesting to see how we pull it off! The song is pretty much about feeling you're going absolutely insane and just calling out everything you despise. Bit of a contrast to 'Come Out And Play!'
The Hardest Part
Had gone through a rough break up just as this song needed to be written so it's all about breaking up and being miserable, but was recorded just a couple of days after everything had happened so I think you can hear the emotion in my voice on it. Don't you all worry though, completely over it and we got an awesome song out of it so I think we've won. Another one we've not played live yet but one that I think will come across really well if we do!
'Villains' by Villains is released on 24th February.