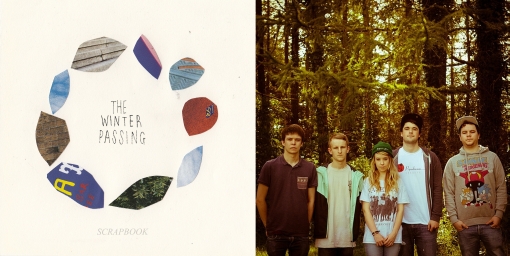 On 8th March, Irish indie punk band The Winter Passing release their debut EP, 'Scrapbook,' a collection of honest, sincere songs that compliments the bands sound which has been compared to Tigers Jaw, Jimmy Eat World and Balance and Composure.
Vocalist and guitarist Rob Flynn recently took some time out to give us an exclusive track-by-track guide to 'Scrapbook.'
If your band would like to set up a 'Track Guide' feature for Already Heard, email Sean Reid.
1990:
'1990' is a song about coming of age and growing up I guess. It's directed towards my parents. They always wanted what was best for me growing up and were always there for me but I can't help feeling that the choices I've made in life aren't the ones they wanted me to make so its pretty much me saying sorry for choosing a different path in life. "Leave a key out and don't wait up for me, I'll be home in the morning" pretty much means, don't worry, I'll be fine in life and we (me and my sister) will all be ok. I just need time to figure this shit out on my own!
Crooks:
When I was 19 I went to live in America for a couple of months, not that long but it was the longest I've ever been out of Ireland. 'Crooks' is a song about the first two days when I returned home and how everything about the town I grew up in got to me and got me down. Same faces walking the streets, same building looking exactly the same and the same personal issues I had before I left. I had those lyrics wrote for over a year and as soon as we started The Winter Passing, it was the first song we wrote. The song still means a lot to me, which is cool because I usually get tired of songs pretty fast.
Gold Blend PT 1:
This is the first song I ever wrote that tells a story in two parts. 'Gold Blend PT 2' came out on our split with Forrest a while back so I guess it'll all make sense if people listen to both songs back to back now, its sort of like a prequel. It's about a girl, a relationship I was in a few years ago and how the whole thing went down. 'Gold Blend PT 1' deals more about my feelings during the break up while 'GB PT2' deals with coming to terms with it.
Feels Like:
'Feels Like' is a song about missing something that hasn't happened yet. It's basically when two people are on different pages with situations in their life and want different things so the song pretty much explains my situations and what I wanted from that time. I still remember the moment when I said to myself "I'm dying here, I'm dying." The song came from that line.
'Scrapbook' EP by The Winter Passing is available in three different 7" pre-order packages through View From The Attic Records, Struggletown Records and Something New Records.