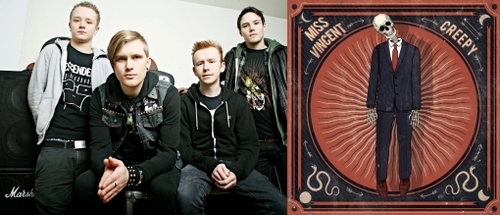 Edgy Guildford punks Miss Vincent are preparing for the release of their mini-album, 'Creepy' on 2nd September.
Influenced by the likes of Alkaline Trio, Misfits, Bad Religion and several other US punk bands, 'Creepy' sees the quartet their inspirations and blend them with their youthful frustrations and put a solid British spin on their sound.
Co-vocalist and guitarist Alex Marshall has provided Already Heard with this track by track walkthrough to tell us what 'Creepy' is all about.
If your band would like to set up a 'Track Guide' feature for Already Heard, please email Sean Reid.
About 'Creepy'
 The title is a way of succinctly putting into words how a lot of the themes on the record make us feel. I find myself in a lot of situations that really make me uncomfortable and scare the living shit out of me, so there's a lot of frustration that comes out in these songs.
1. Deadlock
This is probably the poppiest song on the EP – it's a plea to be somewhere else. I find myself in a lot of situations that I feel uncomfortable in and can't get out of. 'Deadlock' is about trying to take control, and asking for some sort of reassurance that I'm not completely wasting my time. All of the tracks on the EP are pretty broad thematically, and although it will be specific things that trigger a lot of the words, it's the thought process behind it that the song deals with. Even though I'm venting negative things, 'Deadlock' is a bit more of an upbeat song. Just because the words are negative that doesn't us putting them to a catchy melody!
2. I Don't Want This
The title says it all. The biggest recurring theme on the record is frustration, and this encapsulates this pretty well. It's just me getting a bunch of stuff off my chest – it's almost daring the imaginary person standing in front of me to push me over the edge. It ties in with 'Deadlock' quite well because while the first track puts more of a level headed spin on things, this one turns it upside down. "Shake your hands but count your fingers". In terms of the sound, this track is just a straight up aggressive, hard and fast punk rock song. We changed the middle eight during recording too – before it lost a bit of energy there, but we felt the ahhs, as well as the quote (from V for Vendetta) helped keep it interesting.
3. Planning To Fail
This is the most complicated song lyrically. In the end, everyone gets what's coming to them. On top of that, it deals with how to face difficult, manipulative people, as well as the way a lot of people have absolutely no respect for one another. What sums this song up? "An epidemic of a lack of esteem".This song has a few gear changes in there as well, just to try and keep things fresh as the song progresses. There's the fast, aggressive verses, and in contrast anthemic choruses full of soaring whoas. There's definitely a little Bad Religion influence in the chorus. Recording vocals for this song was the toughest of the bunch. We wanted to get as much of a natural sound as possible, really gritty and almost as live, which meant lots of full song takes.
4. Carry On
'Carry On' is pretty tongue-in-cheek. It covers everything from how people approach "love songs" and takes the piss out of them a bit, and even compares relationships to a never ending fight with the undead. I wanted to try and put a bit of a different spin on writing about the "standard" songwriting themes – it's definitely the most lighthearted song on the EP. We played about with harmonics in the intro and outro too, to give a kind of ethereal, horror effect to it, which reinforces the slightly morbid lyrical themes. Lawrie really brought the wah line in the intro to life too – you can definitely hear a little NOFX influence there!
5. Testing Times
'Testing Times' is the most direct song on here. It's sort of an acceptance of the inevitable, but questioning things around yourself, why they are, how they are and a kind of desperation that you can't change things. We very nearly didn't put this song on this release, but I'm so glad we did because it's been great to hear this song develop and see how it's turned out. This song went through quite a lot of changes in the weeks running up to our time in the studio and even while we were recording it. And recording this song was actually really cathartic – there are loads of harmonies and almost a passive aggressive feel to the verses that darkens the song up. The bass line that Owain and Daly (George, Producer) came up with was a stroke of genius, and Jack's drum work in the intro and the middle 8 made it sharp as a knife. It's the perfect song to close out the EP.
'Creepy' by Miss Vincent is released on 2nd September.