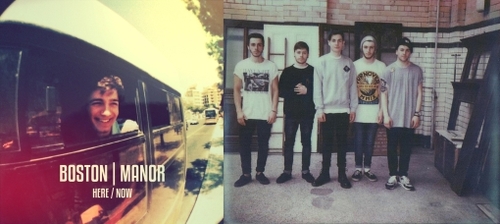 Here at Already Heard we love to highlight exciting new UK bands and North West pop-punk band Boston Manor are just that.
'Here/Now' sees the quintet departing from their hardcore roots in favour of a more upbeat, punkier sound. With influences ranging from Nirvana to Taking Back Sunday to The Story So Far, Boston Manor are certainly a name you'll be hearing a lot more of in the coming months.
We recently caught up with Harry Cox from the band to give us a track-by-track breakdown of 'Here/Now.'
All Tight Euan Cosh
This was one of the last songs we wrote for the EP. The song is essentially about how much fun we had growing up, and how that chapter of our lives, having little responsibility and spending all day, every day with your friends is coming to a close. A lot of the lyrics are sort of in-jokes or references to places in our area. The first lyric "Lets head down to the crater, with no coat and half a litre" refers to a place on the beach where we all used to go and drink as kids.
Dirty Kitchens
'Dirty Kitchens' was the first song we ever wrote. The song was originally played an octave lower and much slower, but we realised that it dragged and it needed more pace, it wasn't really working so we changed it. The song is about cynical people who would much rather mock any creative invention you have, rather than support it.
33 Lawrence Avenue
This song is basically just a song about my parents, and how thankful I am to have such inspiring, supportive people in my life; particularly as I was growing up. The title refers to the address of a house I lived in as a kid. In the lyrics "in the garden, there's an old treehouse, that you built for me, it will never fall down," the treehouse is sort of a metaphor for my relationship with them. I did actually have a treehouse though, it had a fireman's pole, it was bitchin'.
Here/Now
This is our most aggressive song, and possibly the one that stands out most on the EP. We wanted a fast aggressive song but we also wanted to experiment with the bridge and a softer moodier sound. The lyrics are literally about all the things that were bothering me one evening. Thus the title 'Here/Now.'
Tigers Jaw
'Tigers Jaw' is the only acoustic (sort of) song on the EP, we wanted it to sound quite raw and under produced. The song is about the music scene in England, and sort of a nod to all the bands that we love that have broken up.
'Here/Now' EP by Boston Manor is available as a pay-what-you-want download on Bandcamp.