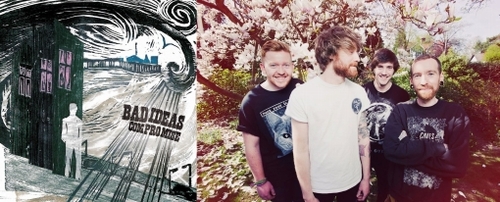 Recently Leeds-based folk-influenced punks Bad Ideas released their latest album – 'Compromise.' Taking its cues from the likes of The Lawrence Arms and Alkaline Trio, 'Compromise' sees Bad Ideas produce a reflective and honest record that holds plenty of charm and subtly sticks to its roots.
Vocalist and songwriter Sam Cook recently gave Already Heard a detailed walkthrough on 'Compromise.' 
If your band would like to set up a 'Track Guide' feature for Already Heard, please email Sean Reid.
Compromise
It was a no brainer to make this the title track for the album. It was one of the last songs to be written for the record and felt like an overview of the content and themes. 'Compromise' is about getting older and how life has the tendency to force compromises at you. As you learn to be less idealistic about your life & ambitions, but more importantly the necessity of learning to deal with this whilst keeping the same principles and positivity in what you're doing. It's too easy to become jaded and drift into patterns of living you never really chose. It might not unfold the way you expected it to but be persistent, creative, resourceful, positive and relentless. Good people and good things will find you.
A Little Lost
A song about losing yourself in a busy city, life routines and trying to regain some sense of perspective over the things you love and who you are. It's about those quiet little moments of calm when something pulls you out of your fast pace life and you suddenly you get a still image you can look at and think "What the fuck am I actually doing!?" I always get this on tour after about two days of being away I know exactly what to do when I get home without even thinking and start compiling these big, manic lists that usually involve quitting my job and trying to be a veggie again. Some get ticked off…
The Easy Life
I wrote this song with my friend Steve in mind. Steve is a dedicated, self-employed photographer and long standing friend from Lincoln (where I lived until about 2 years ago) he's also the guy that shot our various video releases for the last two albums. Although me and Steve are doing completely different things with our lives; the troubles, stresses and worries resulting from our trying to 'make a go' of things in the world without having a boss… and coming at it from a creative angle are miraculously similar. We have these great phone calls on a regular basis where we moan at each other and eventually spur each other on with our self-employment battles! It's great. 'The Easy Life' is an ironic title. It's not. Haha! "We could cross each others T's, as we catch each other eyes."
Shells and Stones
My friend Adam heard this track online last week and said "Ahh, I like that new track you guys put up… what's it called again?!?… acorns and conkers!" I love that man – you should watch out for him he's going to be a Blue Peter presenter – no shit! Anyway, this one's about material positions and the relationship we have with things and money in our society. I tried to poke at the way time almost becomes a commodity to some people. "If time is money, money is time. If time is money, no- one pay's mine."
The Way Down
I wrote this song years ago when I was still singing for The Living Daylights. I had completely forgotten its existence and then found it on an old Dictaphone I used to use for demos. I had recorded it with some shitty drum loop on my laptop hammering away all distorted in the background. It's the only song I didn't purposely write for the album, but hearing it back, it had a different tempo and vibe to the other songs but just felt perfect to chuck in the middle and break things up a little. It took a lot of playing around with as a band. Don't even ask me what it's about; this was a long, long time ago! From what I can make out, it's about personal battles with insecurities, which is a well-travelled topic for me at this age.
No Secret; I…
I wrote this song for my little brother. I always call him little even though he's pushing 7 foot and had size 13 feet. It's quite a personal one and It's pretty straight up so I won't go into too much detail… but the general outline is "These are my faults, don't fuck up the same way." I love you Jim.
Lincoln
I wrote this as a kind of spoof love song for Lincoln, the town I grew up in. I had a real love/hate relationship with the place and when I moved away it felt like a break-up. We eventually got over our lovers tiff and were actually pretty good friends these days. I love visiting. But if I stay too long, we still always end up arguing! "Lincoln, I won't tell a soul- of the summer that I stole from you. This new cities getting old- and It's not my town, It's not my town at all."
Fake Teeth
Here's an interesting one. A few years back when I was living in Lincoln, I had a run in with my next door neighbours at the time. Let's just say that they were not such a sympathetic family and didn't appreciate the noise we made that travelled through the thin walls between us. The crazy lady used to thump on the walls and scream about burning our house down when we were committing the atrocity of playing an acoustic guitar mid-afternoon. She never did this but she did get her crazy fuck of a brother to beat the shit out of my face outside our house, thus causing me to lose a front tooth. Funnily enough, he never got caught (thanks Lincolnshire Police!) but this incident did eventually pay for the first Bad Ideas EP and the hunk of junk van we toured it in at the time! The whole thing left me thinking "what the fuck happened in your life for you to think that is an appropriate way to deal with your problems?"
Simple Connections
A very personal song about a very specific set of events. It wouldn't be fair of be to disclose too much about this one. It's about trying to help someone you love when they don't want to help themselves.
Little Things
Sometimes you have a really fucking good night out, just at a point in your life when you need one. Shit goes down, you usually pull some dance moves that could fall into the category of disgusting and surprisingly you wake up feeling fuck awful but also a whole lot better all at the same time!? I had a really good one of those last year with my friend Adam (mentioned earlier) and our guitarist, Wiggles. This song is about that, and how the smallest things can sometimes really give you the best sense of freedom and opportunity. "My friends they never let me down, let's find the worst bar in the town. The three of us, we'll loose our senses, then our keys- well jump the fences home."
Dirty Habits
This track was a last minute addition to the album, and also one of the easiest to write. I tend to slave over songs and really procrastinate over the task of not compromising the lyrical content, whilst fitting it into the vocal melodies I have in my head… but this one basically fell out of my mouth in one go and that was that! It's another really personal song. I have no idea if the person I wrote this about has any idea it's about them. I tend not to discuss these things unless someone brings it up. It's always going to be a creepy as fuck conversation but I'm a creepy as fuck guy so I'm gunna write a song about you…
'Compromise' by Bad Ideas is out now on No Reason, Shield, Fond of Life and Bad Mood Records.
Bad Ideas links: Facebook|Bandcamp|Twitter
If your band would like to set up a 'Track Guide' feature for Already Heard, email Sean Reid.