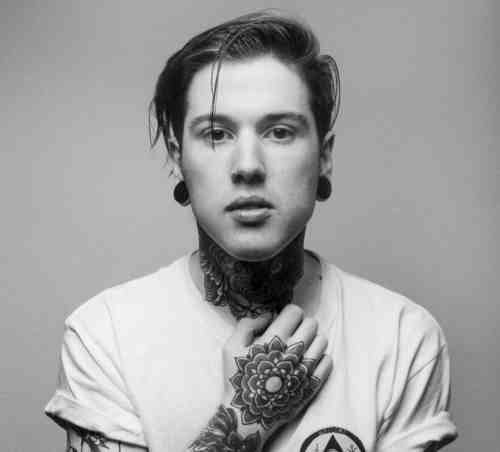 Having abandoned the solo route in favour of a full band, the third album from 24 year old Ewan Grant aka Algernon Doll, 'Omphalic' was recently released through Struggletown Records. Ewan has now be joined by Wull Swales, Owen Wicksted, and Tom Mitchell, and in 'Omphalic' they have created a record that is rooted in 90's alt-rock with brooding, fuzzy numbers that thrive of Grant's emotional lyrical prowess.
Since its release we've been spinning 'Omphalic' a lot at Already Heard HQ, so much so we gave it a 4 out of 5 rating last month.
Now as a treat Ewan recently spoke to us to talk us through 'Omphalic' track-by-track.
If your band would like to set up a 'Track Guide' feature for Already Heard, please email Sean Reid.
Spilt Milk Perfume
This song, as many on this record, came together in the studio. I had a riff idea with a bunch of 7th inversions that I was playing about with and the bones of a song I'd written on an acoustic the night before. We jammed out the bridge and really had fun with it and I like what that adds to the song as it did turn out to be pretty poppy.
The lyrics are about having to assume a smell or persona to get by in this world with the least amount of hassle. I feel very disconnected from our species and our acts and behaviours embarrass me.
Justine
I came into the studio with this song only and the idea of recording an EP so this was the only song on the record that I had fully worked out before hand.
The song is named after Kirsten Dunst's character in Lars von Trier's Melancholia and the lyrics are about realising your place in the universe and the implications of that. The more you realise you're meaningless in the scale of everything: that insignificance comforts me but the idea of being alive, forever living repeat lives, or dead forever after this life terrifies me and leads me to spiralling depressive turns. I imagine death is a lot like it was before I was born… that's the only comfort I can find in this train of thought.
It's also a pondering on why people have so much self-meaning or believe they are owed anything by any human idea of destiny or fate. "I sold my new face for more than double what it cost to make and stood there amazed, a bargain masquerading… Honestly, I hate it anyway."
Tamed
I wrote this song on cubase on my laptop and it translated so well to guitar so I used it. The lyrics are about controlling your personality with anti-depressants and sedatives so that you don't shock anyone with your behaviour. In my opinion, this society is based on stress, competition and financial gain. I'd like to live outwith these constraints but I can't so to keep me sane, I have to take a bunch of pills…
Suicide
Tom and I loved this drum beat and were playing about with chorus pedals. We just banged this out. It's really fun to play live and audiences all over the country have been quick to sing along. I just thought it'd be funny to write a happy sing-a-long tune about suicide and how it's shaped my life.
Candy-striped
This tune is about the half-life of anti-depressants. They get you through the day but at the end of the day, you see things for what they really are. Musically, it has a hazy dream-like quality that mimics how I go about my day, Satisfied pig or Socrates dissatisfied?
Fellate
This is one of the two 'heavier' tracks on the record. We play with a lot of feedback live and we love to jam things out. I wanted to show this side of our band too. I also hate making safe decisions in a record. I could have included more catchy songs but I simply didn't feel like doing that and the album's supposed to represent how I feel (selfish I know.)
This and 'Relate' touch on my advocacy of gay and women's rights. I don't feel I'm entitled to be a spokesperson for this entirely but that's why these are angrier songs. It sickens me, the amount of
prejudice still there in this day and age.
Pink and Blue
Another dreamy pop song. The inside-joke is that the pink and blue refers to a drowning boy's face turning from a healthy pink to a frozen blue in an unforgiving river. It's the tale of how I lost one of my friends and the ridiculous nature of it all. Instantly being forced to give police statements without a second to mourn or even contemplate what had just happen. That night will always remain the most vivid experience in my life.
Sweet Nothing
A pop song in A. I find it hard to be impressed or love many things. This is supposed to be a love song but for hee haw! The few things I love in life, I cherish deeply but not much else impresses me…a bit like Shania Twain I guess!
Relate
The twin to 'Fellate.' Particularly this song is about an occasion when I noticed people being grossed out by two men, kissing. Just fucking RELATE! Public displays of affection are not prohibited so get used to it.
Goodbye, Blue Jeans
A send off to a friend who died too young. Some people are too sensitive for this life and they shouldn't be thought of as weak for giving in to these feelings. I will always blame myself for not spending more time talking about what's important with any of my friends who are down.
This song is in a cool new tuning I've been using that I think is pretty unique too but I'm not about to give it away yet!
Pheromone
An atmospheric ender. Under all these layers, there's an emotionally frail boy. The scent that animals give off to attract their mates works fine for them. Human attraction has it's downfalls. Manipulation of this can put people over the edge.
'Omphalic' by Algernon Doll is out now on Struggletown Records.