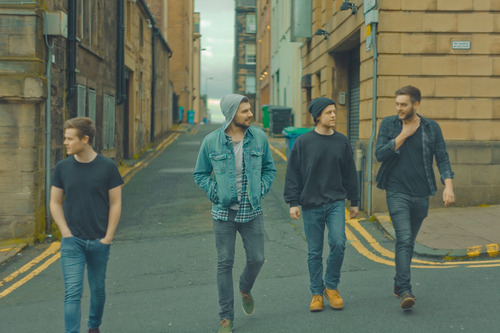 This week Scottish emo alt-rockers Alburn release their new EP – 'Mouthful of Glass' through Split Lies Records. The four-track release sees the quartet mixing up their influences; Brand New, Manchester Orchestra, and a host of Deep Elm Records bands, to produce a dynamic take on the quiet / loud style.
From the explosive 'The Nurses Can't Help Me' to the delicate 'Sweetheart', 'Mouthful of Glass' is a thorough and raw EP that leaves you hungry for more.
As part of our on "Track Guide" feature, the band recently talked us through the four songs on 'Mouthful of Glass'.
If your band would like to set up a 'Track Guide' feature for Already Heard, please email Sean Reid.
1. The Nurses Can't Help Me
This was the first song we wrote together as a band and it's frankenstein of different ideas we all had previously penned for other songs. We wrote it in one night and was really the result of a conscious effort to write a straight up rock song. A lot of our previous material has been very dynamic and progressive and we felt like we just needed to kick off this EP with some in-your-face riffs and shouting.
When we were researching studios to record in and found The Ranch, we could've sworn that the drums or at least the snare was sampled, but it's all genuine – no funny business. Just awesome mic positioning and a lot of drum tuning between takes. We managed to get a really meaty bass sound by moulding together a few different mic/tracks and it really gives the song some balls. There's also a little e-bow cameo in the mid part, played by Mr Neil Kennedy himself.
2. Golden
'Golden' is the oldest song on the EP, and you can still hear our quiet/loud dynamic thing going on. Neil really helped us shape this song by suggesting different vocal parts on some, originally instrumental sections to keep things interesting. There's some more e-bow action in the mid part and we used the Blue Sky reverb pedal a fair amount too. We tried out a few amps but settled on this USA hand-wired, beast of a head called a Bad Cat, which is so versatile it can do anything. We also layered up the chorus guitars with a tiny Orange pocket amp. Lyric-wise it's pretty much about accepting a situation and moving on. The verses are pretty literal, but the chorus not so much!
3. Mouthful Of Glass
Probably the most experimental and complex song we've written – the verses are all stripped-down, hectic, fast and visceral with Pete's shouty/non-musical vocals, a really cutting single note guitar riff and fast punky drums. Then in contrast, the chorus is super layered up and floaty with loads of guitars (including an acoustic) and about 5 of Gee's vocal harmonies. The verse vocals were actually recorded using a plain old SM-58 held in Pete's hand so he could build up enough energy to belt them out. Guitar-wise we stuck with a mixture of Fenders throughout the whole EP – Teles, Jazzmasters, a Jag and a jazz bass. The chilled out middle section, calm before the storm, if you will, has the most beautiful sounding snare in it. It lulls you into a false sense of security before it all descends into super squashed chaos. The lyrics as a whole are obviously fairly nautical themed, about the demise of a Captain and his ship. Metaphors galore so people can relate what they want to it and I'm sure each of us have our own meanings for this song.
4. Sweetheart
'Sweetheart' is a contradiction of soft, delicate acoustic music crossed with hard-hitting, dark and almost aggressive lyrics. It's about as open, straight forward and honest as it gets, yet not drawn from any personal experience. The lyrics aren't complex because it's intended to be as real and obvious as possible. Gee recorded it live, at home with one mic in front of him to emphasise the rawness, simplicity and urgency of the song. "I wanted it to sound as if I've just killed my girlfriend and now I'm recording a song about it."
'Mouthful of Glass' by Alburn is out now on Spilt Lies Records.