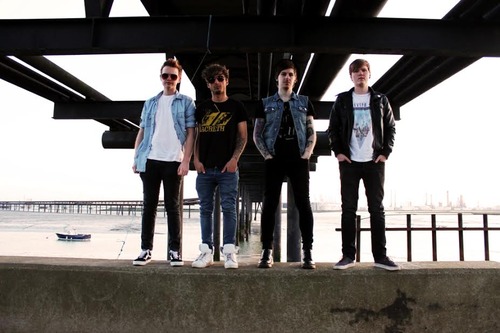 In the latest edition of our "Already Heard Track Guide", we catch up with emerging Essex pop-rockers A New Day as they talk us through their new EP – 'Forever Tonight'.
The three track release sees the light of day next week, and sees the young band continue their growth with lead single 'Boyfriend' being an insatiable, radio-friendly number that is certain to attract fans of bands like All Time Low.
To give you a better impression of what to expect from 'Forever Tonight', here's the bands guide to the EP.
Boyfriend
The track is like a fragmented old memory brought back to life with a lighting bolt. We wrote the song in parts and it has the same lyrical theme and it was pieced together like it was meant too. We happen to stumble on this theme and the music just flowed. 'Boyfriend' came upon us like an exposed nerve, it was fast pain and very strong! This song has a lot of emotion which we tried to catch – whilst still staying with our own identity.
Faith In Me
It is was written as a bit of fun but turned out a real winner. It's got all the rock we can offer with a fast catchy Punky chours. The song lyrically is about the overall feeling of not being tied down to anything because you have bigger fish to fry. It talks about a person that needs to keep moving and exploring new things. We centered this around a relationship to carry the message to make this relatable to our listeners.
Call You Mine (I Don't Want To)
This number is one we are very proud of, its got very poppy elements which a wider audience can relate to and it's so catchy and upbeat – it rockouts throughout! The lyrics are about someone that's seen and experienced love before but like everyone, at some point, they get hurt. The story goes on to him seeing this girl with purple hair and thinking this girl is great but instantly makes the assumption it won't last. This persons all about being strong and imagines situations before they happen. Right or wrong this guys made his mind up for now.
'Forever Tonight' by A New Day is released 4th August.