Last weekend the festival season kicked off when the Takedown Festival happened in Southampton. With a whole load of bands playing across five stages, we got guitarist/vocalist Jason Danzelman from Brighton pop-rockers Verses to talk us through their day at Takedown in our latest edition of "Tour Tales".
If you would like Already Heard to promote and sponsor your tour/show or set up a "Tour Tales" feature, send an e-mail to [email protected] for more information.
At 9am we hit the road towards Southampton for Takedown Festival 2014. The journey is smooth with no heavy traffic, the sun is out and everyone is in high spirits about playing what is undoubtedly one of the best rock all dayers the UK has to offer!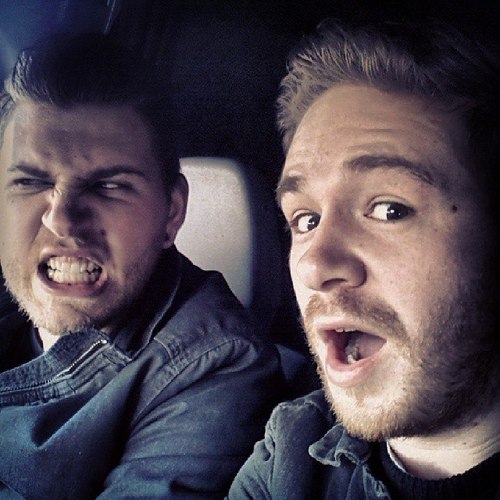 We arrive at around 11am to load our gear into the venue, but as we're the first band to load in we have to wait around quite some time before they can open the doors. Eventually we're in and the load in begins, heaving heavy equipment down a very long corridor, around the corner, down another really long corridor, through another door and through another large room into the back of the Jagermeister stage where we're due to play in a couple of hours time. It's a mission of a load in and is sweaty work, but thankfully all the Takedown crew members are extremely friendly and helpful and lend us a helping hand. We then have plenty more waiting around to do before we can load our gear onto the stage for soundcheck. Waiting around can always lead to the temptation to drink loads of beer, but we manage to restrain ourselves because we know we're pretty shoddy if we drink before we play.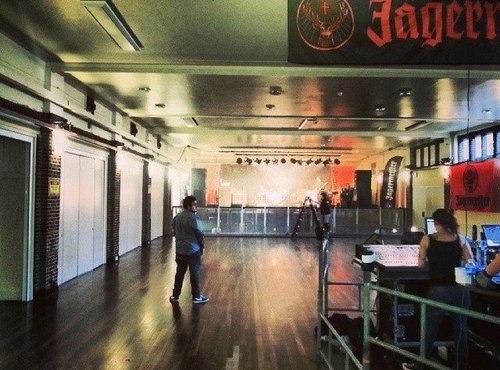 At 1pm we begin to soundcheck. Our sound engineer Aoife is totally on the ball as always and everything sounds unbelievably huge! This takes our excitement levels for the show even higher and everyone is a little nervous, but in a good way.
At 1.30pm the doors open and people start filtering into Southampton University for one of the first, if not the first festival of 2014! It gets to 1.50pm and because of how long it takes for everyone to get into the venue, our slightly pessimistic mindset kicks in and we start to worry about how many people will come and see us at our opening time slot of 2.10pm.
It gets to 2pm and the room is now starting to fill. Nerves and excitement all round! We played Takedown two years ago on the smallest stage, so to be asked to open the main stage this time around is a huge honour.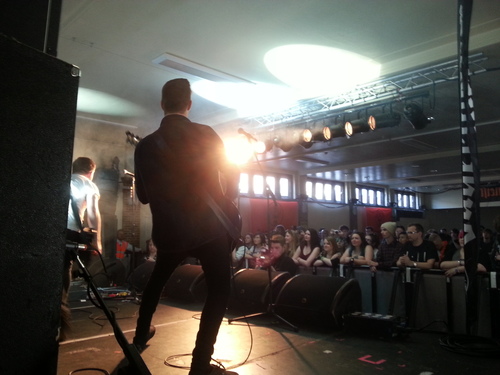 At 2.10pm as we launch into the opening title track from our album 'Feel It Faster', all nerves are instantly shaken off and for the next half an hour we have the time of our lives in front of a much bigger than expected crowd. We even spot a few people singing along to songs from the album we haven't even released yet. A great sign! We leave the stage as four very sweaty but very happy men, proud of how the last 30 minutes unfolded.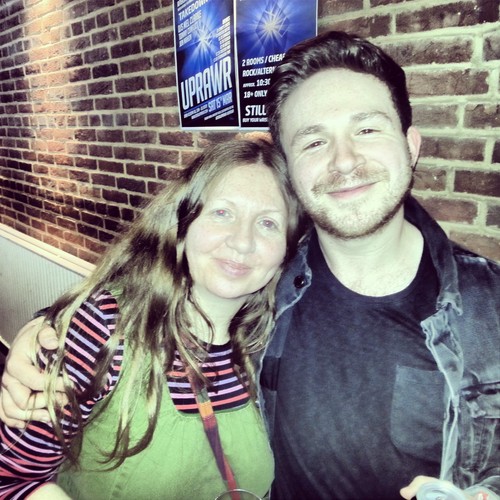 Time to load gear back out as quickly as possible as we have lots of press to do shortly! We get everything back in the van and get changed. NOW we can have a beer! I go to find my mum, who has come down to see us play on her birthday. It's nice to have such supportive parents! We bump into Romesh Dodangoda, the producer of our album. He's always a great laugh. We then head off to find the press area and begin interviews for the next 3 hours or so. It can be draining, but we definitely can't complain, it's all part of it! Once that is finished at around 6.30pm, we can finally go and grab more beers, and finally have something to eat!
We spend the rest of the night watching some incredible bands and hanging with some great people we don't get to see often enough. We meet the guys from The First, who are on the LostAlone tour with us in April. They're a great bunch of dudes and we're now looking forward to the tour even more! Watching the guys in Kids In Glass Houses smash it is pretty emotional, knowing that they're disbanding at the end of the year. Seeing Jamie Lenman busting out some songs by his old band Reuben is pretty special too, they were a big influence on us growing up.
As the main part of the night draws to a close, Dan, Joe and our crew Aoife and Sam head off home, while me and Fish decide to stay put and attend the Total Uprawr afterparty. We head downstairs to get down on the dancefloor with The First, I Divide and a bunch of other friends, before heading across town to meet up once again with Romesh and Kids In Glass Houses singer Aled at a club called Unit. We bump into Mallory Knox's Sam Douglas before his guest DJ set, and more dancing and drinking is done until we can dance and drink no more!
Our night ends and we reflect on an incredible day being part of Takedown Festival amongst so much incredible homegrown talent. A great day and night all round!
'Feel It Faster' by Verses will be released in late Spring.
Verses links: Facebook|Twitter
If you would like Already Heard to promote and sponsor your tour/show or set up a "Tour Tales" feature, send an e-mail to [email protected] for more information.