Having been voted as 1 of the 6 bands to play the Red Bull Studio Stage at Download Festival 2014, They Say Fall have kindly provided Already Heard with a detailed account of their weekend for this edition of "Already Heard Tour Tales".
Hailing from Lincolnshire, the post-hardcore five-piece decided to make the most of the experience by taking on the full festival experience. From turning up a day early to drinking way into the night to meeting some musical heroes, They Say Fall certainly had an eventful and memorable weekend. Read on to find out what they got up to.
Wednesday 11th June
We decided pretty early on that even though we were not playing until to Friday, we wanted to head down from Wednesday to get the full 'Download' experience. We met up first thing in the morning with a bunch of friends, loaded up on McDonald's, and set of on the journey to Donington.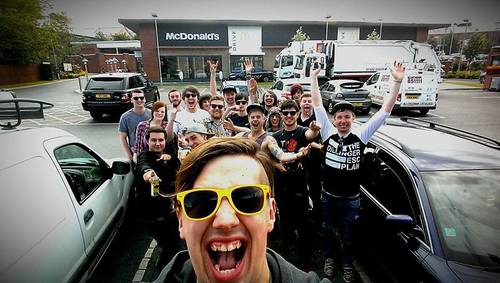 "Fully loaded with enough beer to sink every man into oblivion"
As it was a very first time we've ever had the opportunity to play Download, we were incredibly excited to arrive, as you can imagine, we were pretty clueless as to how they operate. We actually ended up turning up a full day in advance of when the bands were meant to turn up! Fortunately though, even though we arrived before anyone was expecting us, Mandy the Artist Liaison was fantastic and made the extra arrangements for us to get in.
The rest of the day was spent setting up our base of operations, we decided to camp inside the general camping area, rather than the artist/press camping area. This decision would come back to haunt us after partying/roughing it in the pandemonium that camping with our fellow manics in Red Camp would bring.


"Shaving in preparation for the weekends beginning, Carlsberg shades for the win"
Thursday 12th June
After a heavy Wednesday night, and about five hours sleep between the five of us we decided to partake in the usual Download festivities, more drinking, baby wipes and hitting the rides big style. Even with Kyle's horrific fear of Clowns, with a drink in hand he stormed into the fun house without a care in the world. To get around the fun house it usually takes about five or so minutes to get around the entire ride, we rode that bad boy for about 35 minutes. Our tour manager who'd hidden in the dark to scare us managed to fall over and hit his head so hard he dented the metal frame!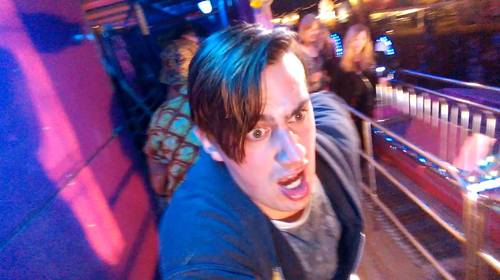 "The fear of the fun house effected Brad in ways he never thought possible"
After doing the tour of the rides in the village we descended upon the festival to do what we do best – Shameless self promotion.
We brought loads of flyers in with us and about 60 copies of our latest EP to hand out to fellow camping brethren. The greatest thing about Download Festival is the people. The people who work at the festival and the people who attend. Everyone who we spoke to was really welcoming and we made some great friends while touring the campsite meeting fellow fans of music. In Blue camp (Where else?!) we witnessed a crowd of about 300 strong circled around a duel of strength between about 8 warriors in empty beer crate armor, wielding swords and shields made of discarded beer cans. Where else would you see this kind of action?
After a short walk into the village to get food before bed Brad ended bumping into the lads from Breathe In The Silence and ended up splitting some beers, and getting to bed way later than expected! Roll on Friday…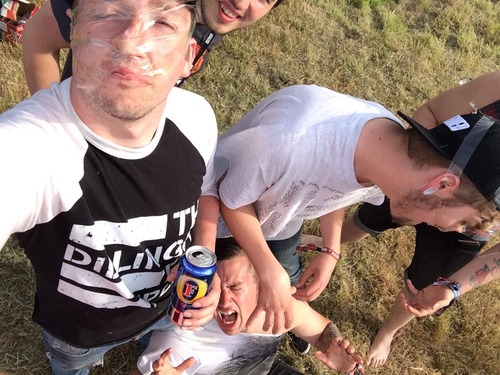 "Before we handed out the flyers and CD's, things got a little "Hill's Have Eyes"
Friday 13th June
"The Big Day"
Waking up at first light we all knew the day would be testing on both our bodies and emotions. We'd vowed not to drink a single beer on the Friday until we stepped off the stage, so opted for the questionable looking water residing under our gazebo. We headed out to Artist camping to shower, and realized just how much we'd passed up by camping in Red (Real toilets, hot running water, SHOWERS!), then headed on to backstage to prepare for our set. After what seemed like an age, with enough Red Bull to wake up an army for war, our set time arrived and we hit the stage at Download Festival. An honour we never thought would be bestowed upon us.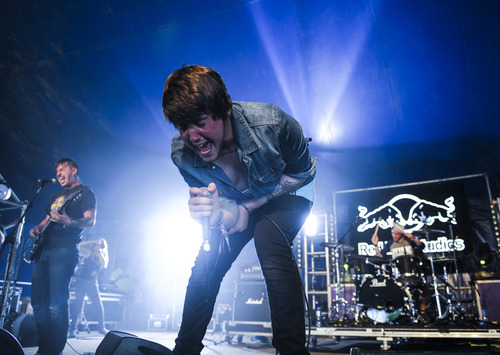 Hello Download!
Our set absolutely flew by, and in a blur we played our songs to so many more people than we expected to check us out. Clashing with the incredible Skindred, we were completely blown away that people made the conscious decision to watch our humble little band over them. It was an absolute dream come true, and after a quick respite, we were straight over to press for a busy interview schedule, set up by the incredible Dave Hanley of Invictus PR. This saw us stood among our musical heroes, partaking in the widest array of interviews we thought possible. Huge shout out to the guys at Live Nation for the most intense game of 'Would You Rather?' we ever thought possible!
The day came to an end spent celebrating with our fellow Download brethren in the VIP area after watching The Offspring and Avenged Sevenfold to close out the day in style. We were joined by our new friends from Create To Inspire, and our Tour Manager ended up wrestling a naked guy, covered in vomit. That pretty much sums up our Friday evening.
Saturday 14th June
After a manic night of drinking a day's worth of beer (to make up for an alcohol free day, of course) the night before, we managed to eventually emerge from our tents in the late morning of Saturday. We were nursing the mother of all hangovers, and despite us all still feeling pumped from playing, everything we did up until the first few bands is still kind of hazy. One of the first bands we managed to catch were Breathe In The Silence, our brethren from the Red Bull Studios Live At Download opportunity. They absolutely smashed their set and the tent swelling to capacity proved how much of an impression they were making!

"Breathe In The Silence tearing up the Red Bull Studios Live Stage!"
After a few more bands, we headed back to the Press Area to take part in a few more interviews. In between interviews, we managed to bump into some of our personal heroes including Zoax, Marmozets and Mallory Knox. We also met up with Fearless Vampire Killers, a band who we played a show with last year and got on incredibly well with! It was great to catch up with them, they're five of the nicest guys we've met and they've shared a lot of invaluable information with us.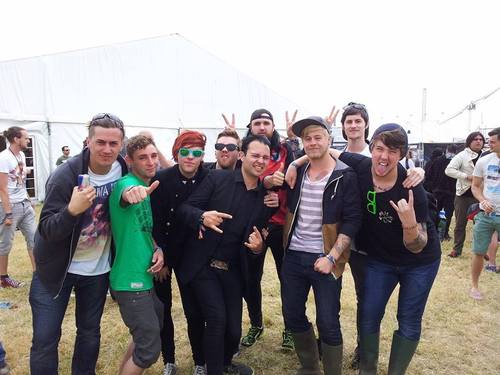 "Us with the guys in Fearless Vampire Killers. If you can't tell, they're the clean, attractive ones."
After our last few interviews, we headed to Main Stage to finish our night off right! After a pyrotechnic filled set from Bring Me The Horizon, we caught what was honestly one of the greatest performances we've ever had the pleasure of seeing, in the form of Fall Out Boy. Their set was exquisitely crafted and they executed it phenomenally! Kehn actually shed a few tears during 'Sugar We're Going Down' and 'Saturday'! It truly was the set to beat … Then Linkin Park destroyed it. 'Hybrid Theory' was probably everybody's favorite album at one point, but that night, EVERYONE in attendance rekindled that love. The whole set, including tracks from every other LP albums was stomping! They showed the rest of us how after fifteen years, they still deserve their spot at the top! As the set drew to a close we all sprinted to second stage to secure a good spot for watching the England – Italy football match. The drinks started flowing, and although we ended up losing 2-1 our Saturday had been so awesome that nothing was going to dampen our spirits! Cue drinking into submission…
Sunday 15th June
After a messy Saturday night in the wake of England's defeat, we all woke up completely worse for wear and with no idea of where we were. A few paracetamol and a warm tinny later we made our way to VIP and Guest area to enjoy the benefits of a shower only to be bitterly disappointed with what we found. The two showers we used had no lighting, and the wonderful addition of a used tampon laid out like a welcome mat. Nothing was sacred!
We spent most of the day checking out some incredible bands, namely our buddies Create To Inspire, who completely smashed their set to a capacity Red Bull Studios tent!
Heading back to press for a couple of coffees, we had the absolute pleasure of bumping into one of our biggest musical influences, Mr Ben Weinman of The Dillinger Escape Plan. He had to be one of the most genuine dudes we've ever spoke to, and we were completely humbled by his modesty. We turned round to find that Steel Panther had congregated around the room behind us and snapped the opportunity to have a chat with those guys too.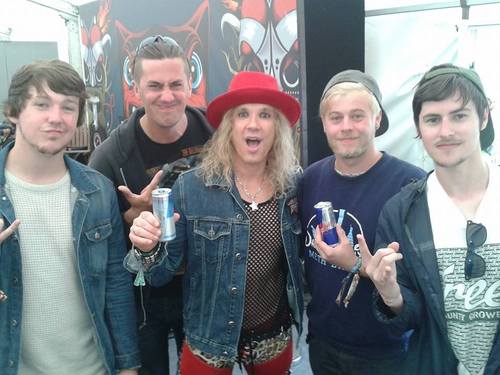 We headed out to the Pepsi Max tent to witness Dillinger absolutely tearing the festival apart, and what a way to finish the musical side to Download it was. For us, it was the set of the weekend, and ended just soon enough to catch the end of the incredible Aerosmith over a beer and a singalong. We spent the rest of the night splitting beers and tour stories with the guys from Fearless Vampire Killers, making some sick plans for the coming months. And with that, we said goodbye to the arena and all the incredible times we'd had in there.
Monday 16th June
We awoke in the chaos of destroyed camping equipment and abandoned camp sites, for those brave souls who dare to bare the Sunday night they experience the full "Fallout" experience on the morning of Monday. A baron bare wasteland where there once was laughter and cheer. Joe, our drummer, is known for his skills in the fine art of the consumption of alcohol and even the fact that in mere hours we'd have to leave did not stop him from bringing the party to the remains of Red Camp.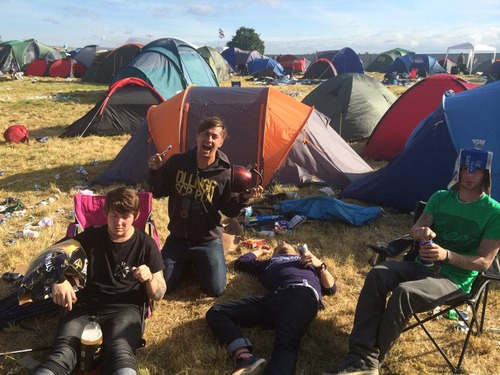 This included the act of tying him to a camping bed, covering him in a quilt, and dropping him at another campsite, they proceed to give him a beer bong whilst he was laying down, he didn't spill a drop.
We packed down our tents, took one last look at our surrounds and bid Donington farewell for another year. We can only hope we get the opportunity to do it all over again next year, as it's been the greatest experience, and a dream come true.
They Say Fall links: Red Bull Profile|Facebook|Twitter