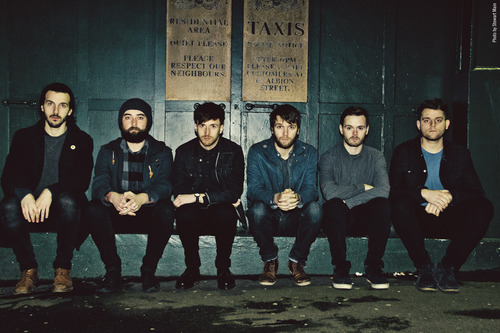 Last month Scottish sextet Flood of Red began promoting their forthcoming sophomore album, 'Throw' and to get thing started they headed on run of UK shows. The 7-date tour kicked off with a hometown show in Glasgow and was followed by shows up and down the UK, finally ending in Edinburgh.
Drummer Graham Griffths has provided Already Heard with the bands day-to-day experiences of the tour.
28th May 2014 (Glasgow)
After a week of late night practices, we turned up to our first show back in almost a year. In our hometown. To a packed room. No pressure.
Coming straight from work, covered in sawdust, to soundcheck was kind of surreal. Ever since we recorded the album we've all settled more into something resembling real life. Jobs have filled the days that we used to spend driving to shows, stopping only when we needed food or to kick a ball and stretch our legs.
Stepping out in front of our friends and fans to play a set of songs that we've known for years but which to them seem new was also a strange feeling. Playing them to fresh ears resurrected them from the early graves we'd put them in. The practice room nonchalance was gone. We weren't just playing these songs to hear them. There was a reason, unknowable, but there. It didn't feel like we'd been gone for a year, though that would come when we woke up the next day. It felt like a lifetime.
29th May 2014 (Newcastle)
In circumstances now typical for us we woke up to find the second show of the tour in jeopardy. As a band we've dealt with bigger problems, but it still wasn't great for our first tour in a year to fall apart as soon as we tried to leave our hometown. After a few messages back and forth we realised that it was a lost cause. Regardless we jumped in the van and headed halfway to the next show. To lift our spirits we splashed out on Travelodge rooms in what would probably be the most rock n'roll thing we'd do. We got an early night making noodles in mugs and watching bad movies which was decidedly un-rock n' roll.
30th May 2014 (Corby)
There are towns and villages in the UK where you wouldn't expect there to be a thriving music scene. And within those towns and villages there are places you would never expect to host our particular brand of music. Corby Ex-Servicemens Club was a perfect storm in both regards. We loaded in early to a room probably more used to bingo nights and the occasional Cliff Richard tribute act, but we've played smaller, and worse. Much worse.
After soundcheck we kicked the ball around before going inside for a pre-stage drink in the bar. We were soon crowding the pool tables, the foosball, the darts and to the dismay of the regulars, the jukebox. The first few notes of 'Go Your Own Way' by Fleetwood Mac had heads turning from pints. The last few of Meatloaf's 'Paradise By The Dashboard Light' rang out as we realised it was almost stage time.
As soon as we started it was obvious that the PA was not built to handle us. Before we could even start our second song proper the vocal mic broke, forcing us into a five minute jam that we salvaged from disaster, admirably in my opinion. The rest of the set had a few people singing along, and more swaying unevenly but in time with the music. We loaded out in our usual lightning fast fashion and headed for London.
31st May 2014 (London Camden Rocks Festival)
Seven guys sleeping in one room on various couches, mattresses and floor spaces smells worse than it sounds. Especially when you're late to bed, and early to rise. And early to play. Our show at Camden Rocks was in the Purple Turtle at 3PM. Our particular brand of music isn't exactly suited to the daytime but a peek inside the venue upon arrival put us a little more at ease. And a little less, considering the soft rock/hair metal hybrid on stage.
As we began, the room filled and, without reaching the highs of the Glasgow show, we played a set that felt good. No busted PA, no haywire microphones, no bullshit. Coming off stage we were greeted by more than a few older men who told us how much they liked us. Maybe not our key demographic but we probably have similar taste so we take it as a compliment.
We headed to see The Xcerts kill it at the Jazz Cafe and then for some drinks by the canal. A tame night really. Plans to go to a nightclub were abandoned due to heavy eyelids.
1st June 2014 (Swansea)
Every tour has a worst show. It's inevitable. In a sold out stadium tour there's still going to be a night that looks you up and down and decides you don't deserve it. And you can't get much further from a sold out stadium tour than a free show on a Sunday in Swansea.
What makes a bad show? For us it seems to be Wales, but in a more general sense it can be one of a few things. Some rooms possess a certain soul sucking quality leaving anyone inside devoid of hope. Check. Some PA systems are not only bad but helmed by the inept. Check. Some band rooms are swarmed with flies. Check. And some shows are attended in such dismal numbers that it seems on purpose. Check.
The highlight of our time in Swansea was after packing the van when a drunk on her bike asked is for a lift to the bank she worked at because she forgot to lock up.
Some shows just suck.
2nd June 2014 (Milton Keynes)
It couldn't get worse than the previous night. It was impossible. But the deck seemed stacked against us. We were driving to Milton Keynes.
We arrived at the Craufurd Arms and realised we'd played there a few years before, at what we all half remembered as kind of a good show. The sound engineer was very excited to hear us and even at soundcheck we played louder than we had the whole tour. He seemed pleased.
By now the monotony of the time between soundcheck and stage time every night was palpable. Time dragged, uncaring that the only thing we wanted to do was play. When we eventually took to the stage, a small but enthusiastic crowd greeted us and for that brief period of time we forgot the Hell of the night before. It might not have been Heaven but Purgatory has its charms.
After a quick supply stop we embarked on the mammoth journey north, to Edinburgh. The horn blared when we crossed the border in the wee small hours, a tradition that both comforts and annoys when you're trying to sleep.
3rd June 2014 (Edinburgh)
Last day. Reconvening after some well needed sleep in various homes, we felt glad to be back in Scotland. Edinburgh is usually good to us and it felt comfortable, not quite home but close enough.
The show was one of the good ones. A set that flowed, an appreciative crowd, a big sounding room, and the knowledge that we were ending the shows on a high. There's little more you can ask for. And there's not a lot more you can get.
One Direction were playing in a stadium across the city, the streets and trains crammed with their adoring fans. It was strange to be so emphatically placed on one end of a spectrum. The little victory was just that, little. But there's not a lot more you can get in the end.
'Throw' by Flood of Red is released on 30th June on Superball Music.