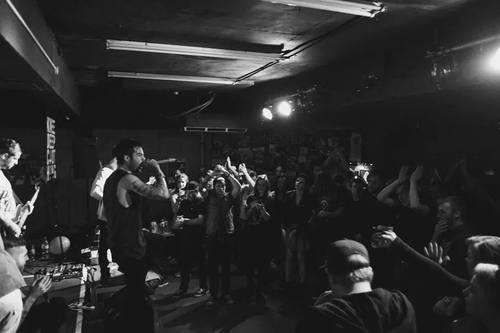 Late last month rising UK metalcore band Atlases headed out their Already Heard/Dead Press! sponsored UK tour.
As the quintet hopped in their tour van christened as 'The Red Dragon', Atlases offered to give Already Heard a day-by-day account of the tour, one which seemingly involved plenty of alcohol, a visit to A&E and sweaty, packed out shows.
So read on as bassist James Collins tells a tale of Atlases' May UK tour.
Day 1 – Newport
After a long day of getting our shit together, we arrived at Newport to be greeted by a herd of sketchy looking chavs shouting about smashing someone's head in. A nice welcome to Newport! We then hooked up with our pal Antony (the promoter) for what is set to be his last ever show. Tonight we've got our good pals This Is Shark Country supporting us, as Prolong The Agony had to bail on a few of the dates. The evening kicked off with some young local bands that brought some die hard headbangers along with them. The combination of youth amongst the audience and free flowing alcohol, spurred everyone present into an enthusiastic frenzy. The local lads smashed it, lubricating the audience and paving the way for This Is Shark Country, who's consistently staggering performance of old and new material captivated everyone in the room.
Nervous from an early 2014 hiatus which saw a line-up change, we were ready to welcome our new guitarist to the fold – Chris Barlow. Having been a great friend for many years, he seemed like the obvious choice after we sadly parted ways with ex-guitarist, Jamie Butler, who has chosen to follow his dreams of travelling the world.
Aside to all that shit, the show was awesome and the energy in the crowd never faltered for a second. The wall of kids at the front held onto the monitors for dear life as they whipped their sweaty locks back and forth. Each song was concluded with a flattering array of clapping and cheers, and even cries for an encore as we left the stage. If only we hadn't exhausted all of our material…
Day 2 – Kilmarnock
With new guitarist Chris at the helm, we proceeded to make our way to Scotland. One bottle of Sailor Jerry's and a crate of Carling down we finally arrived, pretty hammered, at some shitty service station above Manchester deep into the early hours of the morning.
Waking up with banging hangovers we set our sails for the second leg of the journey. With the hangover lessened by the beautiful Scotish countryside, we passed we finally arrived at Kilmarnock. It was great to see our good friend Murray (Scottish booking agent) equipped with a crate of beer for us to tuck into. Nothing like a good old hair of the dog! A few beers down, we took to the stage to be greeted by a psyched up crowd relentlessly swinging their legs and arms around, almost to the state of dislocation all thanks to the energy created by the warm up acts.
Turns out Kilmarnock is a bit of a sketchy little town as the passing, rowdy locals confirmed whilst we were kicking back in our van later that night. We had somewhat of an early night for us as we knew the next night was going to be off the chain – our vocalist Jacks birthday.
Day 3 – Glasgow
If Jack could choose one way to wake up on his birthday, I doubt it would include being beside a group of sweaty lads accidentally spooning in the confines of a tour van. However, it's not just any van… it's the bloody Red Dragon!! So hopefully exceptions can be made. After defeating an enormous Scottish breakfast each, we made our way to Glasgow where we met up with our good pals in I Said Good Day. Last time we hooked up with these boys, they got us extremely trashed so we knew the night would be a big one. The show was awesome and fuelled heavily by an evil cocktail known as Venom, which can most likely be held accountable for Jack pulling the light fittings down from the ceiling mid set. The crowd were buzzing and seemed quite content with throwing each other into the surrounding walls and tables.
Once the show had finished we made our way to Glasgow's Cat House to celebrate Jacks birthday. Not really too sure when this happened, but all of a sudden we all seemed to be out of our minds. Must be something in the Scotish vodka… Either way, it's safe to say the Scotish boys completely drank us under the table once again. So much so that on leaving the club, Jack decided it would be a great idea to try and extreme plank on the top of a 12ft tall traffic light. Moments after getting to the top he soon plummeted to the floor face first. I can honestly say I've never heard a sound like the one he made when he hit the floor. It kind of sounded like a dozen eggs smashing against the ground. What makes it better is it was all captured on video.
Day 4 – Travel day
If waking up with banging heads and a severe case of memory loss wasn't enough, it turns out a broken wrist was also on today's list of shit to sort out. Nobody likes to spend the afternoon at A&E, but unfortunately we didn't have much of a choice. With Jack in hospital getting X-rayed and Lydon boffing his guys up outside, it suddenly dawned on us how lucky we were to be graced with a travel day.
The remainder of the day was spent driving to what felt like the moon and back, accompanied by shitty service station showers and dog shit fast food. Somehow we finally made it to Cardiff half the men we set off as. Scotland… you bastard!
Day 5 – Swansea
After a well deserved sleep, we ventured into Cardiff centre to hook up with our pal Shaun from Keep The Faith tattoo shop. Jack couldn't resist to get a sneaky bit of ink while we were there; courtesy of Dom from Continents. Soon afterwards, we made our way to Swansea to be greeted by thick clouds of smog, a dildo shop and our pals in Tigers Of Junction Street. Our rider tonight consists of bourbon flavoured beer… Kind of get the impression it hasn't been selling too well – hence us ending up with it on our rider. In all fairness the stuff was pretty strong, which probably explains how we took it upon ourselves to venture to a strip club after the show. However, it turns out, Swansea has a real problem for illegal brothels, which is exactly what we somehow wound up in. We swiftly made a run for the door once we'd realised we were out of our depth.
Day 6 – Leicester
We'd had an idea before about creating a "dildo cam" – Basically the idea was to stick a big dildo on the bonnet of the van, along with Lydon's GoPro mounted above it. It seemed rude not to as the van's parked outside an adult entertainment shop. Unfortunately though it turns out dildos are a lot more expensive than we'd initially anticipated, and obviously we couldn't bring ourselves to settle for a cheaper, low quality product.
With our heads in our hands. We made way for Leicester through the Brecon Beacons which brightened everybody's moods. The views of lakes, waterfalls and rivers makes you realize how amazing our nation actually is. We soon arrived at our friend Josh, from Tigers Of Junction Street's house in Hereford for showers and a much appreciated cuppa. The rest of the day was spent sat in traffic all the way to Leicester, which meant we were "fashionably late" to sound check. It was all good though, the sound guy handled business like a pro, providing us with possibly the best live sound of the the tour. After we were suitably blown away by the calibre of local bands; Edict The Bedlam and Ascend The Skies, and our buddies in Tigers Of Junction Street, we took to the stage, and played one of our best sets of the tour. We must have impressed the owners somewhat as they swiftly proceeded to lock the venue doors and get smashed with us. Good night!
Day 7 – Basingstoke
Luckily our guitarists house is en route to Basingstoke, so we made a quick pitstop for a shower and some food. Feeling refreshed, we made our way to the venue where we met up with our pals in Prolong The Agony and This Is Shark Country. We always like playing the Sanctuary. The promoters and owners always look after us really well. 3 crates of Stella later and a shot of Sweet 16 each during our set, we found ourselves up until 4:30am chatting shit and reciting nu-metal anthems from our childhood.
Day 8 – Portsmouth
The day has kicked off with a hefty parking fine! Just what we needed! Bastards! Anyway, spirits are high as we're heading down to Southsea where James used to go Uni. It's also the home of Prolong The Agony, so we can rest assured that tonight's going to be a busy one.
As each band ripped through their sets, the sweaty temperature in the venue soon took to the walls, windows and ceiling. It just became a very wet room. It's safe to say we've never sweated so much during a performance as this one. The crowd were awesome, and Prolong The Agony absolutely destroyed their set. So much so, that we felt the need to make front man Larry go for a little crowd surf during their last song.
After the show we made our way to Albert Road and the rest is history really. Another night heavily on the lash!
Day 9 – Newbury
The show that we've been most excited for is finally here and typically we're all feeling absolutely shattered. The joy of playing a hometown show means we can sneak in a quick chill at our homes. Showered and fresh faced we then made our way to the Snooker Club for sound check.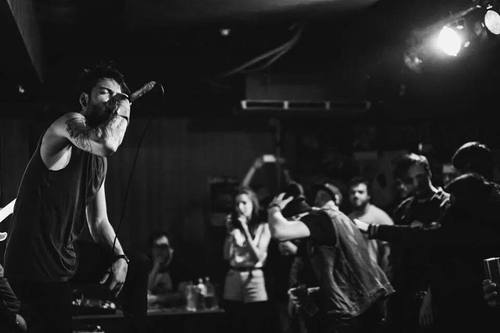 Tonight we've got a great selection of bands supporting us including our top boys in This Is Shark Country and Prolong The Agony. Each band played an awesome set, warming the crowd up nicely for us. As it's the last night, we had a little plan to get vocalists Olly from Sharks and Larry from Prolong to join us for our last song. We had no idea how this would play out but the room erupted. Such an amazing end to the tour.