This week Chester pop-punks Above The Underground release their brilliant 'Sonder' LP. Last month as the quartet geared up towards the album release, they headed out on tour across mainland Europe supporting Me Vs Hero.
In the latest part of our "Tour Tales" feature, Above The Underground vocalist Will Kirkman takes Already Heard a detailed account as they travel throughout Europe.
If you would like Already Heard to promote and sponsor your tour/show or set up a "Tour Tales" feature, send an e-mail to [email protected] for more information.
Day One
Nine twenty-something year old lads crammed into a nine seater van over five thousand miles may not sound very appealing, but for me and the rest of my bandmates the prospect of touring with a band like Me Vs Hero was nothing short of a golden opportunity. We got the offer a few months before the tour and although we'd already done Europe a few weeks prior, the fact that we'd be supporting a band we'd all been listening to for years excited us. With this in mind, we started the tour filled with optimism and happy nerves.
It didn't take long for that optimism to tank. About twenty miles south of Birmingham, during a typical rainy night, the windscreen wipers decided to stop working without warning. I didn't realize at the time, but this was really a foreshadowing for a multitude of problems we'd eventually run into on our short EU run. After standing around for ten minutes eating chicken nuggets and making useless suggestions, we ran into an RAC guy who told us to put some rainX on it and take it to a garage. Worried we might miss the ferry we took his advice, skipped the garage part and continues on down to Dover.
France
Paris is a weird city. At first glance it kind of looks how you'd expect it to, old white buildings and twisty streets, but look closer and the place is covered in graffiti and rubbish. I was almost convinced people were TRYING to crash into us, it was as though they literally don't have laws on the road. At one point a guy, after pulling beside us and signalling me to wind my window down whilst travelling at forty through a tunnel, tried to buy our van off us mid transit. The show itself was really cool, the people were awesome and we got to hang with the guys out of Chunk! No Captain Chunk which was cool. After the show we climbed what felt like a million flights of stairs to crash in one of the promoter's apartment.
Germany
Germany is always my favourite place to play in Europe. All the cities are super clean and the people are really friendly. Wesel was a cool show because we got to see our awesome friends in Fountains who played a great set. After the show some of the guys went out to a club night and got hammered. Me and Brandon stayed up eating Asda Price noodles and watching German boxing.
Sonder by Above The Underground
Belgium
The next night in Belgium provided one of my favourite shows of the tour. We played in a cool little venue which MVH packed out, got given loads of amazing Belgian beer and got to watch some really cool bands. The night after the show we drove back into Germany to stay with our friends in Fountains. Me and Si from MVH and the German guys stayed up playing drinking games. It's a really cool feeling to have such close friends in different countries. Fountains are definitely one of our favourite bands to play with and if you haven't head of them yet you should check them out.
Neunkirchen, Germany
The next night was hilarious. We played in a town called Neunkirchen and the show was pretty cool, but what happened next made for what was one of my favourite nights of the tour. We heard there was a British guy living in the town called "JP" who would put us up at his recording studio for the night. We went to meet him at the pub and found a middle aged cockney guy who looked like he'd stepped straight out of a Motorhead tribute band. After a few litres of German beer, we headed back to his studio to sleep. The place was incredible, easily one of the coolest places I'd ever been. Me and Al sat in the control room with JP and had a few beers. He started talking about how people were reptiles and that giants existed and stuff. He had some crazy theories and we ended up staying up until about five in the morning drinking and talking about crazy shit. It was a weird as hell night, but JP was a real character and looking back it was one of the highlights of the tour for me. I remember he said they wouldn't let him back into the UK because he wouldn't take his bandana off for a passport photo because it was "part of his identity".
Frankfurt, Leipzig and Prague
The next few shows in Germany were cool. Frankfurt was an amazing city and the show was great. The next night in Leipzig was one of the best shows of the tour, the place packed out and people were going crazy. After the show we drove to the Czech Republic to stay at our friend Kris's house. Kris is a great guy who is always really hospitable and always makes us feel at home. We spent the next day walking around Prague taking photos and drinking coffee. The show itself was pretty good but I started to feel like I was coming down with something. Kris told me I'd had coughing fits in my sleep which wasn't a good sign for the shows ahead.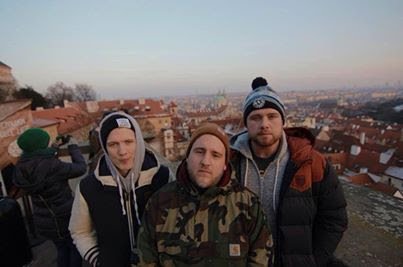 Austria
We drove into Austria to be met by the sign of flashing blue lights. The police pulled us over for questioning and upon discovering we didn't have the tax disk you're required to have to drive in Austria (bear in mind we'd just crossed the border – and you can only buy them in the country itself) they issued us with an on the spot five hundred Euro fine. We later found out that they'd fucked us over and shouldn't have charged us that much but there was nothing we could really do. The next show was in Vienna. Our booking agent Steve put us on the show. We played in a venue called the Viper Rooms which we'd played in on our previous tour. We got to play with an awesome band called Skywalker who we'd played with once before. They're an amazing live band and we're looking to hook something up with them in the future. This was also the day that Mike, MVH's bassist, left to go snowboarding so me and Nick started filling in for him.
The next show was in a town called Graz. Everything looked promising, the show was looking fun, the bands were good, and like on most EU shows we were getting plied with free beer. We went on stage and I realized mid song that my voice was completely fucked. We finished the set but by the end I was sounding like Louie Armstrong. Every syllable I sang felt like I was swallowing broken glass. Getting sick on tour is pretty inevitable, and it's happened before, but never like this. I didn't speak for hours after the show in an attempt to let my voice rest but it was no use, my throat was fucked.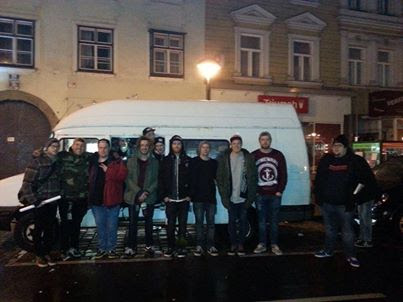 Italy
After wrestling with the language barrier in an attempt to buy cialis at an Austrian pharmacy, we set off to Italy. We got raped by tolls on the way in and I'm sure the state of the roads took a few years off the life of our van. Lugo was a strange show for us. As I could barely speak let alone sing, Nick sang the set and I played bass. It was weird and didn't really work but we had to try something as we didn't want to pull the show. We stayed in the venue that night and drove to Rome the next day. After seeing the Coliseum and getting hassled by people trying to sell us stuff we played what was actually a pretty sick show. The place was packed out and all the bands that supported were really cool. Nick sang it but played bass this time and it worked a lot better. The next night in Milan was a little anticlimactic in comparison, but still a cool show. My voice was on the mend and although I struggled I managed to sing the set all the way through. We drove to Germany for the last show.
After driving through what felt like an arctic blizzard we decided it might be a good idea as we were almost back in England to get our wipers looked at. After splashing 150 euros at a mechanics we realized that we'd been fucked over once again ten miles down the road as they ground to a halt again. Already late, we decided to cut our losses and just drive to the show. The venue was weird but the people were awesome and it turned out to be one of the best shows of the tour. We stayed at the venue and got drunk. It was a nice way to end what had been a fun tour. It hadn't been easy and we'd had a lot of setbacks but the shows had been great and we'd all had a good time. After being tossed around on the ferry and battered by winds as we drove into England we took the three hour drive northwards back home to relax, take a much needed shower and get ready for the next adventure.

'Sonder' by Above The Underground is out now.
Above The Underground links: Facebook|Twitter|Bandcamp
If you would like Already Heard to promote and sponsor your tour/show or set up a "Tour Tales" feature, send an e-mail to [email protected] for more information.