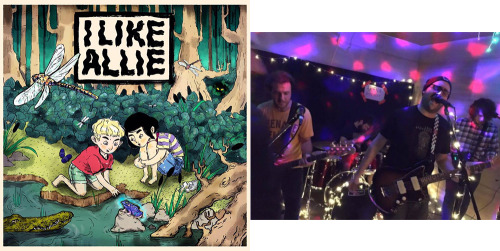 Today, Italian emo/punk outfit I Like Allie release a two-track release titled 'The Tuesday Sessions'. It sees the Milan-based group return to their roots, having started as a solo project for Renato Treves. While in recent years has seen Renato merge the band into an emotional punk rock group, with last year's 'The Wounds You Leave' EP being compared to Samiam, The Lawrence Arms, and The Get Up Kids.
To mark its release, we're premiering 'Define This The Illusion Of Feeling Better' from 'The Tuesday Sessions' along with the previously released 'Go Out There, Get Super Powers And Live Your Dreams'. 'Define This…' perfectly captures I Like Allie's stripped back, emotional tone. Both songs will be getting the full-band treatment in the future, but for now enjoy them in a raw, acoustic form.
In addition, as I Like Allie make their way to The Fest in Gainesville, Florida this week, we grabbed a quick word with them to discuss 'The Tuesday Sessions' and their future plans.
AH: Tell us about 'The Tuesday Sessions'?
ILA: We chose to record these two songs to give our listeners a little of I Like Allie's past and a taste of I Like Allie's future. Define This is, in fact, an old I Like Allie song that Renato play's during acoustic sets but that was never recorded while 'Go Out There' is a new song that we usually play live in full rock mode. It will be on our next release but we wanted to present it in a more intimate light for this occasion.
We called the two-track single 'The Tuesday Sessions' to pay tribute to the day of the week we usually practice. Ironically, it was not the day we arranged these songs. We're pretty stoked on how these songs came out especially because it's the first time we recorded something with our new guitarist Luca. Working on the songs was fun and smooth.
AH: Are you looking forward to Fest?
ILA: We can't wait. Renato's been already a couple of times on vacation but to be able to play a set at the coolest punk rock party of the year is incredible. Come hang out with us on Sunday, October 29, 11.20 pm at Loosey's.
AH: Any plans to come to the UK?
ILA: It's on our to-do list for sure. We love the UK and we've had friends asking us to come play since we released our first EP. Hopefully, in 2018 we can start planning that!
AH: What's next?
ILA: When we get back from The Fest, our plan is to play some shows in support of the cassette but especially to continue working on new material for our next release.
'I Like Allie' by I Like Allie is released on Real Ghost Records (pre-order).
I Like Allie links: Facebook|Twitter|Instagram
Do you have a new video or release you'd like to premier on Already Heard? If so contact Sêan Reid to find out more.