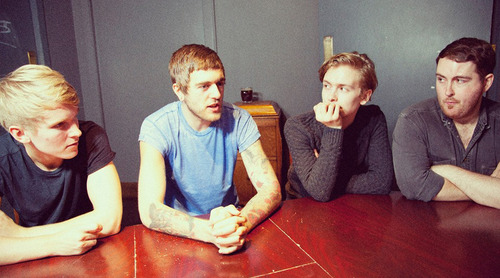 We Came From Wolves are the latest Scottish rock band to follow in the footsteps of Biffy Clyro and Twin Atlantic, and with their latest EP, 'Paradise Place', the quartet are well on their way to doing just that.
'Paradise Place' offers four slices of harmonious alt-rock that is filled with big hooks and compelling songwriting. Originally started as a solo project for frontman Kyle Burgess in his hometown of Perth, now four years on, We Came From Wolves have just released their second EP, the first with a new line-up. Nevertheless the results have produced a more focused set of songs, with plans for a full-length in the works.
Already Heard recently caught up with frontman Kyle Burgess to discuss the bands background, the new EP, the typical Scottish rock band comparisons and more.
Already Heard: For starters can you introduce yourself and your role in We Came From Wolves?
Kyle: Good evening, I'm Kyle, singer, lyricist and rhythm guitarist in WCFW.
AH: Can you give us a brief rundown of the bands history?
Kyle: WCFW started as a solo project for myself. I had played in a heavy band for a number of years and my ears, throat and approach to writing needed a break. I didn't have any ambition to start another band however, when I penned the song 'For all our sins, we're golden' and put it online it received a great response which led me to chance my arm at a BBC introducing upload, which resulted in me waking up to numerous texts and voicemails from friends one morning a few weeks later, letting me know the track had been played on Radio One. The response from then on really encouraged me to get a band together and not only record the other songs I had written, but take them on the road.
From then to now, we have completed two full UK tours, played in Paris, supported the mighty And So I Watch You From Afar, Frightened Rabbit and played with a heap of brilliant bands across the country, released our debut EP 'Cope' and a couple of videos, which brings us up to date, with the launch of our new EP 'Paradise Place'.
AH: You've just released your second EP – 'Paradise Place'. For those who have yet to hear it, how would you describe it?
Kyle: It's a selection of songs presenting an un-apologetically honest account of emotions felt by myself upon leaving my hometown in search for pastures new, what took me to that point and what I learned from the process. All of the songs are anchored around a super melodic chorus and thoughtful composition of guitars, bass and drums, however the accessibility of the track can somewhat mask the intensity and emotiveness of the lyricism which, upon reflection, was perhaps done subconsciously as though to deflect from what are very personal thoughts and feelings.
AH: I understand this is the first material with the new line-up. Have did you find the writing process compared to your 'Cope' EP?
Kyle: Me and Rob (Whytock – Bass guitar) have known Harrison & Taylor White (Drums & Lead Guitar) for a number of years through the Perth music scene and in general around the city. Perth isn't a big place, so those with common interests (this one being music) are generally drawn together.
Due to a number of, very amicable, circumstances, we lost a couple of original members and Taylor had been doing some stand in work on our last tour due to other commitments our Lead Guitarist had at the time, when we were required to fill the position permanently, it was a natural selection to bring him in, Harrison is a fantastic drummer and also Taylor's brother so it made it a very smooth and natural transition as they have been playing together for years.
Most of the writing was completed for this EP but the final song was a real group effort and gave us a look at how we would be working in future, and was a very positive insight.
AH: In terms in of the bands sound, how has the bands style developed on 'Paradise Place'?
Kyle: 3 of the 4 tracks for the EP had been written already, however we had to get them all tight and give the guys time to get their own parts in place, we then wrote "Paradise Place" together, the final song for the EP and the first all together, it's no coincidence it has a different feel and vibe as was the most recent song and took the influence of four writers rather than the usual format of just myself, however lyrically and vocally it retains the familiar sound of our previous tracks and married together gave us, and those who follow our music, a taste of things to come.
AH: Lyrically what is the EP influenced by? I'm guessing from the title it has a lot to do about your hometown of Perth?
Kyle: The lyrics look are very reflective of the times leading up to me leaving my hometown, the relationships I'd had, the surroundings I'd grown up in and the reasons I wanted to get out.
AH: From reading a handful of reviews, it seems the EP has had a positive response so far. How have your found the feedback from both critics and fans?
Kyle: The response has been brilliant so far, but if I'm being honest, I'd be quite shocked if it hadn't been, we write for ourselves first and foremost, and we know the songs work, whether it's to your taste or the genre you want to listen to, well that is a case for taste, but these are powerful, truthful songs and we are extremely satisfied with our work on this EP.
AH: Like a lot of emerging Scottish rock bands, you've been compared to Biffy Clyro and Twin Atlantic. Is that a true comparison or just something that's expecting from being a Scottish band?
Kyle: It's not for me to say. I find it hard even trying to tell someone how we sound, or what genre I would categorise us in (which I actually take pride in) but in my opinion it's a lazy comparison. We love those bands, they are bands that any aspiring Scottish musician should respect and want to replicate in terms of success, but pigeon holing every new Scottish guitar band as the new Twin or Biffy is too easy to do. Scottish accent aside, the similarity ends, coupled with the fact my accent isn't Glaswegian or Ayrshire sounding, it's Perth. I don't sing like Simon Neil or Sam McTrusty, I sing like Kyle Burgess and I couldn't play a note of their songs. I can only play my own music, so if there is a similarity apart from nationality and choice of instrument, I'm not aware of it, but like I said, they are two bands we love and have the utmost respect for so it's certainly not a negative thing. I just don't know that its relevant.
AH: Are there any fellow Scottish bands we should be listening to or our readers need to know about?
Kyle: Fatherson, Pronto Mama, Poor Things, Vasa, Fat Goth, Algernon Doll, Lifelines, Last of Us & GoodCopGreatCop to name a few.
Paradise Place EP by WECAMEFROMWOLVES
AH: With this only being a four-song EP, are there any plans for more new material in the near future? If not what else does WCFW have planned for 2014?
Kyle: There certainly are plans in place, as soon as we completed recording the EP we started writing for our debut album, which we hope to record this summer, or autumn at the latest. We want everything completed by the end of the year and have set ourselves the goal of writing 14-16 tracks for a 10-12 track record. We are already 4 down with a TONNE of bits and pieces so it's a very exiting period. Recording is my favorite part of being in a band. The creation and evolution of your work is very satisfying and it's been a dream of mine to record an album for a long time, so we are all working hard to make sure it's the best work we can create right now!
AH: Finally do you have any closing words to share with the Already Heard readers?
Kyle: Grab our new EP 'Paradise Place' from iTunes NOW! You wont be disappointed, and if you are, come to a show and I'll buy you a pint and you can print that!
'Paradise Place' by We Came From Wolves is out now on Saraseto Records.
We Came From Wolves links: Facebook|Twitter|Bandcamp
Words by Sean Reid (@SeanReid86)