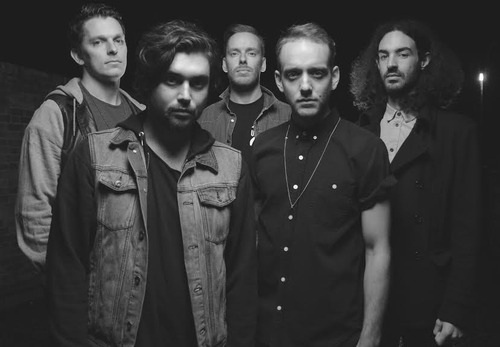 Having toured throughout the UK and Europe including three appearances at the Download Festival as Never Means Maybe, the quintet decided to shed their post-hardcore skin and start over as Villains.
The change has paid dividends for the Essex band already having received praise and airplay from BBC Radio 1 and UK rock TV stations. Their debut self-titled album is set to drop later this month, and promises to be a fierce mix of catchy alt-rock in the same vein of fellow UK acts Young Guns, Mallory Knox and Blitz Kids.
With such a favourable sound and with songs like 'The Fall' and 'Come Out And Play' setting the bar high already, Villains have all the makings of being the next breakthrough UK rock act.
Guitarist Matt Steane recently took some time out to talk to Already Heard about a number of topics; how they transformed from Never Means Maybe to Villains, their self-titled debut, receiving Radio airplay, and more.
Already Heard: Can you introduce yourself and your role in Villains?
Matt: Hi, I'm Matt and I'm the guitarist and joint second best vocalist in Villains.
AH: We know the band formed out of a band called Never Means Maybe. Can you talk us through how Never Means Maybe transformed into Villains?
Matt: We achieved a hell of a lot with Never Means Maybe and I am unbelievably proud of that band and the music we created. We played Download three times, toured all over the UK and Europe and they were some of the best times of my life. But I think as we grew older our tastes changed, we matured both personally and musically and Villains is result of all of that and more.
We learnt a lot about being a band through NMM (mainly through the mistakes we made along the way) and Villains gave us the opportunity to start afresh, with a fresh sound and a new outlook on everything.
AH: So you've decided to wipe the slate clean with Villains. How has it been for both you and fans to the changes?
Matt:
From our point of view there are no regrets. As I said, we loved being NMM but it had run its course. Starting a new band gave us that impetus and drive that we needed to enjoy being in a band again. And so far I would say the reaction has been brilliant. We've already achieved things with Villains that we never did with Never Means Maybe and a lot of that is down to the fanbase we have, so we are beyond grateful for everyone's support.
AH: Musically how does Villains differ from your former band?
Matt: On a basic level it's certainly not as heavy as NMM was. There's no screaming and/or breakdowns like there were in some of our old songs.
But as I mentioned earlier, I think it's just a more mature sound. We're older now and the music is a good representation of what we're like as five personalities and musicians.
AH: For new listeners, what bands would you compare your sound to?
Matt: We all listen to a wide variety of music from 70s rock through to modern day pop, so I wouldn't want to put too many labels or compare us directly to other bands necessarily. What I would say though, is that I think there are certainly songs on our album that wouldn't look out of place alongside some of today's bigger and better 'pop-rock' bands, like Young Guns, Mallory Knox and Blitz Kids. When I listen to our album I guess that's roughly where I'm pitching us and these are the types of audiences I'd love to see us tap into.
AH: Now you're set to release your debut, self-titled album later this month. For new listeners, what can they expect to hear from 'Villains'?
Matt: 10 tracks of modern, honest rock music with an edge. That's how I'd describe it. There's no gimmicks or anything like that, we're just five friends who enjoy playing music together and I think that comes across on the album. There are a few different ideas on there and I'd say that the singles we have released and will be releasing in the future give a good indication of what to expect.
AH: Your latest video, 'The Fall' has been receiving plenty of attention from the likes of Kerrang! and Scuzz. Has the response been overwhelming?
Matt:
It's literally blown our mind. We released the video on Friday 17th January through www.muzu.tv and by the morning of the single release (20th Jan) we had over 20,000 views. It has been the most humbling experience over the past couple of weeks. To top it off, the video then got voted as the 2nd most requested video on Scuzz on the first day it was played. That kind of support is incredible and, again, we can't thank everyone enough for their kind words about the single.
AH: On top of that 'Come Out And Play' was recently voted single of the week on Edith Bowman's BBC Radio 1 Review show. What did you make of that?
Matt: Getting played on Radio One was ridiculous. I got a text from Jono from Blitz Kids at 5.30 that evening saying that Joey was taking our track onto the Review Show. That was a massive deal as I'm sure you can imagine. When it got played the feedback we got was insane and our twitter and Facebook just went crazy. I've listened back to the show a couple of times and it's so humbling to hear so many people saying such nice things about your band! We're unsigned and everything we do and ever have done has completely been off our own backs, so to win the review show on Radio One is a pretty big milestone to be honest.
AH: Because both of those tracks has received widespread praise already, does it make it harder to keep the momentum going once the album is released?
Matt:
I think the overall process of being in a band is very different to a few years ago. Myspace was obviously massive and I think that helped bands get into shows and tours etc. Now that's died out social media has taken over, but in a completely different way with Twitter and Facebook. We can't sit back now because we got played on Radio One and just expect the offers to come in. If anything it means we've got to work harder to keep that momentum up! We're all on social networks on a daily basis interacting with our fans and other bands and doing whatever we can to get our music out there. We've got a great PR team that we work with who have really helped us as well but it's literally non-stop. We're lucky that we're getting the support we are on a number of different platforms but we can't let it slip. The hard work really starts now!
AH: Besides those two songs, what other songs from the album are you most excited for fans to hear?
Matt: I love our whole album. A lot of hard work and graft have gone into the making of it but there are a couple of favourites on there for sure. I don't want to reveal too much but our next single, a song called 'Wicked Ways' is certainly one of them. And the single after that is my favourite off the whole album. If people are half as into the rest of the album as they have been the first couple of tracks we've released then I'll be well pleased.
AH: What impression do you hope fans and critics take from hearing 'Villains'?
Matt: I hope people see and hear us for what are, like I mentioned earlier on; five friends who enjoy playing music together. Everything we've done has come out of enjoyment and the possibility of getting to play our music to other people is a genuinely exciting prospect. We give everything we do 110% and I hope that people can feel that kind of energy coming from us when they listen to the album or come and watch us live. The audiences we've played too recently have certainly appreciative of that and that has told in their reaction.
AH: Can we expect to see Villains touring in the coming months?
Matt: We definitely want to get out and about this year. Last year a lot of what we did was in the background, writing and recording the album and just setting everything up for this year. We've played our first show of the year, supporting Blitz Kids at the Barfly in London, and are sorting out some dates for the near future including a special record release show in our hometown.
We'd love to get on a couple of support tours this year and maybe a few festivals in the summer if we're lucky.
AH: Finally why should Already Heard readers check out Villains?
Matt: I appreciate that I'm in the band and so I'm going to be a bit biased but I really do feel we bring something a bit different to the table. We are all about songs with big choruses that people can sing along to and get involved with. And we have a bit of an edge that I think is missing and that people could tap into. There's a place for us in there and I really hope people will take the time to check us out.
'Villains' by Villains is released on 24th February.
Villains links: Website|Facebook|Twitter
Words by Sean Reid (@SeanReid86)