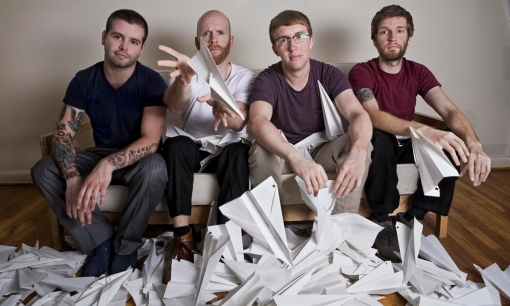 Fresh from releasing an astonishing album 'Colorado,' which we gave 4.5/5 and as well as receiving favourable reviews from an array of publications, Greenboro's Unifier are set for a busy 2013.
After a slight name change (due to legal issues) 'Colorado' sees Unifier step things up a notch and challenges for a spot in arenas with their anthemic tracks which come across like a pop-hybrid of bands like Foo Fighters, Brand New and Alkaline Trio. Tracks such as 'Bitter? Better?' offer bags of melody yet manage to remain dark and moody without coming across as melodramatic and childish.
We caught up with Vocalist and guitarist Aslan Freeman to discuss their comparisons, influences, working with Jesse Cannon, the name change, his love for Dave Grohl and more.
Already Heard: Can I ask who I'm speaking with today and what your role is in Unifier?
Aslan Freeman: My name is Aslan, and I sing and play guitar.
AH: From listening to the album there are clearly comparisons to bands like Foo Fighters, Brand New and Jimmy Eat World, would you say these are accurate comparisons? How would you describe your sound/style? Of those comparisons how much would you say they've influenced your song writing and influenced you in general?
AF: Those are definitely accurate comparisons for us, we've had quite a few people compare us to one or all of those bands at this point. All three are bands that we collectively love and each has influenced us in some way. I'd say we try to take the clever melodies and overall simplicity from Jimmy Eat World, the big, aggressive sound from the Foo Fighters and the dark poeticism from Brand New. When people ask what genre we are we usually just stick to saying "Rock" and not getting too far into all the messiness of subgenres. If someone is really curious, hopefully they'll go listen to our music and decide for themselves what we remind them of!
AH: What was it like having to change your name from 'Future Ghosts' to Unifier? Did this change your opinion on the music industry at all?
AF: Honestly it changed my opinion of the social networking industry more than anything. Overall we were definitely more upset and frustrated by trying to deal with all of the websites who had removed our content with little or no notice than we were about the rest of the situation. We did receive some great press because of it, which is nothing to complain about, and now that we're pretty much back on track with our websites nobody has any regrets. We're happy with our new name and even more motivated to move forward than before.
AH: Where did the name Unifier come from? Is there a particular meaning to it?
AF: We had already gone through tons of name options and nothing was sounding right yet, so Luke (our bass player) had pulled up a random word generator on his phone to try and generate some more new ideas. Unifier came up on that and stuck out to us as we looked through our new list of name options. We ended up picking it because of the meaning it held for us. We received an incredible amount of support from our friends and fans while dealing with the name change situation, and we thought that going with Unifier would be a great reminder of how everyone came together to help us during that time.
AH: How was it recording in New York City at the Cannon Found Soundation Recording Studio?
AF: Such a fantastic experience! The two weeks we spent there absolutely flew by, it was a total blur in the best way possible. We just got up every morning, sat down and started tracking straight away and didn't stop until we went to sleep. Jesse and Mike Oettinger are great guys, so much fun to hang out with, and incredibly talented at what they do.
AH: How was it working with Jesse Cannon and are you fans of his work in general?
AF: We learned so much from Jesse, both when it comes to working in the studio and also about growing as a band and moving up in the industry. He's a very laid back guy and his style of production shows that. That being said, if your idea is stupid he's going to tell you it's stupid haha. He's very much about helping you create the absolute best version of a sound that is your own, and not leaving too much of his own fingerprint on it. We focused heavily on getting great performances and drawing from our influences without mimicking them. He actually just finished writing a book about all of his experiences working with bands in the studio and as a manager and it has so much great advice for anyone in a band, or looking to start a band – I highly suggest anyone interested buy a copy when it comes out. Jesse is a long time friend of our rep at Round Kid Records, which is how we initially made the connection, and I knew that he had recently worked on a few albums I was listening to so it seemed like the obvious choice for us. He's worked on so many great albums it's hard not to be a fan of his.
AH: Being part of Autumn & Colour Records and Round Kid Records must be great, how did that partnership begin?
AF: Right after we finished 'Colorado,' Round Kid was shopping it around a bit to see if any other labels would be interested in picking it up or helping to release it, and Autumn + Colour was one of the labels that got in touch with us and said they were interested. Since they're a fairly new label and we're still a pretty new band, we wanted to feel out the situation first before committing heavily to a label switch or anything like that, so Round Kid just made up a co-release agreement with them. It's been great having both sides on board. Both labels have their own unique strengths and combined it's gotten us a ton of stuff we wouldn't be able to do on our own. It's a ton of people to CC on e-mails but it's totally worth it!
AH: With the album being released to generally positive reviews you must be keen to promote it, what are you planning in terms of tours in the coming months?
AF: We're actually minutes away from hopping into our van and leaving for a tour as we speak! We're doing a northeast US tour over the next couple weeks – up to the New York area and back to our home state of North Carolina, and are currently working on a southeastern tour to follow soon. We've already got another northeast run lined up for June, and then we'll be heading out to Texas and back through the southeast in July. After that we don't' have any specific plans, but we're looking at a few offers and we've all left our schedules wide open to tour as much as possible through the end of the year and beyond.
AH: Who would you consider your idols and in what way have they influenced the songs on 'Colorado'?
AF: Dave Grohl is definitely an idol to all of us. That guy has such a great attitude and approach to music and the music industry it's really hard not to like him. When we were in my studio writing and recording demos of potential songs for 'Colorado' we just kept watching the Foo Fighters documentary they released not too long ago and it was incredibly inspiring. His new film Sound City is equally great and we've watched that quite a few times as well. I don't know how much Dave has influenced any specific parts or songs, but again his general attitude is something we all look to – just trying to be ourselves as a band and put on a fun, energetic show that people will enjoy and remember.
AH: What's the music scene like in your hometown? Have Unifier been well received?
AF: The music scene in Greensboro is very up and down. We've seen years with tons of great bands coming together and packed shows every weekend and years where there's nothing happening at all. We are lucky to share a hometown with House of Fools, one of my favorite bands of all time, and play shows with them here and there, so that's pretty awesome.
AH: Besides making music and being in a band, what do you like to do on your down time?
AF: I'm a pretty big gamer and I don't get a ton of time to do it these days, especially when we're on the road, so I try to take any opportunity I can to sit down and play for a while. I do usually have my computer with me though so I've been playing way more PC and online games lately – mainly Starcraft 2, and I just started League of Legends.
AH: Three bands you can't get enough of at the moment?
AF: Collectively I'd say Deftones, Polyenso, and Jealous Sound. We've been jamming a ton of 90's pop in the van though haha.
'Colorado' by Unifier is out now on Autumn and Colour Records and Round Kid Records.
Unifier links: Facebook|Twitter
Words by Colin Henderson (@colinah87)