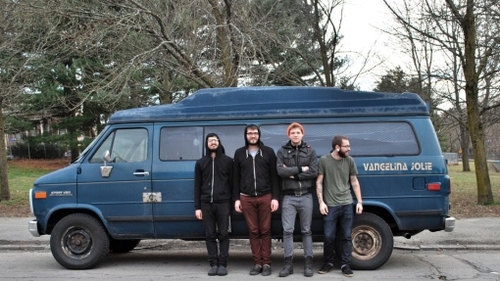 Late last year Burlington, Vermont's Tyler Daniel Bean released his debut full-length record 'Longing.' Covered in Bean's aching, cold lyrical imagery and backed by 90's emo-inspired indie rock, 'Longing' proved to be a compelling, sharp album that received critical praise. Now Tyler has returned with a two-track EP entitled 'Everything You Do Scares Me' which, for the most part, picks up where 'Longing' left off; downtrodden lyrics delivered in a comforting emo-y manner, and sees Tyler pouring his heart out.
Before heading out on a two month long US tour, Already Heard caught up with Tyler Daniel Bean to discuss the new EP, 'Longing' being the "perfect winter record," his influences and more.
Already Heard: Hi Tyler. For readers haven't heard of you before, how would you sum up your sound?
Tyler: I play heavy indie influenced by Vermont winters and bands like Pedro The Lion and other late 90s/early 2000s Jade Tree Records bands.
AH: Can you tell us how you started out in music? I understand you were the vocalist for a screamo band called Ghosting?
Tyler: I started playing music as a kid, and took a few lessons on drums, bass, and guitar, but I am mainly self-taught. I generally have no understanding of what I am playing, which causes me to write music that is simply aurally pleasing. I've been in a handful of bands that didn't do much outside of local shows, but the projects were fun and usually fulfilling. ghosting was one of the more interesting project I've been in. We released a 10" called 'Hearts' and toured the Eastern half of the country. Matt Magnuson and I shared vocal duties, but I was mainly the bassist for the band. ghosting was a band of friends hanging out and making music we wanted to hear, which is largely the concept of my project now, minus the involvement of friends. I've been playing in bands around Burlington for 9 years, and have been booking shows and working at 242 Main (a local all ages venue) for almost as long. Suffice it to say that music is my life. I am not sure what I would do without it.
AH: When did you decide to go it alone and why?
Tyler: I decided to start making music on my own when Ghosting dissolved. We basically spent our entire time together with a revolving door in place of a full-time guitarist. Morale was relatively low after canceling a few tours due to said revolving door, and when Matt was offered a position with his work in Asheville, NC, he took it. I had been writing most of the music for Ghosting, and so when Matt moved away I just kept writing.
At the time, I think I was discouraged with the lack of other peoples interest in the music you wanted to make, but the decision to start writing on my own was more of a response to my reclusiveness than anything else. Music is just something I do in what little spare time I have.
AH: You've just released a new EP called 'Everything You Do Scares Me.' What can you tell us about the two tracks on the EP?
Tyler: This new 7" is a set of songs that developed early in the writing process of the next full length, and while I liked both songs, they didn't fit in. I wanted to release them as a placeholder to show that Longing wasn't a one off record, and to give an idea of the sound of the next record.
<a href="http://tylerdanielbean.bandcamp.com/album/everything-you-do-scares-me" data-mce-href="http://tylerdanielbean.bandcamp.com/album/everything-you-do-scares-me">Everything You Do Scares Me by Tyler Daniel Bean</a>
'Year Of The Snake' is about a friend who died in 2012, and about coming to terms with impermanence. I spent about a year writing different versions of this song and my thoughts in essays and stories, but this song is the closest I've gotten to synthesizing what I've been feeling.
'I Was Wrong' is a song I started writing with my friend Jess of The New & Very Welcome back when she was living in Vermont in 2010. It doesn't resemble much of the original song now, but it's about admitting that I make mistakes, that I am not perfect. It's an open-ended apology for events in my past, and coming to terms with the fact that I might not be as kind as I think I am.
AH: In comparisons to last year's 'Longing' record, how has your sound grown on this release?
Tyler: These new songs are darker, and about more recent events, which in turn makes them feel more personal. 'EYDSM' still feels like it's stuck on the theme of longing for something I don't have anymore, but the songs for the coming LP, which we plan to record sometime in early 2014, are less about longing for what I don't have and instead about questioning what it means to have the things I have. The main themes so far are life and love; things I don't quite understand yet.
AH: From hearing the EP, you've kept an aching, introspective tone that 'Longing' had. What was the initial aim when you went into recording 'Everything You Do…'?
Tyler: I would definitely say that this is the aim when writing my songs, They're all about trying to explain and better understand aspects of my life. When recording with Ryan Stack at Formataudio, which is where I recorded 'Longing' and 'EYDSM,' he never questions my lyrical content or the overall structure of the songs, instead he questions if the arrangement accurately embodies the general emotion of the song. The aim when recording was simply to capture these songs for what they are and some form of the headspace we're in.
When we recorded this EP, it was over a weekend in the dead of winter, and my car's alternator died on the drive from Burlington to Haverhill, MA. It was a stressful situation, but I think it brought out the best in us, because we were stuck in the studio with terrible coffee and too much time on our hands. I felt defeated, which is a secondary theme in these songs, and I remember feeling the emotions of these songs more than I ever have before. It was an experience, to say the least.
AH: 'Longing' was described as the "perfect winter record" and had comparisons to bands like Balance & Composure and Brand New. What do you make of that description and those comparisons?
Tyler: I agree with the "perfect winter record" description. I generally write most of my songs in the winter, and the sorrow they convey goes hand in hand with the death that winter connotes. I hope that we can release the next record at some point in the winter, because I think its subject matter is heavier than with Longing or EYDSM. It won't be a summer record, that's for sure.
I understand the comparisons that have been made about my music, but I am not sure that I agree with them. Most of the comparisons come from label/PR people and journalists who are trying to entice a group of people into giving something new a chance, but I've had conversations with people who say something like, "If I was told you sounded like X band, and I listened to you, I would probably hate it." I think that is a little daft, but I understand that I don't really sound like most of the bands I am compared to. It's a struggle, but I don't mind it. I like all of the bands I have been compared to.
AH: When you were writing both 'Longing' and 'Everything You…' were there any bands that influenced you?
Tyler: The main influences for Longing were Pedro The Lion, mewithoutYou, and Neva Dinova. The main influences for 'EYDSM' were basically with same, but with Engine Down and Suicide Note included. There is something about Suicide Note's Empty Rooms that has kept me coming back to it for years, and I think it's clear that it translated into the middle section of 'I Was Wrong.' I'm not sure if that influence will recur in the next LP, but it was fun to play around with.
AH: The album was praised by many. Were you surprised by the positive feedback?
Tyler: I was absolutely surprised by the response. When I recorded it back in 2011, it was basically a record for me. I had no plans to release it or play shows on it. The fact that someone reached out about releasing it was unreal, and the response to the live shows have been overwhelmingly positive. I think Alternative Press calling me one of the hundred bands you need to know in 2013 was the most surprising thing of all. In fact, I didn't believe it until the issue arrived. AP is a magazine I grew up reading, and the bands you need to know issue was something i waited patiently for every year. It's where a good portion of my favorite bands came from. I'm not sure what is next for me, but I'm excited to see where this goes.
AH: Are there any plans for a new album? If so will you be playing all the instruments like you did on 'Longing'?
Tyler: There is a new LP in the works. I am planning on another 10-song record and its skeleton is about 3/5 written. I plan to play most of the instruments, but I will likely have Joe Cross play drums again. He recorded drums on 'EYDSM,' and my drum skills pale in comparison to his. No one has ever told me outright that the drums are the weakest part of 'Longing,' but I believe that to be the case. The studio is usually where the songs take their final form – I'm always tweaking parts and rewriting arrangements. I love the elements of surprise and impulse it adds into the mix, and having Joe's skills and his takes on the drum parts keeps me on my toes.
AH: You're just about to set out on a US tour. What are your expectations for these shows?
Tyler: We're leaving tomorrow, and I am surely nervous, but excited. We'll be seeing the majority of the country, and we're playing some amazing festivals/shows. I am not sure what my expectations are for this tour, but I think the shows will be good all around. I am generally more interested in the interactions I have with people than the shows we play, and I think that means that I have not yet been disappointed with a show. Hopefully I can still say that when we get back in a month and a half.
AH: This interview is part of our "Recommends" feature which highlights noteworthy bands. Why should Already Heard readers check out Tyler Daniel Bean?
Tyler: I was recently asked this same question, and I still can't think of a better way to respond than this: I don't think there is a respectful way to answer this. I am no more important than anyone else. You might like my music if you often question yourself and what it means to be a decent human being, but that is by no means a reason why you should listen to my music. Make your own choices.
AH: Do you have any final words to close the interview?
Tyler: Thanks for everything, everyone. Support these great labels who are releasing music for the right reasons. They are amazing people, and their catalogues contain forward thinking bands who make music for the sake of music:
Kit Kat Records|Tor Johnson Records|Tiny Engines|Flannel Gurl Records
'Everything You Do Scares Me' by Tyler Daniel Bean is available now Kit Kat Records/Tor Johnson Records.
Tyler Daniel Bean links: Facebook|Bandcamp|Tumblr
Words by Sean Reid.