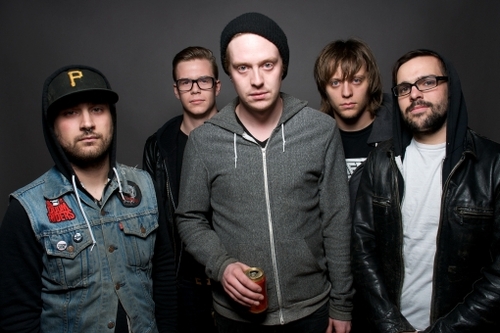 Since forming in 2004, Montreal, Quebec's Trigger Effect have played over 600 shows throughout their native Canada, the United States and Mainland Europe. Now they're set to make their mark here in the UK. With their brand of chaotic, ferocious punk rock that is fueled by unrelentless energy and intensity.
Their latest album ('What's Left to Eliminate?') takes that momentum and combines it with an intriguing concept album resulting in a solid effort that will certainly solidify the bands status at home and abroad.
Already Heard caught up with vocalist Nick Babeu to discuss the bands upcoming debut UK shows, writing 'What's Left to Eliminate?,' the current state of Canadian Punk and much more.
Already Heard: First of all can you introduce yourself and your role in Trigger Effect?
Nick: I'm Nick. I sing and make unwanted advances on my bandmates.
AH: As this is your first time in the UK, how would you sum up your bands sound for new listeners?
Nick: Very loud and fun. Heavy yet melodic. Fast. Not boring. Fun.
AH: We have heard comparisons to bands such as Refused, Black Flag and The Bronx. Would you say they're fair comparisons?
Nick: I hope so because those are great bands that we all like.
AH: Let's discuss the new album 'What's Left to Eliminate?' The album was recorded inbetween tours. How did you find it making the album in such a short space of time? Does it work better for you?
Nick: We didn't feel rushed at all. Most of the time tends to be spent writing and rehearsing, then once we actually get in studio things move along quickly. We learned to do things that way from doing our first album. We had no money so we had very little studio time. We had to have our shit tight and together in order to get things done efficiently.
AH: Throughout the album, your style is mostly direct and energetic yet 'Everything He Once Loved and Held Dear' stands out with it's lengthy intro and overall dramatic tone. How did this track come together?
Nick: The album is a concept record with a continuous story line. When I was putting together the story line, I needed something real dark to happen here. So we got it done. Trigger Effect's always been weird enough to not have to conform to any sort of style or song structure; we were stoked to put this one together.
AH: What overall reaction do you hope listeners take away from 'What's Left to Eliminate?'
Nick: We hope that they like it so much that they rip their pants off and run into the street screaming and crying.
AH: You have also released a video for 'That Vital Force.' Can you tell us how did the concept of the video come together? Is there any meaning behind the Religious cult-like scene?
Nick: We got the idea after taking psychedelics and worshiping satan for an extended period of time… the concept came together quite quickly once we sat down with director David Don't, who shares our hobbies. There's lots of meaning in the video, and if you pay attention to the album carefully, it'll all make sense.
AH: Having played over 600 shows in countless countries, the upcoming UK shows are your first. What can gig-goers expect from a Trigger Effect show?
Nick: An extremely loud and ferocious, high energy, beer-soaked, infectious fun debacle. Basically the five of us slowly killing ourselves for your enjoyment, and ours, we always have a blast.
AH: Are there any venues or cities you're most looking forward to playing?
Nick: Prague, Ljubljana, Wroclaw, Antwerp all stand out as some of our favorite and craziest shows. We've also got a few shows lined-up with Nomeansno which should be rad. Stoked to be coming to the UK for the first time.
AH: You're the latest in a line of Canadian punk bands to come over to the UK. Have the success of bands like Cancer Bats and Billy Talent helped paved the way for bands like Trigger Effect to come over?
Nick: I think we're much more under the radar than those bands. What really helped us get over to the UK is Miles from Dry Heave Records; he made all this possible for us and we're very excited about working with him. This is our fourth time touring Europe but crossing over into the UK was always more complicated than we anticipated. All hail Miles!
AH: How would you describe the current state of the Canadian punk scene? Are there any bands we should be on the look out for?
Nick: There's lots of really awesome heavy bands coming out of Canada these days. We suggest you check out these bands from our hometown of Montreal: The Great Sabatini, USA out of Vietnam, the BCASA and Dig It Up.
AH: Following the UK tour and album release, what else can we expect from Trigger Effect in the coming months?
Nick: After this European/UK tour, we head home for 36 hours and head out on another month of touring Canada and the US for this new release. After that we will take a nap.
'What's Left to Eliminate?' by Trigger Effect is out now on Dry Heave Records in the UK.
Trigger Effect links: Website|Facebook
Words by Sean Reid