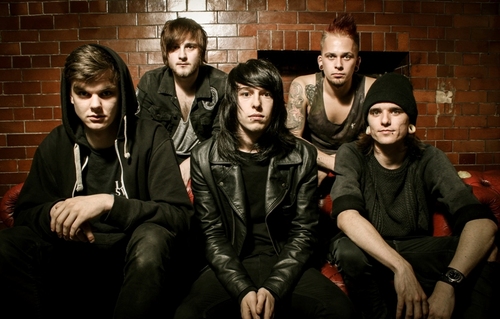 With elements of post-hardcore, post-metal and metalcore, the debut EP from The Sun Never Set is one of the most solid and thorough releases of its type we've heard all year. From the opening moments of the self-titled effort, the London five-piece showcase a raw, powerful style that is brilliantly combined with passion and ambience. Lead off single 'One Drop of Blood and We'll All See Red' demonstrates exactly what TSNS are all about; structured chaos with subtle atmospheric moments that adds to the bands sheer force.
Despite forming in early 2013, TSNS have allowed themselves to grow and find their feet as a band before releasing their debut release. Now with 'The Sun Never Set' set to see the light of day in early August, TSNS have a bright future ahead of them if they're to continue producing songs as good as 'Valiant' and 'Wildcard'.
To find out more about their beginnings, the debut EP and how they treat their music as therapy, Already Heard recently caught up with vocalist Luke Tyson.
Already Heard: To start with, can you tell us who you are and your role in the band?
Luke: My name is Luke Tyson and I am the vocalist of The Sun Never Set.
AH: Ok let's get the usual stuff out the way. How did The Sun Never Set come together?
Luke: The Sun Never Set came about when Joey, [former guitarist] Callum and I moved to London from our hometown of Lancaster. We had previously been in a band together in our hometown, and were actually planning on going our separate ways musically when we got to London. However, I met Tom (guitarist) on my first day of university and we just hit it off from day one. I told the guys about Tom and we all decided to meet up and jam some demos and riffs Tom had already written, and it all just clicked so perfectly. The same week I met Pavel (guitarist) at the Blessthefall gig in Camden, who was eager to join a band having left his home-country Lithuania, and so The Sun Never Set came to be.
We spent about 6 months working on demos and figuring out our sound and each other as musicians, and just as it was all coming together and what would be about half of the EP was written, we found out Callum wouldn't be coming back to London after the summer. This was probably the hardest time any of us have had in a band so far since we're all like brothers, and Callum is the youngest one. We kept working and looking for a new guitarist, but really didn't want to replace Callum with somebody who didn't get our style and the feeling behind the music. So after a while of weighing it up we decided that the best idea for us as friends and the music was to bring Pavel off bass and onto guitar, and Ell Pratt onto bass for us. Since Ell is Tom's brother we knew him anyway; he had never really played bass, but we just didn't care, we needed the band to be a unit to keep it going and so far so good.
AH: From hearing the self-titled EP, your sound is deeply rooted in post-hardcore and metalcore. How would describe your sound to new listeners?
Luke: I'd probably have to say we're an emotional metal band. We can be heavy and fast paced in places and also stripped down to our bare bones. Plus, we've also got some quality hooks if I do say so myself.
AH: Who do you consider as influences?
Luke: We're all into various elements of metal and rock and I think it comes out in our sound. We're into bands like Architects, Devil Sold His Soul, Brand New, Dillinger Escape Plan, Letlive., A Lot Like Birds, Basement, While She Sleeps, Comeback Kid and Touché Amoré.
AH: Some bands release their debut EP within 6 months of being together. You've taken 18 months. Is there any reason for this?
Luke: We decided we wanted to work on our sound and figure out exactly where we were going before we released an EP. We've definitely written an album worth of songs, but the first few were kind of thrown together just to get practicing and as we started understanding each other more, the sound developed. It would have taken a lot less time but with losing Callum and studying, we just taken it slow and let the songs grow organically.
AH: You've stated you treat your music as therapy. Care to tell us more about this?
Luke: We just use our music to vent out our rage and displeasure at the world around us. There's so many messed up things out there and I think since we've been living in London our eyes have opened and we just use our music to express how bullshit it all is. Here everybody is in it for themselves, there's no friendship, it really is a rat race. It doesn't have to be that way at all!
We just use our music to let out these feeling instead of letting it eat away or knock us down. Negativity is our fuel, we feel better as people for it and hope that other people can feel a little bit taller from our music one day.
AH: You've previewed one track ('One Drop of Blood and We'll All See Red') from the EP so far. How was the response been?
Luke: So far it has been incredible! It seems to be going down really well. Our phones are non-stop at the moment with notifications and it's just brilliant to see people are liking what they are hearing and wanting to support us. Every day we're counting down as if it's Christmas. We can't wait to release the full EP!
AH: Can you tell us what the track is about lyrically?
Luke: This song is basically about egos. Tom and I have worked in the club scene in London for the last 2 years and we've met loads of people who literally do nothing with their life but party and follow the crowd, have no aspirations but to be cool, yet they feel they are on a higher ground than anybody else in the world. Basically what I'm saying in the song is, that's fine you guys can have your moments and look down on everyone else regardless of who they or are and what they've down and we'll just carry on doing what we're doing.
AH: With bands such as Bring Me The Horizon, Architects, and Bury Tomorrow releasing critically-acclaimed metalcore albums in recent years, why do you think UK metalcore is doing so well right now?
Luke: I think it's down to the way the country is itself. There seems to be very little hope at the moment. Look at England's World Cup, nobody even dreamt of winning it.
Our generation is the generation where everyone before us has screwed up everything and we're left with the turmoil, and I think people have to find an outlet it could also be because pop music has got to an unbelievably terrible level so more kids are heading towards rock and metal bands. Whichever, I'm happy.
AH: What else do you have planned in the coming months besides the EP. Can we expect to see you out on the road?
Luke: We've been booking shows and working on new ideas. The aim is to get out and meet as many new people as possible, make new friends. UK dates, maybe play in Lithuania and keep building.
AH: Any final words you want to share with the Already Heard readers?
Luke: I'm naked.
'The Sun Never Set' by The Sun Never Set is released on 4th August.
The Sun Never Set links: Facebook|Twitter
Words by Sean Reid (@SeanReid86)