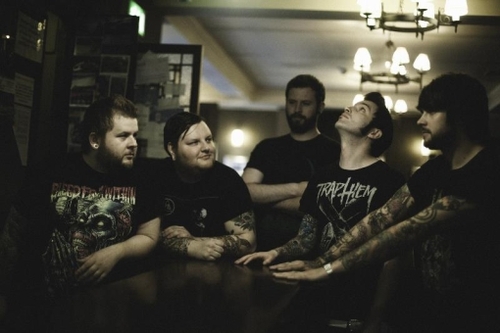 Having received tons of attention with their last single 'The Faint & The Fragile', Glasgow's The Recovery are set to up the ante with their new single 'Taking Care of Business'. Dominated by heavy riffs, rock 'n 'roll melodies and swaggering vocals, the single gives the five-piece plenty of promise as they continue to write material for their debut album. In the meantime the band have been spending the summer playing festivals such as T In The Park and The Wickerman Festival.
We recently grabbed a quick word with Jawn from the band to find out more about The Recovery, their influences, playing T In The Park and more.
Already Heard: Hi Can you introduce yourself and your role in The Recovery?
Jawn: Alright I'm Jawn and I play guitar in The Recovery!
AH: For new listeners, how would you describe your overall sound?
Jawn: Overall it's a concoction of heavy riffs, catchy melodic choruses and fast paces.
AH: What bands would you consider as influences?
Jawn: We pull together a vast collection of influences from anything like The Smiths, Elvis Costello to Pantera and Trap Them. There are loads of bands we listened to a lot when we started like Refused and The Bronx but we are now in a place where we are trying to use all of our collective influences as reference whilst writing. 
AH: You're set to release a new single, 'Taking Care of Business' soon. Would you say its a good example of the bands style?
Jawn: Definitely, as far as this point in time goes. It starts off fast and before you know it you're at the first chorus. Throw in a breakdown before the second chorus followed by another chorus. It's a pretty simple pop song structure which we like to do a lot of the time so I'd say it's definitely what you would hear on our other tracks. We do go heavier in other songs and poppier in other songs too, but overall it's a good example.
AH: Can you tell us what 'Taking Care of Business' is about?
Jawn: It's about observing the dichotomy of the darker sleazy side of night life verses the fun loving life affirming party. A bar dwellers song questioning what side of the moral or social lines you stand on.
AH: We hear you're working on your début album. How far are you into the making of it?
Jawn: We've started work on a good few songs and ideas. The ideas are coming together nicely and pretty quickly. We'll hopefully be demoing shortly and getting a rough idea of what they sound like all together.
AH: When can we expect to hear more about the album? Any idea when it will be released?
Jawn: We have absolutely no idea. We are going to continue writing after the festival season and see what happens. Ideally we would like someone to come along and help us release it at a bigger level. We want as many people to hear our new stuff as possible and then get out and play to loads of folk.
AH: Will you be previewing any new songs when you tour later this year?
Jawn: I'd say definitely. It's always good to get new songs tight even before they're fully recorded and get people's reactions and opinions. It can always be a good part of the writing process because if you play it live you may notice certain things that need changed or just rearranged.
AH: You've recently played T in The Park Festival. How did you find the experience?
Jawn: It was a really great weekend for us. We played the BBC Introducing stage and it was so well run and supportive. We've met a lot of the BBC staff before whilst doing a Radio 1 live session so it was good to catch up. We met a bunch of new people who were just as awesome as the people we already knew. The BBC have been very receptive of us and never fail to help. It was a really fun show and just great being able to play at our country's main festival. It would have been amazing either way but playing the BBC Introducing stage made it even more special.
AH: Finally why should Already Heard readers check out The Recovery?
Jawn: If you want some honest, heavy yet catchy party music then you should give us a try. Whether you're in a rager of a mood, in a summery mood or just looking for something new, then check out our last EP 'Wherever Nowhere Takes Us.' I'm sure if you listen the whole way through you'll find something you like!
'Taking Care of Business' by The Recovery is released on 19th August.