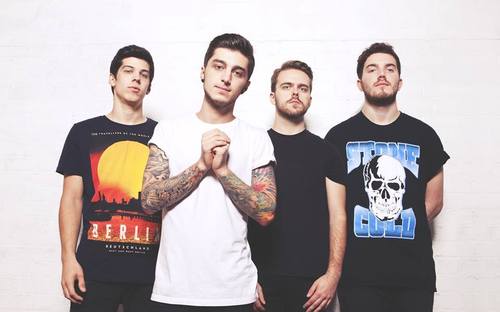 Born out the demise of metalcore outfit Collapse The Control, The One Hundred sees Jacob Field, Tim Hider, Phil Kneller and Joe Balchin released from the shackles of being boxed into a genre allowing their new band to be creativity free.
The One Hundred incorporates elements from a range of genres from metal to grime to electronica to hop-hop but nevertheless as recent single 'Breed' shows, their sound is one filled with adrenaline and is certain to catch peoples attention in the coming months.
With their next single, 'Unleashed' set to be released in the coming months and festival appearances in the works, the genre-defying quartet recently spoke to Already Heard to talk us through the transition from Collapse The Control to The One Hundred, being pinned down to a genre, their forthcoming EP, and more.
Already Heard: Can you introduce yourselves and your role in The One Hundred?
The One Hundred: Jacob Field (vocals), Tim Hider (guitar, backing vocals), Phil Kneller (Bass) and Joe Balchin (drums/ electronics).
AH: I understand the bands origins lie in your old band, Collapse The Control. Talk us through how that band became The One Hundred?

TOH:
We were in Collapse The Control for around four years and we came to a point where our personal music preferences were changing. We didn't want to force ourselves to continue to play music none of us had the same passion for, we all achieved and learnt so much playing with CTC so decided to call it a day after things started to fizzle out. We started from scratch and continued to write music in our preferred style incorporating our favourite genres and it kick started from there. We had a slight rearrangement in the line-up by moving Phil onto bass and bringing Joe in on drums.
AH: Stylistically how does The One Hundred differ from your former band?
TOH:
I think bringing in elements of Grime and Hip-hop has really had an impact on the music we create. We're so free to create whatever we want
it doesn't have to keep to a specific genre "guideline". We're having so much fun writing and creating this new style it already feels we've stepped up a gear from CTC. We've all matured musically which helps a lot when we're writing and playing live.
AH: With elements of metal, hip hop, rock and dance, would you say it's hard to pin down the type of band you are? Does it matter being classed a certain type of band?
TOH: It's definitely difficult to explain our music style to people, we always end up mentioning five different bands from five completely different genres.
Personally I don't think it matters, we can get categorised as a Metal, hip-hop or rap band and none of us would be offended by it. There's so
many sub genres of the same style that it all gets a bit confusing. I think people like to label a band with other similar bands because its easy to
categorise them from then on, I suppose we're a hip hop metal hybrid if that makes it easier to categorise haha.
AH: Having heard 'Breed' and 'Unleashed,' there's certainly a comparison to Enter Shikari, especially with politically-influenced lyrics. Would you consider them an influence?
TOH: Lyrically, I write whatever is on my mind, a lot of the lyrics are ambiguous on purpose and have more than one meaning. I write on experiences and things that have affected me personally, there are a few political digs but the majority of the tracks we've written are about every day problems. We take influence from such a vast selection of bands and artists and our music will reflect that. We're all fans of Enter Shikari, their new album is a solid 10.
AH: You've been writing and recording your EP recently. Does tracks like 'Breed' indicate a sign of what we can expect from the EP?
TOH: 'Breed' was the first song we wrote, so we've progressed from what we've created first time around and built upon that, so don't necessarily expect to hear Breed part II – expect something different. We've been able to fuse so many elements from our favourite genres to create something unique that we all enjoy playing and hopefully people will enjoy listening to. There will be tracks that remind you of an old school nu-metal record whilst others reflect our passion towards hip-hop, grime and dance music. Be excited.
AH: I also hear a video for 'Unleashed' is in the works?
TOH:
Yeah! The video for 'Unleashed' is being planned out as we're writing this. It should be wicked, so expect it to drop some time in the not too distant future.
AH: How far are you into completing the EP and when can we expect to see it released?
TOH:
The EP is all down and recorded, we're all perfectionists however so every time we listen back we always find things to change or tweak. We've
got a large selection of tracks to choose from, so its now deciding on the track listing and all the other things that go with a self-release. We haven't set a date for it's release yet but we hope to have it out by spring or early summer. Watch this space!
AH: Before Christmas you played a few shows with Outpatients. How did those shows go down?
TOH:
The shows with Outpatients were brilliant, we couldn't of asked for a better band to share the stage with.They were our first two shows
and we probably couldn't of expected anything better. Guildford's our hometown so it was great to kick it all off from there and cement
ourselves back into the scene.
AH: Because your sound is a mashup of various genres, what can gig-goers expect from your live show?
TOH:
Everything and anything. We like to put a lot of energy into our sets. Just make sure you exercise before you come, it'll be like a workout.
AH: With the EP set to be released at somepoint this year, will we be seeing The One Hundred on the road?
TOH:
Yes most definitely, nothing has been confirmed as of yet but we're pretty confident in saying you'll be seeing a lot of us this year so keep your eyes and ears pinned back.
AH: Do you have any final words to close the interview?
TOH:
Thanks for checking us out, we hope to see you at a show soon! Enjoy our free track 'Breed'!
'Breed' by The One Hundred is available as a free download from breed.viinyl.com.
The One Hundred links: Website|Facebook|Twitter
Words by Sean Reid (@SeanReid86)