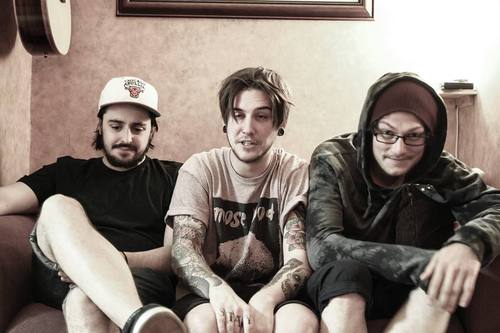 Hailing from Slough, emo three-piece Southpaw formed in early 2013 and after a slight line-up change, they're now releasing their first full EP.
Entitled 'Better Days', the four-song release is thoroughly emo to the core with bands such as Mineral and The Get Up Kids being a distinctive influence. Yet there's a hint of punk throughout songs like 'Skin and Bone' and 'Quiet Weekend', which makes Southpaw one of the most exciting young bands we've heard in quite some time.
To find out more about Southpaw, we grabbed a quick word with vocalist/guitarist Perry to discuss their influences, the so-called "emo revival", the non-existent Slough music scene and the time Frank Turner crowd surfed at one of their house shows.
Already Heard: To start with, can you tell us who you and your role in the band?
Perry: I'm Perry and I sing and play guitar
AH: I understand you've all played in bands previously and came together after those bands ended. Can you tell us a bit more about how Southpaw came to be?
Perry: Well really me and Jake (Bass) have been playing in bands together since we were like 15/16 but we never really got further than a few home recorded demo's and never managed to hold anything together. We really first formed Southpaw early last year with our mate Trevor on drums and we started writing some songs and booking a couple of shows here and there, but for us I guess it didn't properly start until late summer last year when we needed a drummer at the last minute to fill in for a show. We met TJ through my girlfriend and he said he'd do the show with us, from the first rehearsal it seemed to come together almost instantly and we all just clicked together, so with Trev moving to uni at the end of the summer we asked TJ to join as our permanent drummer so we could take a proper stab at being a band and here we are today.
AH: One thing that enticed Already Heard to check you out was your 90's emo-influenced sound. What bands do you consider as influential?
Perry: Well to me personally I was always hugely influenced by bands like Mineral, Texas Is The Reason, The Get Up Kids and Knapsack.
I always lent towards the more straight forward stuff than the twinkly complex bands. It just felt more real and passionate to me and that's what really struck me the most. How much I connected with the songs those guys were putting out and that, like punk, it made being in a band like that seem reachable without having to spend 8 hours a day working on getting good enough at guitar!
AH: Your new EP is titled 'Better Days' and is your first "proper" EP. What can new listeners expect from the EP?
Perry: Well this was the first EP that we actually worked on, our first one was thrown together in like a week just so we had a setlist, we weren't too sure quite how we wanted to sound and we were between line ups, so I think this new EP is the first real taste of who we are and alot more consistant, it's 4 tracks of heartfelt punk-inspired emo.
AH: Lyrically what is the EP about?
Perry:
Well I usually try and write all my songs about personal experiences and whatever's on my mind at the time so alot of our songs focus on things like life, figuring out what you want to do with it and relationships…ect. I think the closing track 'Wyoming' is the most personal song I've ever written, its about a friend of mine who I grew up hanging out with every single day and we always made all these plans growing up to live together, form a band and tour with Jimmy Eat World. We were like inseparable but then he moved away when we were like 14/15 and I never saw him again and it was like the first time I realised that life isn't quite gonna be just whatever you decide as a kid. So yeah it's about all that stuff.
AH: Even though you've not been together for long, you've already gained a decent following including support from one Frank Turner. What's the story behind that?
Perry: Yeah the support so far has been incredible, we're truely thankful to everyone that's ever checked out our songs or seen us live!
As for the Frank Turner story, basically we were playing a house show in London with Janowski, Patients and Dead Buttons from Korea and he just turned up in the audience, was pretty surreal, we were having a smoke outside after our set and he just came over and started telling us how much he enjoyed it and took one of our shirts, as a huge fan of million dead and his solo work it was just the best feeling to have someone you look up to like that acknowledge the songs that you've written, also seeing Frank Turner crowd surf round a kitchen in a Southpaw tee is a memory i'll never forget.
AH: Because you've stated yourself as an emo band. What do you make of the so-called "emo revival" movement?
Perry:
I've never really thought about it as much of a revival because the music has still always been there, it just seems to have boomed in the last few years, but it's brought about a whole load of amazing bands that I love and caused some of my favourite bands to reunite, so as long as it keeps bringing out the same current level of talent, I'm all for it.
AH: For a band like Southpaw, is it something helps or hinders you?
Perry: For us I think it helps us quite a bit, because a lot of people are getting into it and it feels like there's a lot more support for the underground scene these days with more and more kids searching out and listening to new bands, cause everyone wants to find that band that's 'theirs' you know, I just think that the UK Emo scene is a very positive thing to be apart of at the moment.
AH: Nevertheless are there any other UK emo bands we should be listening to?
Perry: Well I've been listening to alot of Headroom, Moose Blood, who I think are the best band to come out of the UK in a very long time. Other than that I would strongly recommend a band called Resident, great tunes and top lads.
AH: Let's talk about the Slough music scene. For starters, is there one?
Perry: Well to be honest I'd say it's non existent, there's very few venues and even fewer bands, the only band I can think of in recent years that came from Slough were Viva Brother….and that's probably worse than just not having any bands.
AH: What's next for Southpaw? Can we expect more shows or new material before the end of the year?
Perry: Well we're taking a few weeks to slack off at the moment to sort out the release of the new EP, but then we're playing 'Homefest' in High Wycombe on the 27th of July, after that we'll be trying to get on as many shows as we can over the summer to promote the new tracks, we're also hoping for a mini UK/EURO tour with Resident around October/November time, and yeah we're currently already writing some new tracks and we're hoping to have another release out towards the end of the year, so hopefully a busy year for us.
AH: Finally why should Already Heard readers check out Southpaw and 'Better Days'?
Perry: You should all check us out so we can prove to our parents that there is a reason why we're all in our early 20's and don't have real jobs.
'Better Days' by Southpaw is released later this summer.
Southpaw links: Facebook|Twitter|Bandcamp
Words by Sean Reid (@SeanReid86)