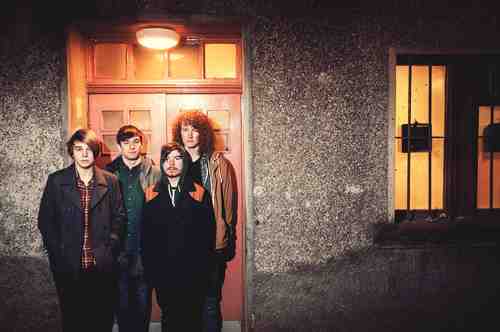 If you read Already Heard quite often then it's no surprise So Many Animal Calls have found their way on to our "Recommends" feature.
Their latest EP, 'Burden' is four slices of perfectly crafted and refreshingly good indie pop, that leans towards early post-millennium US emo yet keeps a strong, sincere Scottish tongue throughout. It's certainly one of our favourite EP's of the year so far (see here).
Since releasing their debut EP in 2010, So Many Animal Calls have been gathering momentum with a few single and EP releases, festival appearances and tons of shows, perfecting their harmonious and melodic sound.
Before we gave 'Burden' it's 100th spin on the AH stereo, we caught up with bassist Ross Coll to find out more about So Many Animal Calls; their history, their influences, the new EP and more.
Already Heard: For starters, can you introduce yourself and your role in So Many Animal Calls?
Ross: My name is Ross Coll and I play bass in So Many Animal Calls.
AH: To bring readers up to speed, can you give us a brief history about So Many Animal Calls?
Ross: SMAC released their first EP in July 2010, a 3 track home demos EP titled 'Your House Is A Hospice" I wasn't part of the band this point, SMAC were a 3 piece with Sean McKenna, Ross Stewart and Martin Johnston. In 2011 they won the chem 19 creative Scotland award and recorded 3/5 tracks from the 'Eulogy' EP at Chem 19 studios. I joined the band whilst 'Eulogy' was being recorded and we finished off the final two tracks of the EP at North Road Studios. We released a single titled 'Traps' in early 2012 via local rock label Overlook Records. The same year we were hand picked to play on the main stage of Rockness, our first festival performance. We spent time in between releases playing as many shows as possible and writing the follow up to 'Eulogy', 'Burden', and Martin departed on drums and Sam Leighton took his place.
AH: So you've recently released a new EP titled 'Burden'. This is your first EP release since 2011's 'Eulogy.' How has the band grown over the last few years?
Ross: I think when we were writing 'Burden' we wanted to show that we had made a progression musically. 3 years between EP's is a long time and we were conscious of that. We wanted to show people we were taking our time and agonising over every detail possible of the songs until we were happy. Burden has a much more mature sound than 'Eulogy' in my opinion. It's a clear progression in terms of music, lyrics and the way we conduct ourselves as a band I feel.
AH: In terms of sound, how would you describe 'Burden'?
Ross: I'd say 'Burden' shows off everything that we like to do in SMAC. There's the big pop choruses, there's riffs and mathy time signatures and loads and loads of reverb, we like reverb a lot. I'd also say it was Sean's best lyrics to date, they're direct but at the same time not blatantly obvious.
AH: One reason that drew us towards listening to SMAC was the comparisons to Motion City Soundtrack, The Get Up Kids, The Promise Ring and Death Cab For Cutie. Would you say these bands give new listeners a rough idea of what SMAC are about?
Ross: I would say all these bands are pretty good starting points to understand what we're all about. We're all pretty big fans of early emo bands so to get compared to bands like the get up kids and the promise ring is very flattering.
AH: Whilst we're here let's ask about your influences. Are there any bands that have influenced SMAC and 'Burden' in anyway?
Ross: Whilst we were writing 'Burden' we were all listening to a bunch of different stuff. From TTNG, The Antlers, Taking Back Sunday etc… I think you can see these influences shine through in 'Burden' but with our own twist added.
AH: Can you tell us what the tracks on 'Burden' are about?
Ross:
All of the songs on 'Burden' are extremely personal songs for Sean (McKenna), who writes all the lyrics. It's about him losing someone who was very dear to him and his way of coping with it. 'Stories' is more of a tale and is pretty direct, with my bloods not mine being slightly more indirect.
AH: How has the feedback on the new material been so far?
Ross: The feedback we've received on the new EP so far has been pretty overwhelming. We've sold a bunch of EP's and they've had really good reviews in publications like rock sound and the list and my bloods not mine was also played on Radio 1. We couldn't really have asked for a better response and we had our EP launch show on the 24th of May and we're totally taken a back by the turn out of people at it, old faces and new.
AH: You worked with Bruce Rintoul on the EP. How was it working with someone who has helped a variety of Scottish bands in recent years?
Ross: We've known Bruce for a good few years now. We'd recorded a few singles with him previous to 'Burden' but it was nice to go in and record a set of cohesive songs with him, he knows how to get the best out of us and will voice his opinion if he thinks certain parts of a song could be better, something that we appreciate.
AH: The release leading up to the EP release consisted of a handful of Scotland shows. How did those shows go?
Ross: The run of shows were great fun leading up to the EP. It was our first shows playing with our new drummer Sam and it was great to finally get out and play some shows with him. As previously said the EP launch show was a pretty special night for us!
AH: What is a typical SMAC show like?
Ross:
Sweat, lots of sweat. And singing with the occasional crowd surf.
AH: Can we expect to see SMAC crossing the border anytime soon?
Ross: We're looking at heading down to England for a run of shows later on in the year about August time. We've only played in London a few times before so it'll be great to go to places we've never played before.
AH: What are your plans following the small tour and EP release?
Ross: To play as many shows as possible, in as many different places as possible. Release a steady stream of content to keep peoples appetites wet!
AH: Finally why should Already Heard readers check out 'Burden'?
Ross: 'Burden' shows off everything we're about as a band fully. It contains all aspects of our personality. It's something we're very proud of.
'Burden'by So Many Animal Calls is out now on Bloc+Music.
So Many Animal Calls links: Facebook|Twitter|Bandcamp
Words by Sean Reid (@SeanReid86)