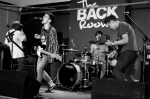 Hailing from Cheltenham, Sleeping Lessons take the subtle atmospheric sounds of Sigur Ros and combine them with the aggressive indie rock of Brand New and La Dispute. Their début EP, 'Cellar Door' is full of energy and raw emotions that is focused throughout. Although it's early days for the quartet, we certainly think Sleeping Lessons have the potential to make their mark in the coming months.
We recently spoke with vocalist/bassist Tom Savory to discuss the 'Cellar Door' EP, the change from Tides to Sleeping Lessons, joining Scylla Records, their influences and more.
Already Heard: First of all can you tell us who you are and your role in Sleeping Lessons?
Sleeping Lessons: Hello! My name is Tom and I'm Sleeping Lessons' vocalist and bassist!
AH: I understand the band used to be called Tides. Is Sleeping Lessons just a change in name or is there a change in sound?
SL: I'd say it's more about us all growing up. We started out in the summer of 2010 when we were still in school, but 2 years on, we've grown up a lot and felt that we wanted a fresh start. I'd say our sound has matured and refined from the two demos we self-released in 2011, but we're still the same bunch of guys with exactly the same initiatives and ambitions.
AH: Your sound has been compared to Brand New and La Dispute. What do you make of these comparisons?
SL: We're incredibly flattered! Both Brand New and La Dispute are huge influences on our music and for people to say that we remind them of such great bands is simply amazing.
<a href="http://scyllarecords.bandcamp.com/album/cellar-door-ep" data-mce-href="http://scyllarecords.bandcamp.com/album/cellar-door-ep">Cellar Door EP by Sleeping Lessons</a>
AH: Who would you consider as influences to Sleeping Lessons?
SL: Band-wise, we're influenced by a whole range of other artists; we all love bands like Brand New, La Dispute, Goodtime Boys and Touché Amoré, but we also really dig bands like The Smiths, Joy Division and Sigur Ros, who you wouldn't necessarily hear in our sound. My Uncle Ni, (ELLA) is also a massive influence for me personally and on the band as a whole; he's already done so much for us and I don't think I'd be answering these questions without his influence!
AH: On December 10th you're releasing your debut EP 'Cellar Door.' What is the EP about?
SL: It's difficult to say; I recently sat down and read through the lyrics and shocked myself a little with some of the things I made reference too. One of the songs is about a difficult time in my childhood and the other two are about relationships and how the world looks and feels when you're 19 years old, but I think they're strong enough songs to be relatable to a whole host of people.
AH: You've already premièred one song from the EP 'Winter Mourning.' Can you tell us a little bit about the track?
SL: 'Winter Mourning' is a really strange track. I wrote it long time after I'd split up with a girl I'd be seeing, but everything was still really raw and messed up in my head. It's quite a dark track, especially the intro, but I kinda like it because of that. The majority of the track is about being angry about how someone is acting towards you, how you still want to know them, but how you're also wishing the worst upon them, which I'm sure a lot of people can relate to. It was around a time where I became really obsessed with the idea of death and dying; how your family and friends would react to you passing away, how to escape from your problems, being yourself and the really negative connotations surrounding those ideas. Luckily I pulled myself out of that and I couldn't be happier with my life right now, but this song is a reminder of how I'd never like my life, or anyone's, to ever be like.
AH: What do you hope new fans take away from the EP?
SL: That we're a bit different and that just because we're young, doesn't mean we should be written off as musicians. I really hope this catches people's attention and that they come and check our live show as I think they'd be surprised. Marmozets have really broken through lately and I think they're possibly even younger than us, so it's a great time for young British alternative bands.
AH: You worked with producer George Shilling at Bank Cottage Studios on the EP. What input did he have on the EP and what did you learn from him?
SL: George is such a great guy and helped us in every way he could, a true professional. Although he's more known for his classical and pop work, he's so versatile and blew us away with his extensive studio and industry knowledge and threw plenty of suggestions into the mix which came out really well.  He did an awesome job for us and I think this is reflected by the quality of the recordings.
AH: 'Cellar Door' is being released on Scylla Records. How did you team up with the label?
SL: I mentioned him earlier, but my Uncle Ni used to be in a band called ELLA who Scylla put out an EP by in 2005 and having kept in touch with Rich (Hughes) since, sent him a link to our EP and Rich contacted us and we went from there. We chatted loads via email and after meeting up as a band with him at a service station in Reading, decided that this was where we'd like to be. It's a great label with some really cool bands and the whole Scylla family is so chilled and homely; we're super happy to have our work put out on behalf of such a hardworking label.
AH: In February you're heading out on a brief run of UK shows. As a new band have you played any shows yet? If so, how has the response been?
SL: We've been playing shows just about anywhere in the past two years, but it wasn't until we stepped things up and started contacting promoters with the EP, (as Sleeping Lessons), that we began to garner some real attention. We've played tons of local shows in Cheltenham/Gloucester, building up a small fanbase and we've also been to Basingstoke, London, Yeovil and Sheffield from what I can remember off the top of my head. Most of the time, people really digged us live, but we never had the recorded material to back it up; we finally feel as if we have this now, especially with the extra backing from Scylla to push us into people's consciousness!
AH: Even though 'Cellar Door' has just been released. Are there any plans for a follow up?
SL: For sure; we've just started writing for a single to be released ready for our mini-tour in February and we'll also be putting out a longer EP, both via Scylla, in 2013.
AH: Finally why should Already Heard readers check out Sleeping Lessons?
SL: We're just four dudes from Cheltenham with honest music and honest intentions; we're not interested in fame, money or how many Likes we can get on Facebook, we just wanna have fun and share it with likeminded people in a positive way.
'Cellar Door' EP by Sleeping Lessons is out now through Scylla Records.
Sleeping Lessons links: Facebook|Twitter
Words by Sean Reid.