Even though we've been overwhelmed with the wealth of new music that's been hitting us lately, it does mean we've been spoilt for choice when it has come to acts to highlight for "Recommends". Our monthly roundup of need-to-know bands is once again packed with names we think you'll be hearing a lot more of in the not too distant future.
This month we've got five acts lined up to introduce you too. From overseas, we have upbeat South Carolina group Happy. lead the charge and genre-crossing artist Juiceboxxx. As for those a bit closer to home, we have three emerging bands for you to learn about. There's The Uncharted; a sextet who offer more than your usual prog metalcore. From London, we have promising pop-punk trio SHADED and finally, we get to know Bristol three-piece Blank Atlas a little bit better.

Follow us on Spotify for more playlists.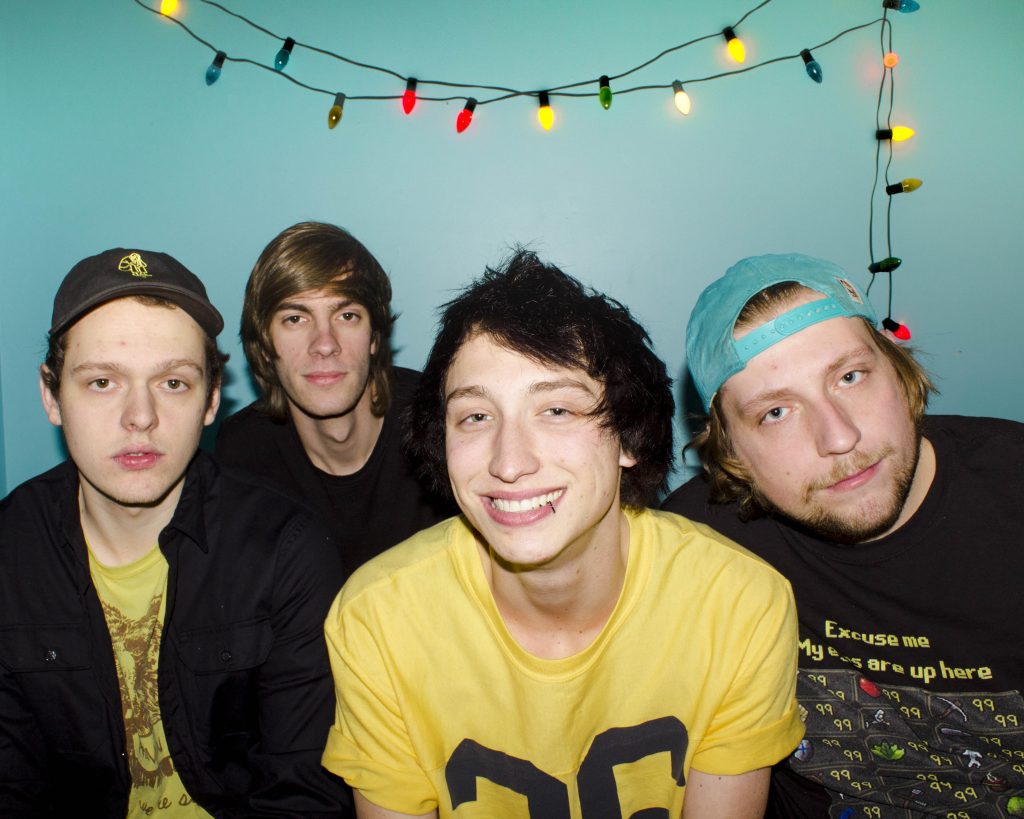 Happy.
Columbia, South Carolina quartet Happy. consider themselves as more than your run-of-the-mill pop-punk band. On the surface it's difficult to see evidence of that; they're a band that specialises in feel-good, bouncy tunes. However, if you dig a little deeper and you'll find a set of songs with plenty of substance.
Throughout their debut album, 'Cult Classic', songs such as 'With a Y' and 'Don't Overdose and Drive' are reflective as vocalist/rhythm guitarist Tate Logan sings of toxic relationships and ultimately making the most out of a bad situation. Yet, they don't hold back on the infectious hooks as 'I Call Shotgun', 'Winona Ryder', and 'Drowners' show. Add to that a smattering of nostalgic power-pop, and you're left with a band that could well worm their way into your heart.
To find out more about Happy. and 'Cult Classic', we spoke to drummer Caleb Rucker.
For Fans Of: Seaway, Waterparks and Weezer.
AH: You only formed two years ago and now you've just released your debut full-length – 'Cult Classic'. For those just getting to know Happy., bring us up to speed on the history of the band?
Caleb: Well we're a bunch from Columbia, South Carolina. We recorded a four-song demo EP called 'The Endless Bummer' back in 2016 and since then we've been playing shows and grinding out new music! We recorded 'Cult Classic' with Will Pugh (Cartel) last summer, then we signed with Rude Records late last year.
AH: You've been described as more than just "another pop-punk band". Do you think 'Cult Classic' has allowed the band to grow their sound and explore other avenues?
Caleb: Definitely, I think our overall sound has matured into something that reflects each of us individually, and when it all comes together it flows into something that's more than just pop-punk.
AH: In the lead up to its release, you shared a few singles. How do you feel songs such as 'Don't Overdose And Drive' and 'Winona Ryder' showcase a different side to the band?
Caleb: These songs show how we've matured as a band altogether. Rather it be quality, structure, or length. We've put our heart and soul into this record and I think it shows.
AH: You've also made a few music videos for the album. How vital are videos for a band like Happy.? Are they are as important as the music or simply compliment it?
Caleb: The videos are definitely an important aspect because they paint a picture of the song. They tell a story of the music if that makes any sense and that makes it stick longer with people. I don't want to say the videos are as important as the actual songs because the music is the main priority but the videos help to provide a little bit more than just what you hear. They paint the brighter picture.
AH: From hearing 'Cult Classic', there is a hint of nostalgia to your sound. Is that a key element of your songwriting?
Caleb: We've never catered to a specific sound or genre. We've never tried to sound "nostalgic" that's just how everything came together. I think that because we're all so heavily influenced by great bands that some might call "nostalgic". I think we've each channelled some of that into our music.
AH: The album's message is "that you can create and achieve your own definition of happy", is there an element of mental health to the band's lyrics, even if indirectly?
Caleb: Mental health or mental health awareness is definitely one of, if not the most important aspect of our lyrics. Music in general for us has always been an outlet or a means of escaping and getting away from things even if it's just for a little while. Whether it be going to a show, playing an instrument, or just throwing on some headphones. We believe it's very important for people to have that escape plan. If anything we'd hope that our music or lyrics can provide that outlet and be uplifting or inspiring. We'd hope to provide people with a little bit of happiness through our music.
AH: What influence did the expertise of Will Pugh of Cartel have on 'Cult Classic'?
Caleb: Will was a pleasure to work with! With his experience as a successful musician and producer, we were able to put the pieces of the puzzle together. His ear for music is incredible. Rather it be tweaking little things here and there or adding some things. All of that made a world of difference with the final product. We were and still are beyond grateful to have had the opportunity to work with Will. His touch on this record has played a major role of the success we've had thus far and we hope to work with him again the future!
AH: Finally, what are your favourite cult classic films?
Caleb: The Shining, Fight Club, Pulp Fiction, Donnie Darko.
'Cult Classic' by Happy. is out now on Rude Records.
Happy. links: Facebook | Twitter | Instagram
---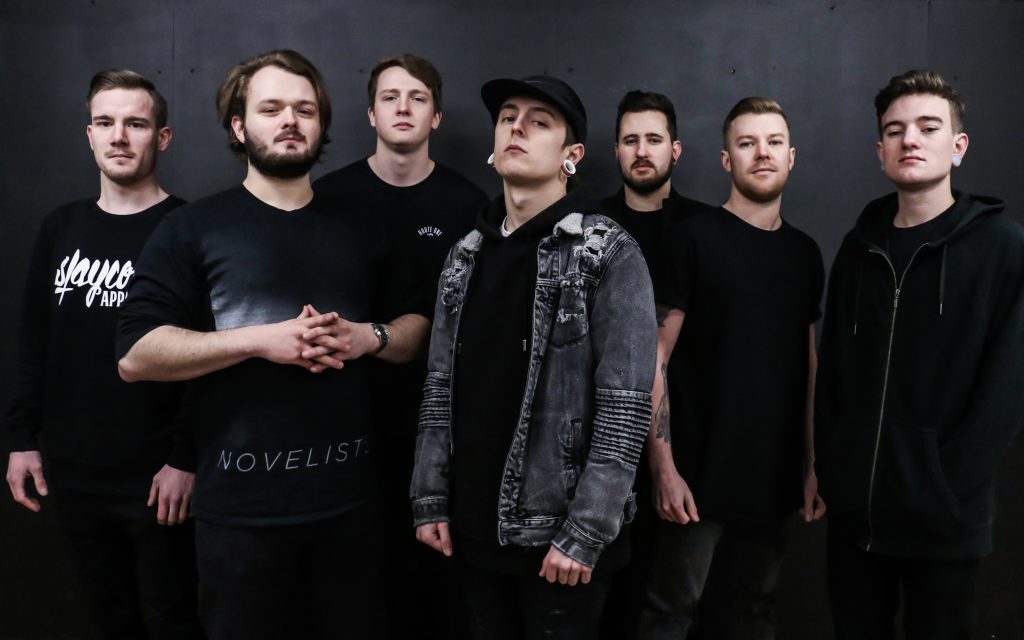 The Uncharted
With seven members and a musical cocktail of blistering riffs, breakdowns, orchestral flourishes and duel vocals, Gloucester progressive metal exports The Uncharted are a daunting prospect. And that's before you delve into their debut EP – 'Perspectives'.
Its six songs is a detailed concept created by vocalist and lyricist Arron Carter. Starting in a dystopian future on 'Deathdrive', the lead character (The Narrator) is trapped and full of nihilism. Yet by the time we reach the closing track, 'Revival', the unnamed character has found purpose and acceptance beyond the suffering. For a debut release, it's an enticing listen that demands your attention.
With Carter's influences coming from literature and philosophy, 'Perspectives' is a thought-provoking and compelling EP that is heavy both in its sound and lyrically. Our interest to find out more led us to speak to Arron, who discussed the band's formation, influences and future plans.
For Fans Of: Architects, Novelist, I The Mapmaker
AH: We hear The Uncharted is the result of previous bands coming to an end. What can you tell us about the band's formation?
Arron: We started up as a new project in May 2014. Josh (Finch – lead guitarist) and Joe (Pronini – rhythm guitarist) were in the band Avenged the Heartache and parted ways with that band and we formed The Uncharted. We had known each other quite a while and had spoken in the past about doing something musically. The idea was to create a blend of all our favourite genres and really incorporate synth and dual vocals.
AH: Without a doubt, 'Perspectives' is an elaborate concept for a debut release. What was your inspiration behind the narrative?
Arron: Thank you. My inspiration came from fiction I've read and philosophy that I've studied over time, as well as experiences I and others have had. I wanted to create a narrative that reflected a person who was stuck in old destructive ways and wanted to start anew and forge a better path – and infuse that with philosophy and different perspectives on life.
The story is a journey starting from meaningless all the way to the other side of that and finding hope, reasons to live and a purpose in life. The narrator is a person who by the end of the story has evolved and made a massive change in his life, discovered his purpose and what he really wants to be and do in life and to pursue it no matter what. It's focused on the person who becomes themselves completely, a true individual.
AH: From reading the story behind 'Perspectives', the unnamed character goes on an emotional and philosophical journey. Is it something you have experienced?
Arron: I believe everyone goes through their own particular heroes journey in life. I've experienced a transformation of my own, learning about different philosophies, going through pain, growth and ultimately becoming a better version of myself. The whole concept of the EP could be summed up as setting an ideal and aiming to reach it, which is something almost everyone does. Sometimes we get stuck at different levels in that process, but we all have a particular journey and aims we strive for. Life is a constant learning process and a journey.
AH: In terms of 'Perspectives' being a concept release, were there any bands, films or books that influenced the idea?
Arron: I used quotes from philosophy I've read throughout the EP. I was inspired by the band Silent Planet who use references to literature and philosophy in their music.
I read '1984' by George Orwell and 'Brave New World' by Aldous Huxley during the making of the EP and their influence features throughout. I loved the idea of an imagined utopia that becomes a dystopia once implemented. In 'Perspectives', The Narrators' world is based in a 'utopia' and he is essentially a character like Winston in 1984 who has no freedom and no individuality. By the end he becomes someone who is unique and an individual, like the savage in Brave New World. Fortunately, for our narrator, his story ends in a much happier way.
'Anthem' by Ayn Rand was also a strong influence on me when I was younger and is reflected in the promotion of individualism throughout the story. 'Thus Spoke Zarathustra' by Nietzsche was a profound read for me and again inspired me with a similar focus on the individual and not being a conformist. Bands such as Coheed and Cambria and Rush inspired the concept side of the songs, I've always enjoyed the fusion of music and stories. I feel concept albums give the music more power.
AH: The release of 'Perspectives' will be complemented by an EP release show. Do you have plans to expand the narrative behind the EP in a live setting?
Arron: Not currently but this could be an idea we look at in the future.
AH: Even though this is your first EP, what direction do you think The Uncharted will go on your next release? Another chapter of 'Perspectives'' story or even a different concept?
Arron: Hard to say, but it'll most likely be a different concept – songs about familiar human emotions, concepts and ideas that people can relate with, all tied into a story. I like combining different influences in my writing and this will always be something I strive to do, whether it's from books, movies or philosophy. The most important thing for me is to be trying new ideas and not getting caught in any particular way of doing things.
'Perspectives' EP by The Uncharted is released on 28th September.
The Uncharted links: Facebook | Twitter | Instagram
---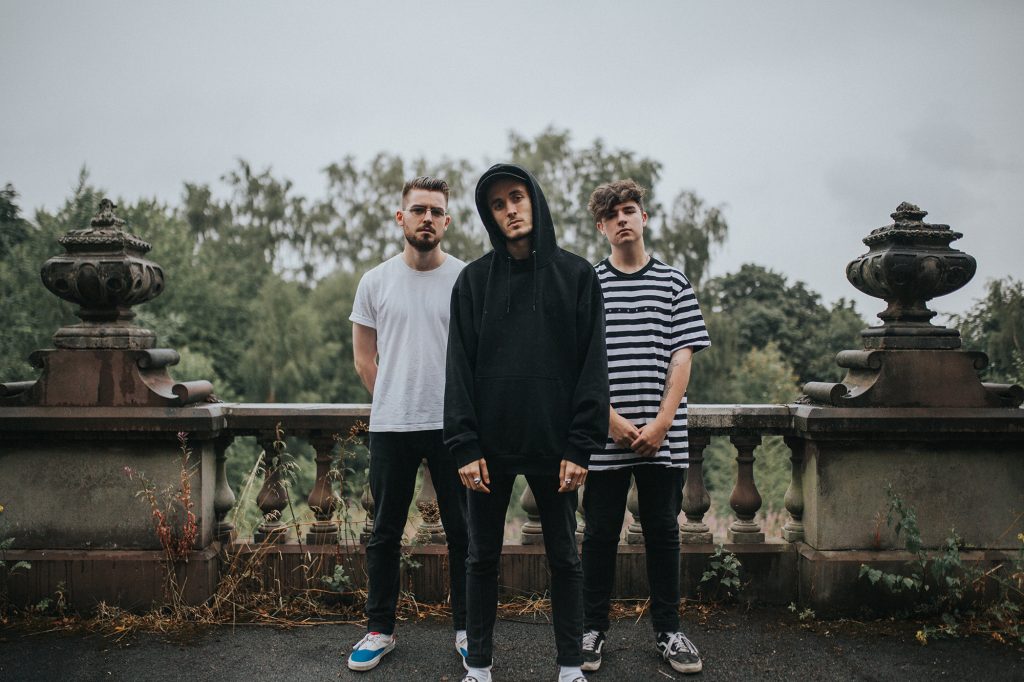 SHADED
Last year when London pop-punks SHADED released their debut EP, 'The Better Man In Me', they hadn't played a single show or even have a solid lineup in place. Fast forward to the present and they're now in a more assured position with a lineup of vocalist Matt East, guitarist Callum Irons and bassist Dan Bradberry.
Since that debut EP, they've played shows alongside Mallory Knox, The Bottom Line, Homebound, Catch Fire and more, honing their brand of slick pop-punk. The trio will be returning in early October with a second EP – 'A Familiar Love'. It sees SHADED confidently embrace irresistible melodies alongside punchy instrumentation. Just take a listen to its title track. Trust us, you'll instantly be hooked. Throughout its five songs, Matt East's soulful vocals are wrapped around by an overall bigger sound, handing the trio a wealth of potential.
As they prepared for the release of 'A Familiar Love', along with a UK run with Common Ground Records (and AH Recommends alumni) labelmates Wolf Culture, we caught up with Callum Irons to discuss
For Fans Of: Roam, All Time Low and State Champs
AH: Although 'A Familiar Love' is your second EP, some people may be unfamiliar with SHADED. Can you bring them up to speed on the band's history so far?
Callum: Of course! So around two years ago me and Matt (East) started talking through our uni Facebook group and decided that we wanted to start a band, we moved in together and started writing more or less straight away. Once we had the first EP written we started looking for other members and found Dan. Once everything was sorted we released 'The Better Man In Me' and have basically spend the past year and a bit touring and writing 'A Familiar Love', and now we're here!
AH: So it's just been a year since you released your debut EP and now you're back with 'A Familiar Love'. How has the band evolved on this EP?
Callum: I think 'A Familiar Love' is definitely a big step up on a maturity level. With our first EP we literally wrote six songs, recorded them and released them, but with this EP, we spent much more time during the writing process figuring out what sound we wanted to represent the band if that makes sense.
We tried to take a lot more from our individual influences as well, for example, Matt loves Marianas Trench and Boys II Men, so he experimented a lot more with vocal melodies. I also learned how to play guitar by playing blues, so when I was writing certain lead parts I wanted to add more 'feel' to them. So overall I think we just spent more time trying to figure out what SHADED sounds like.
AH: From hearing the EP, the band's sound is fuller and embraces the more pop side of pop-punk. What were your initial aims when you started writing 'A Familiar Love'?
Callum: We never really sit down to write trying to create a certain sound, we just write whatever we're feeling at that point in time and then tweak it later on so that it all fits together and sounds cohesive. But we all love pop music in general, so I think it was inevitable for us to approach the poppier side of pop-punk. We knew we wanted to cover all basis with this EP, just so that whatever we do next isn't a huge shock to everyone, but even we aren't sure what that is yet!
AH: Since the release of 'The Better Man In Me' last year, you've played shows with Mallory Knox, Homebound and Catch Fire. Has getting that live experience influenced the new songs in any way?
Callum: 100%! When we wrote the first EP we didn't have any experience touring together as a band. Matt and Dan had toured in previous bands, whereas I hadn't at all. So getting the chance to play with bands that you actively listen to and respect certainly gave us more incentive to try new things in our writing. Also just from playing live you realise what kind of band you want to be perceived as, and for us, we're quite energetic and we want to get everyone involved at a show. So when we were writing for 'AFL', the selection process came down to what songs we want to play live, and what songs we think would be most enjoyable for people who are watching us!
AH: The EP release coincides with a co-headline tour with Common Ground Records labelmates Wolf Culture. First of all, how did you and Common Ground strike up a partnership?
Callum: So when we received an email from them after Wolf Culture had recommended us to them! We sent them the demos for 'Tell Me' and 'A Familiar Love' and then had a Skype call with them to discuss what we thought our next step as a band was. Straight away they were so supportive and we all had the same sort of vision, and the rest is history!
AH: Secondly, what can people expect from this run of shows with Wolf Culture?
Callum: A lot of sweat, a lot of fun and a lot of hangovers!
'A Familiar Love' by SHADED is released on 5th October on Common Ground Records.
SHADED links: Website | Facebook | Twitter | Instagram
---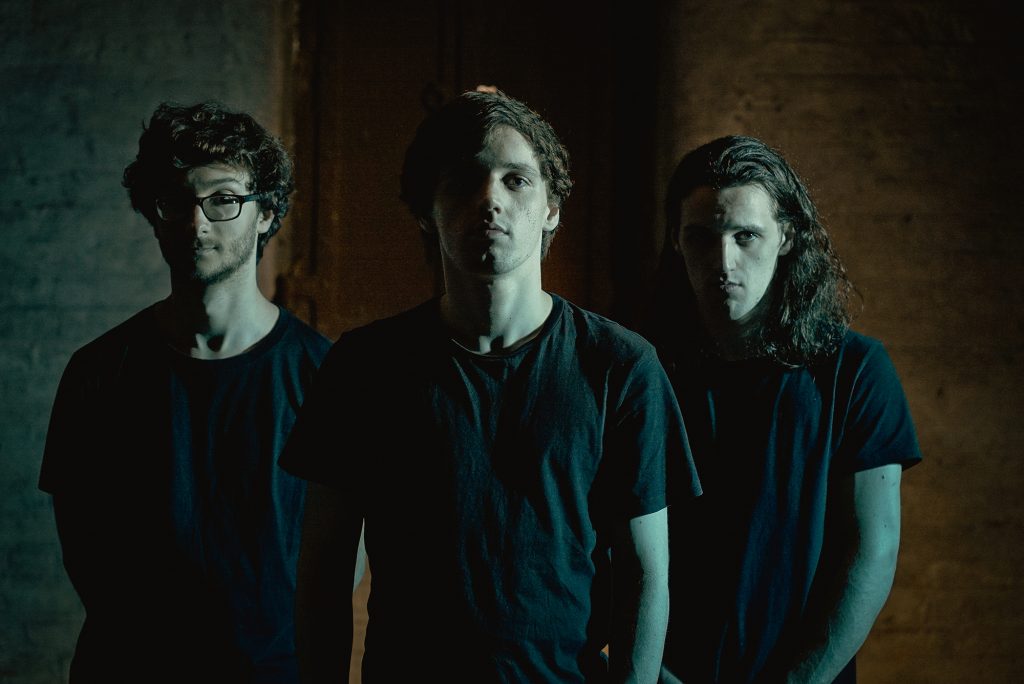 Blank Atlas
We first met Blank Atlas just over two years ago as they embarked on a new chapter with a fresh moniker. Now the Bristol alt-rockers are returning with an EP called 'Canvas'. It sees the trio, made up of twin brothers Tom (drums/vocals) and Dan Thould (guitar/vocals), and Chris Simpson (bass/vocals), paint an impressive picture that combines angular riffs, three-part harmonies and subtle pop hooks.
As we learned from speaking to Tom, Blank Atlas seamlessly incorporate a wide breadth of influences, resulting in a dizzying yet accessible set of songs. For example, 'I Was Told This Is How Wars Start', 'Halfway There' and 'Sing For Something' all radiate with vibrant, soaring hooks and heavy, jagged riffs. Although they've steadily been preparing to release 'Canvas', it's been worth the wait as Blank Atlas aren't ones to be ignored.
We recently spoke to drummer Tom Thould about the band's activity over the past two years, the lyrical nature of 'Canvas' and apparently being "For fans of McFly and Meshuggah".
For Fans Of: Press To MECO, Biffy Clyro and Meshuggah.
AH: Back in April 2016, we premiered your video for 'Lost At Sea'. We recall it being your first single under the name 'Blank Atlas'. You've had a couple of single releases since, including some that appear on the new EP. Can you bring us up to date on what's been happening with Blank Atlas?
Tom: Just a lot of gigging and writing. We've actually not released a full EP since 2016, so we've been waiting for the right time to release the next one and October 5th is just that! We've been lucky enough to play with some amazing bands since then and been able to play all over the country, which we're incredibly proud of.
AH: On 'Canvas', it feels the band's sound is aiming for a bigger, angular sound. How would you define 'Canvas' to new listeners?
Tom: It's definitely riff-heavy but with super catchy melodies and harmonies, we always like to describe ourselves as if Meshuggah and McFly had a baby!
AH: Lyrically the EP seems fairly positive with signs of hope on 'Halfway There' and 'Borrowed Time'. Do you think there's a theme that links these five songs together?
Tom: All of the songs on this release are brutally honest about all sorts of things, but I wouldn't say every song is lyrically positive. The last track on the EP, 'Envy' is about being unmotivated and depressed and being envious of people who just get on with it. But there are definitely positive lyrical content in there too, with 'Sing For Something' being one. It's about being passionate about something and not giving up!
AH: Your Facebook describes you as "FFO: McFly and Meshuggah". We're guessing the bands influences are quite varied then?
Tom: For sure, we love pop music and heavier music so we like the thought of merging them both together and creating something for everything (hopefully). We're inspired by bands like Arcane Roots, Reuben, Biffy Clyro, Press To MECO, all amazing bands who do amazing things!
AH: Dream State, Allusondrugs, and Fatherson are some of the bands you've played shows with over the past couple of years. What lessons have you learned from playing alongside more established bands?
Tom: Playing with those sort of bands is always great as we get to chat about things and they give us some advice. We always bump into fellow Bristol punks IDLES around the local music scene and they always give us some words of wisdom and tell us to stick at it! They're living proof of that as they've been gigging under the radar for the past 5 years and they've just had their breakthrough moment – which is amazing! So they're a good form of inspiration for us.
AH: We see you have some EP release shows lined up but beyond them, what's next for Blank Atlas?
Tom: The rest of 2018 is proving to be a busy time for us, lots of shows planned all across the country. We're also doing 2 shows around our EP Release, one in Leeds at Santiago's on the 5th of October and another in Bristol at The Gryphon on the 6th of October, really looking forward to those shows! But we have many other shows coming up so head over to our website to find tour dates and tickets.
'Canvas' EP by Blank Atlas is released on 5th October.
Blank Atlas links: Facebook | Twitter | Instagram
---
Juiceboxxx
If you delve into the career of Juiceboxxx, then you'll find an artist with an eccentric back catalogue that varies from underground rap, noise, hardcore, punk rock and beyond. Hailing from Milwaukee, Wisconsin, Juiceboxxx is now honing his energy on a sound that combines New York indie, 80's rock n' roll and lo-fi slacker rock.
His latest EP 'Never Surrender Forever', sees him team up with Aaron Espinoza, known for collaborating with Elliott Smith and The Breeders, to create a short and sharp collection of snotty and cohesive songs. 'Ripping Up My Soul', 'Open Up Your Life' and 'Never Surrender Forever' are approachable and hooky yet are underpinned by a frenzied energy, which is something Juiceboxxx has built a reputation for in a live setting.
With a considerably compacted sound in his arsenal and a UK visit just around the corner, we grabbed some time with Juiceboxxx to discuss 'Never Surrender Forever'.
For Fans Of: Bruce Springsteen, The Strokes and Lou Reed
AH: Your previous work has explored different sounds and styles, but on 'Never Surrender Forever' it seems you've found a sound that you're comfortable with?
Juiceboxxx: I just sort of follow what feels exciting to me, and for the past few years the live show has been driven by a rock and roll spirit. So those are the kind of records I'm interested in making right now – things that capture that live show feeling. Going crazy.
AH: The EP sees you collaborate with Aaron Espinoza. How did you two come together and what impact has he had on your music?
Juiceboxxx: We met through Dangerbird and the collaboration has been really natural and special. It has been really exciting working with him, taking these songs to the next, next level.
AH: From hearing the EP, we get an 80's rock vibe from the title track along with songs like 'Open Up Your Life' and 'Ripping Up My Soul'. Who do you consider your musical influences on this EP?
Juiceboxxx: You know, I love Lou Reed and Springsteen and all that, but I also love listening to brand new rap music. It all informs how I make things. Again, I'm searching for that energy that I can only get from music.
AH: With this EP zoning in on a more streamlined approach, do you consider this a fresh chapter for Juiceboxxx or the latest mark in your sprawling weird history?
Juiceboxxx: More than anything, I think that this is the beginning of me finally articulating a sound that has been in my head for a long time. I'm excited to keep pushing that. It's an argument for staying alive. It's an argument for trying to change your life. And the show is just getting better.
AH: You're also returning to England in October. For someone known for their energetic and intense shows, how have you found adapting the new material to a live setting?
Juiceboxxx: The new music was made for the shows. It is all inspired by a timeless manic creative insanity that has given my confusing life meaning for quite a long time now. Going to see shows as a kid, getting my mind blown. Being a part of something bigger. Waking up in the morning and getting a coffee and just trying your best.
AH: With an always-evolving sound, what can we expect from Juiceboxxx after 'Never Surrender Forever'?
Juiceboxxx: I'm really excited about the next record. I'm working on that now. Rock and roll ruined my life but I'm still standing. I know it is very hard, but try to stay positive.
'Never Surrender Forever' EP by Juiceboxxx is out now on Dangerbird.
Juiceboxxx links: Website | Facebook | Twitter | Instagram
---
Words by Sêan Reid (@SeanReid86)
---
If you have enjoyed reading this article and would like to help us produce more content and promote more great new music, please consider donating to our Patreon page.