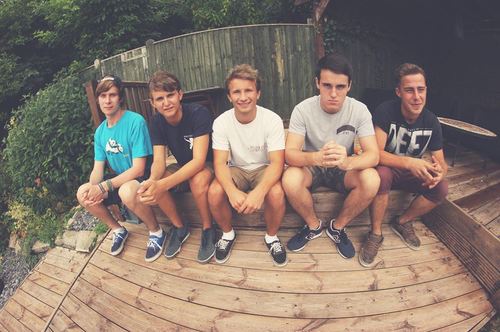 Having only formed just last September, Eastborune pop punkers Roam are already making waves in the UK music scene. Their debut EP ('Common Ground') was released within 3 months of the band forming and lays down the foundations for their follow-up, 'Head Down'. With an upbeat, melodic pop punk sound that is reminiscent of bands such as Set Your Goals, 'Head Down' is bound to raise Roam's profile in the coming months. They've also just signed to same management company of Enter Shikari, The Darkness, Hacktivist and fellow UK pop punk band Neck Deep.
With 'Head Down' set to be released next month through Pinky Swear, we recently grabbed a quick word with guitarist Sam Veness to find out how the band got started, 'Head Down', the Eastbourne/Brighton music scene and more.
Already Heard: Can you introduce yourself and your role in Roam?
Sam: My name is Sam Veness and I play guitar in ROAM.
AH: We already know you're primarily a pop punk band but how would you describe Roam's sound to new listeners?
Sam: I would like to think while we are obviously a pop punk band, we're not cliche as such and a little more aggressive and melodic while keeping the catchy-ness.
AH: What bands would you compare yourselves too and who do you consider as influences?
Sam: For me Set Your Goals are a massive influence as well as Transit and Crucial Dudes.
AH: I understand you formed just a year ago yet 'Head Down' is your second release. How would you summarise the past 12 months?
Sam: The past 12 months have been great as a band, we put out 'No Common Ground' and thats done good things for us, we've played some good shows, done a couple of weekenders and met some sweet people!
AH: Can you tell us how the band came together? Had you played in bands before?
Sam: Me, Alex(Costello – lead vocals), Alex (Adam – vocals/guitar) and Charlie (Pearson – drums), were in a band before (who shall remain unnamed) and when we wanted to kind of start again and go for a different style we got Matt (Roskilly) in to slappin da bass.
AH: 'Head Down' is the follow up to 'Common Ground'. How has the bands sound and songwriting approach changed on 'Head Down'?
Sam: 'Head Down' to me sounds significantly a step up, it sounds more mature and more how we actually want to sound! Songwriting-wise not so different it may start with some lyrics to a chorus for example or a guitar riff, where we would then meet up and try to piece something together!
AH: Lyrically what is the EP about and what is it influenced by?
Sam: The EP is very much about kind of growing up and trying to do things for yourself and the kind of pressure that comes with that sometimes, it's something that's very relevant to us at this age I think.
AH: You've teamed up with Leeds-based Pinky Swear Records for the new mini-album. How did you two team up?
Sam: Lee from Pinky Swear is good friends with our press agents Inception Press and they got us in touch with him, he's a really enthusatic guy and its great working with him, can't wait to see the final result!
AH: Can we expect to see Roam on the road soon?
Sam: Definitely, got big plans for early 2014.
AH: Here at Already Heard we like to ask bands about their local scene, so can you tell us about the Eastbourne/Brighton music scene? Is it in a healthy state?
Sam: Eastbourne is okay, there's only really one place for bands like us to play which is Buskers Bar, which we love, always guaranteed to be a party, but it's definitely improving. Quite a good hardcore and pop punk scene rising. Brighton is a lot better, a lot more venues to play and more on the map then Eastbourne for larger bands to come to play.
AH: Do you have anything else you would like to add?
Sam: Our EP 'Head Down' will be released on the Nov 18th through Bandcamp and Pinky Swear!, and big up Ian Sadler from Emeline Studios and Elliot Ingham Videographer extraordinaire!
AH: Finally why should Already Heard readers listen to Roam and 'Head Down'?
Sam: Because we've got a lot of cool stuff to come.
'Head Down' by Roam is released on 18th November through Pinky Swear Records.
Roam links: Facebook|Twitter|Tumblr|Instagram
Words by Sean Reid (@SeanReid86)