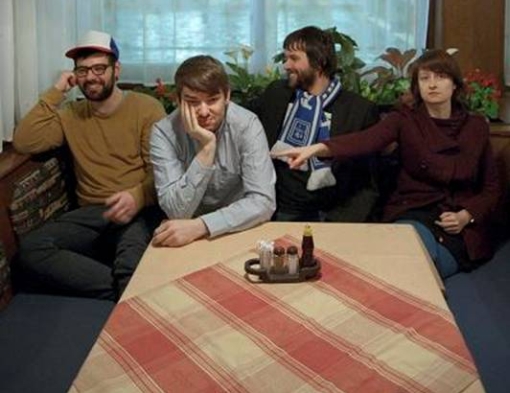 "Austrian emo" isn't a term you hear often but as 'How to Draw a River, Step by Step,' the stunning debut from Austrian natives Rika, it does exist and having joined "emo revivalist" label Count Your Lucky Stars, the quartet are set to get more attention. And so they should as 'How to Draw a River, Step by Step' is "midwest emo" in it's purest form; breathtaking, compelling and majestic.
Thoroughly delicate and passionate, Rika effectively combine guitar, bass and drums with sweeping violins and brass instruments to produce a textured, brooding sound that softly leaves you hooked from start to finish.
Vocalist and guitarist Stefan Fellner recently spoke in depth to Already Heard about how the album came together, joining Count Your Lucky Stars, being part of the "emo revival" and more.
Already Heard: Hi. Can you tell us who you and your role in Rika?
Stefan: Hi, I am Stefan and I sing and play guitar, organ etc. in Rika.
AH: On the press release for the new album, you're compared to the likes of Snow Patrol, Mineral, and Death Cab for Cutie. That's quite an odd mix however does it describe exactly what Rika's sound is like?
Stefan: Mineral and Death Cab were definitely an influence for quite some time for us, although I don't listen to them as much as I did a couple of years ago. I kind of get the Snow Patrol comparison, I was never really into them though. Generally, all of us listen to a lot of different stuff, so the "odd mix" maybe describes it best.
For the album, we wanted to depart from the sound of our earlier releases and incorporate different instruments and sounds. We have been writing songs for eight years now and already felt like repeating ourselves, so we tried to make it interesting and somewhat challenging for us and keep it varied and exciting, so you don't get bored with it halfway through.
AH: The band formed in 2005 but it's taken nearly eight years to complete your debut album. What delayed the album? Was there any setbacks?
Stefan: To be fair, we've been playing in this line-up since late 2008 or early 2009, the only original members being Natascha and me. Before that, we've had a couple of lineup changes, people moving to different places etc. so that was a setback to begin with.
We recorded the instrumentals for album back in the summer of 2011 and I had a hard time writing lyrics and finding vocal lines for it, so that took a lot of time. We had some additional recording sessions for strings and horns in 2012, and took our time for mixing etc. We probably could have finished it earlier, but we wanted to make sure we were happy with every aspect of it.
AH: For those who are discovering you for the first time, how would you describe 'How to Draw a River, Step by Step' ?
Stefan: It's a warm, pleasing listen that goes best with a glass of red wine and dim lighting… Really, I don't know how to describe the album as a whole. I would say every song has its own tonality but the songs also work well together. Check it out, it's good! At least I'm happy with the way it turned out.
AH: What influenced the writing of the record?
Stefan: When we started writing the album, we decided to go into a different direction soundwise and experiment with new sounds, as the guitar/bass/drums thing got a bit tiring for us. I guess the studio we recorded in had the most impact on the sound of the album. It is located in the deepest countryside in an abandoned factory and there are loads of vintage organs and synths, kind of a Krautrock wonderland. As we only had a couple of rough ideas and a sketches before we went in there, we finished most of the songs in the studio and left out various guitar parts etc. to replace them with organs and whatnot.
Lyrically it's a bit harder to say for me, as I don't sit down and write lyrics all at once, I usually write down different phrases that pop into my head and patch them together and change them, until they make sense to me. I guess most of it is influenced by me ending my student life and starting to work a job, moving to a different city, and the feeling of being isolated and getting stuck in a routine that come with it.
AH: Over in America the album is being released with Count Your Lucky Stars (CYLS) Records. How does a band from Austria join up with a DIY label from Michigan?
Stefan: We first met Cathy and Keith when they were on European tour with Empire! Empire! in 2010, we DJ'ed at their show in Vienna and played with them in Graz the day after. We were big fans of their album, which came out at that time I think, and were excited to play with them. We made friends, they asked us to do a split with them, one thing led to another really.
AH: What attracted you to the label?
Stefan: I wouldn't say we were "attracted" to it, because it all came together pretty much by itself, but I have to say I find it amazing that Count Your Lucky Stars has gotten that big in such a short amount of time being around and that it has such a huge and active fanbase. I know Keith puts a lot of time and hard work into the label and we really appreciate the opportunity to be a part of it, especially as we are a small band from Austria and almost nobody has ever heard of us in the US.
<a href="http://rikaband.bandcamp.com/album/how-to-draw-a-river-step-by-step" data-mce-href="http://rikaband.bandcamp.com/album/how-to-draw-a-river-step-by-step">How to Draw a River, Step by Step by Rika</a>
AH: Because of your sound and affiliation with CYLS, you've been grouped in with the "emo revival." What are your thoughts on this?
Stefan: I'm cool with it, even if most emo records haven't really aged well with me and I don't listen to that stuff as much anymore. I think it's great that there is such a big and supportive community or scene around Count Your Lucky Stars and similar labels, enabling bands and labels to put out records and tour. It's hard to tell how big the whole thing really is, as I haven't been to the US yet, but I think the situation is way better than in Europe, where the whole DIY thing has been slowly fading away for a couple of years now.
AH: What does it mean to be part of CYLS?
Stefan: We're thankful that Keith helped release our record in the US, it's a great opportunity for us to reach out to people who most likely wouldn't have listened to our music otherwise. I think we're still quite detached from the label and everything that is going on around it, but we're trying to go the US and do a tour there as soon as we all get time off work, which isn't that easy at the moment. I'm definitely looking forward to hanging out with Keith and Cathy and the rest of the gang and just seeing new places, meeting people etc.
AH: Are there any bands in the "revival" you're fans of?
Stefan: As I mentioned, I don't listen to that type of music a whole lot right now, but there's a bunch of bands on CYLS I enjoy, Empire! Empire!, Joie de Vivre, Football etc., Annabel, Dowsing, plus the UK always has a lot going on, we've played a couple of shows with the amazing Human Hands last year, and i really like Your Neighbour The Liar. It's an on and off thing for me, I have to be in the mood for it, at the moment I mostly listen to Fleetwood Mac, go figure.
AH: On 'How to Draw a River, Step by Step' you used brass instruments and synth and organ keys. Do you think these give the record more depth?
Stefan: Definitely. We went into the studio with only a few songs finished, most of them were only sketches at that time. We tried to give each song its own sonic space and deliberately left out parts we've already written, so we had to come up with something new. We already had a guitars/bass/drums version of 'Mute,' for example, but we completely left out the beginning and end of the song, which we replaced with organ later on. As for the strings and horns, I already had some melodies in my head and we also left some space in the songs for those parts. Incorporating all these different instruments made the whole recording process more exciting for us and I think it makes the album as a whole a more interesting listen.
AH: The album has been out for a few weeks now. How has the feedback been from new and old listeners?
Stefan: Really good for the most part. My grandma likes it! Some people said that it's pleasing to listen to without being "background music", which was kind of what I had in mind when we started writing the album. Also, a lot of people who liked the older songs said they liked it, which I didn't really expect. I also like that people have a hard time comparing us to other bands or don't do it at all. So all in all, pretty good. Still, I'm looking forward to the first review from someone who really hates the album, I enjoy reading these.
AH: It's not very often we come across any bands from Austria. What is the current music like there? Is it dominated any particular style?
Stefan: There is a lot going on right now, I don't even know where to start. I would say that indie rock (whatever that means) in all shapes and forms is pretty dominant in Austria right now. There is lots of good stuff, I'm going to drop some names on behalf of the rest of the band here: Francis International Airport, Sweet Sweet Moon, Naked Lunch, Sex Jams, Philemon's Tree, Crystal Soda Cream, Shy… Get into it.
AH: How much of an impact has the country had on Rika and 'How to Draw a River, Step by Step'?
Stefan: I don't know if the country per se had any influence on it at all. The city I live in – Linz – had some impact on the lyrics in some way or another, but it's probably not what you would think of when you romanticize about Austria. The studio we recorded in is located in an abandoned factory in a small town in the countryside, and we tried to capture that vibe a bit on the album. It was definitely an inspiring place. If you listen close, you can hear the river, birds and a passing train on 'See-Through' and 'Safety Points.'
AH: What are your plans for the coming months? Can we expect to see you over in the UK?
Stefan: Playing shows and writing new material mostly. We might do another split in the near future and I kind of want to do an EP before we start writing another album. We already talked about doing a UK tour a couple of months ago. We might make it happen later this year, if everyone gets time off work. If anyone in the UK wants to help us out, please get in touch!
AH: Any final words for the Already Heard readers?
Stefan: Thanks for reading, I hope to see some of you down the road sometime. Also, thanks to Already Heard for giving us the opportunity to do this interview!
'How to Draw a River, Step by Step' by Rika is available now on Count Your Lucky Stars in the US and Goddamn Records in Austria.
Rika links: Official Website|Facebook|Twitter|Tumblr|Bandcamp
Words by Sean Reid (@SeanReid86)