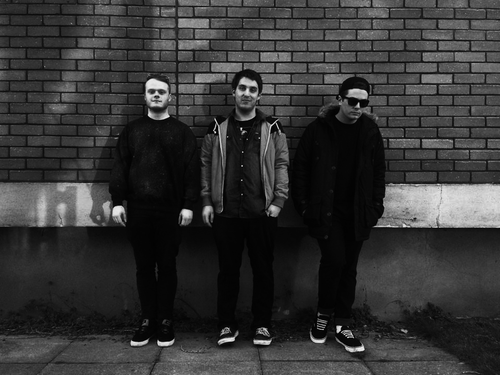 Channeling the sound of 90's rock, Devon trio Pretend Happy have become "ones to watch" with their recent 'MMXIII' EP.
Having gone under moniker of Framework until March of this year, 'MMXIII' sees the three-piece; Jack, Nathan and George, combine the bands 2 previous EP's as a single EP. The end result is a youthful and promising EP that has a heartfelt, emo/grunge sound at its core.
With work for the bands next EP already in its early stages, we caught up with vocalist/guitarist Jack to discuss the EP, influences and The Simpsons.
Already Heard: Can you tell us your name and role in Pretend Happy?
Jack: My name is Jack. I sing and play guitar.
AH: We know the band only formed a year ago. How did Pretend Happy come together?
Jack: I've been best friends with Nathan (Bass) since we were kids – I met George (Drums) a couple years ago at college and we all collectively enjoyed the same things.
AH: Your sound has been described as a mix of punk, grunge and emo. How do you interpretate Pretend Happy's sound?
Jack: It's hard to say really – we never really set out to write a specific genre of music. I guess when we started it was more of a culmination of our influences from Nirvana, The Smashing Pumpkins and My Bloody Valentine to other bands such as Gnarwolves, Seahaven and Superheaven – but we draw influence from everything, not just music.
AH: Musically the bands roots seem to be in 90's alt rock, would you agree? Is it a period of music you consider as an influence?
Jack: I guess so. I mean you had a lot of great records come out in the 90's which shaped our youth – so I guess it's definitely shaped our creative sides.
AH: You recently released 'MMXIII', which is a combination of your first two EPs. What was the reason behind this release especially as you're a relatively new band?
Jack: We were called Framework up until March 2014 – we changed the name for several reasons and decided to rebrand both our previous EP's just as a single EP (MMXIII). MMXIII consists of every song we wrote as a band in 2013.
AH: For new listeners, how would you sum up 'MMXIII'?
Jack: It's an honest 6 track EP about youth, adolescence, innocence, living in a small secluded town and dealing with problems we all have to go through growing up. It's loud, it's melodic and we're extremely proud of it.
AH: I also hear you're working on a new EP. How is that coming together?
Jack: Good – it's in the early stages at the moment but it'll definitely be out this year.
AH: Any idea of what we can expect to hear music from it?
Jack: We're aiming to have a single out for around August time.
AH: From reading the brief bio we were sent, one of your influences is The Simpsons. So what is your favourite Simpsons episode of all time?
Jack: That's like picking a favourite child! – I'd probably have to go with Two Bad Neighbors – the one with former President George Bush. I can't stop laughing every time I see him with that huge rainbow afro wig on.
AH: Favourite Simpsons quote?
Jack: Again there's SO many classics to choose from, but I'll go with:
Ned: The name's Flanders but my friend's call me Ned!
Homer: Hi Flanders.
AH: Since forming you've played shows with the likes of Gnarwolves, Nai Harvest, Dads, Marmozets and Straight Lines. How has these experiences helped Pretend Happy grow as a band?
Jack: We never thought we'd be able to say we've opened for some of our favourite bands, especially in such a short space of time. it's definitely a motivational experience, and a drive to achieve the same well deserved success that each band we've opened for has.
AH: Going forward, what are your touring plans for the coming months?
Jack: We're aiming to play a lot of shows towards the end of Summer – around when we release the second EP.
AH: Do you have any final words for the Already Heard readers?
Jack: Thank you for reading this and checking us out – be sure to support your local music scene and support Already Heard – cool website full of cool people.
'MMXIII: A Collection of Old Songs' by Pretend Happy is out now and available on Bandcamp.
Pretend Happy links: Facebook|Twitter|Bandcamp
Words by Sean Reid (@SeanReid86)